LVMH's and Daimler's Q3 figures confirmed nearly on the same day that the European industrial groups were dependent on a formidable Chinese business made of Chinese crowds invading car showrooms or buying online luxury bags at the price of a small car. In LVMH terms this means deriving 34% of its revenues from China with 30% yoy growth for Q3. These are amazing figures for a group churning out c. €50bn in luxury products. German car manufacturers are now also contemplating China as their first market. This is a combination of local operations and highly margined exports of top of the range luxury cars. Only Chinese are buying Maybachs these days. We went through this dynamic in a short paper on 8/10/2020 (Autos, The Hermès way).
As we mentioned repeatedly in previous similar short papers, the East is on its way to overtaking the West for European-listed big corporates but the data about the Chinese side of this revolution remains a discovery process. We do not know what we buy, to put it mildly.
Criss-crossing data in the AlphaValue universe, there are at least 43 stocks (we dropped the two UK Asian banks) with a Chinese exposure of above 10% of their total revenues. The average exposure would be 16% or so before allowing for the surge in Chinese relative demand over Q3. Figures can be twisted in all sorts of ways, but it looks as if China has indeed become more important for this group than the USA (13% of revenues).
The following chart of unweighted performance would indicate that the 'Chinese story' gained traction from May or so. It is obviously hard to isolate from higher risk-taking by investors due to confirmed easy money and the end of lockdowns.
Chinese flavour sells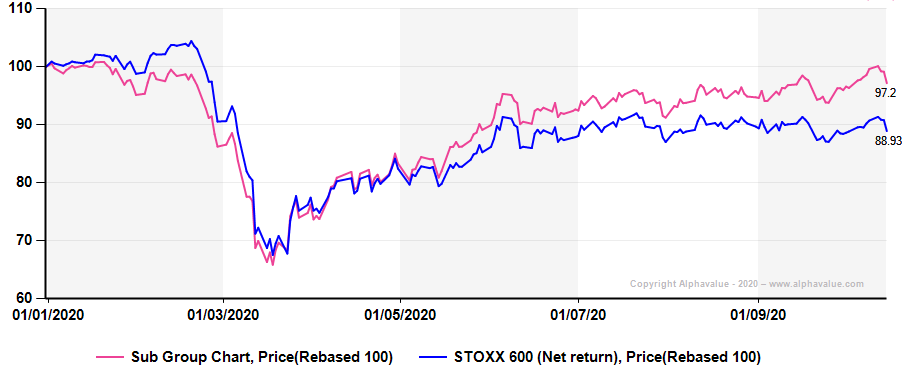 The impossible question is whether this can last. So far, being conservative about the Chinese consumer has been a mistake. Expectations of slower demand on continued high levels of unemployment within modest households/internal migrants do not appear to reverberate across the country. China's mastering of the pandemic is a mind-boggling success based on closed borders, which may have led consumers to arbitrage travel spending in favour of big-ticket discretionary items. Time will tell, but the odds are that the ex-lockdown consumption may slow down rapidly.
The next pieces of good news such as Remy Cointreau's likely stellar sales in China may be an opportunity to lighten up on this Chinese exposure.
The list of 43 names can be found on the AlphaValue website by selecting China exposure in the Company Finder.
Access to research : click here