3 month Long-Shorts that paid off
With central banks' liquidity guns in action over the last three months, it is worth checking the successful long-short trades. This is obviously ex post work but it may give an extra degree of intelligence about how markets reacted. 
As a reminder, AlphaValue pre books about 250 long-short trades in its analytical tools, so that anyone can check what strategy works at a click of the mouse, day after day. Below is a summary of the best trades of the last three months. For instance, Long Caixabank Short Sabadell would have returned nearly 45%. The double green pluses suggest that this trade has legs from a pure technical standpoint.
Last three months winning Long Shorts (15% return or more)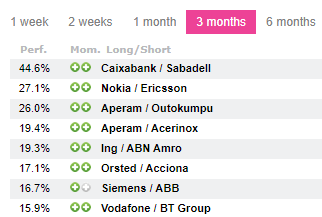 Not all of the above successful trades match the inclination of the analysts when it comes to fundamentals: typically, in the Long Orsted Short Acciona, Orsted is a Sell and Acciona is a Buy. Orsted at 32x is everyone's must-have in green energy while Acciona at 17x is essentially an unknown local play.
We provide below the graphic development of the first three winning trades with an (ex post, sadly) comment.
Caixabank vs. Sabadell: Banco de Sabadell's potential exposure to impaired loans explain the expected 2020 and 2021 losses BUT we upgraded our 2020 -2021 forecasts so that Sabadell may recover relative ground. Caixabank is better balanced with an insurance business and valuable equity holdings.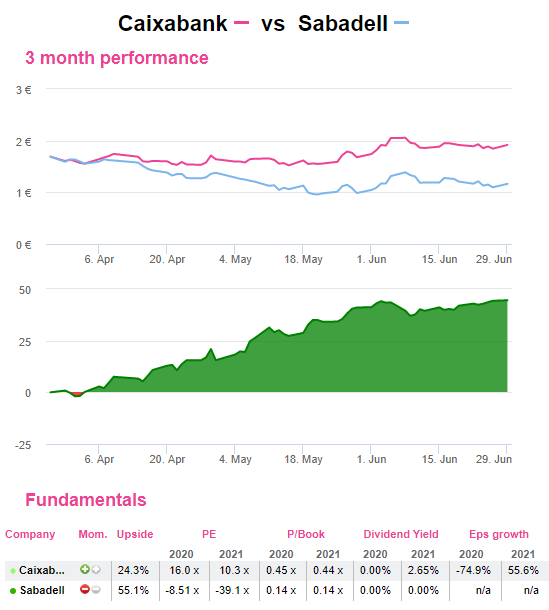 Nokia vs. Ericsson: Ericsson is presumably a stronger firm but the money has been on Nokia staging a recovery.
Aperam vs. Outokumpu: in the specialist corner of stainless steel, Aperam is a stronger firm. The bulk of the gains on this trade were collected in April so that it may well be exhausted for now.