Renewed corporate action in telcos?
Iliad the French telco that moved from growth darling to staid also ran in a matter of five years is today launching a curious deal whereby it proposes to buy back €1.4bn of its own shares at a 30% premium while its main shareholder, Xavier Niel, would subscribe to a rights issue at the same price and for the same amount. Mechanically, Mr Niel's holding should shoot from 52% to 72%. The proposed deal does not make any financial sense unless Mr Niel has plans to use that expanded holding in Iliad for a more strategic move in the industry.

If his move leads the Iliad share to trade at a 30% premium to the undisturbed €95 price, Mr Niel can hope to have his hand on a €5bn paper currency to play with. As a reminder, Iliad is a French-centric story (a country of four active "4 play" actors) plus first inroads in Italy.

It is unlikely that the French scene will consolidate as each of the French players thinks it has a good cause to be running a consolidation and the French regulator is actually happy with four competitors as the right set-up to keep prices low.

So, speculation about Mr Niel redeploying his telco assets into a bigger deal would have to be a cross-border one.

Here is a table with the essentials about the 21 European telcos tracked by AlphaValue. They are ranked by rising market cap. Debt remains an issue sector-wide, but it can be viewed as a plus as well under current cheap money conditions. Consider Telecom Italia which is worth only €11bn because of its €30bn net debt backpack. It has been within Vivendi's reach only because it was marred by its gearing.

European telcos' essentials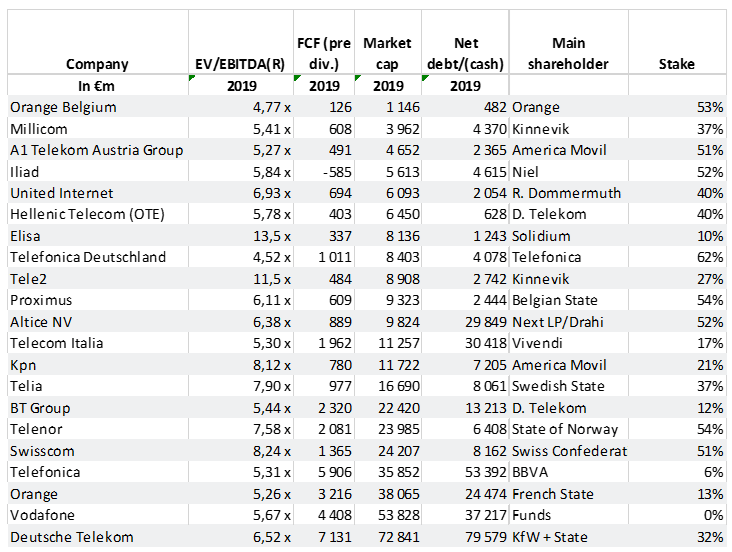 If a Mr Niel were to deploy his €5bn worth of telecom paper with the aim of having a controlling stake on a merged business, there is little to play with unless Mr Slim of America Movil wants to exit Europe, or rather Austria. More complex deals could lead to Mr Niel being the largest shareholder without an absolute majority. This could include a tie-up with Telefonica Deutschland but then, unless Telefonica is a seller, Mr Niel would play only second fiddle.

The above table can help envisage all sorts of scenarios, but it is also a reminder that the sector is rather "locked" into inaction by its existing largest shareholders.  France, with a reputation for state intervention, looks actually quite liberal with four players and hardly any say of the French state in Orange when compared to the weight of government holdings in Nordic countries, Germany and Switzerland.

Any move of Mr Niel, if there is one, is bound to be intriguing and good for the sector.