We reiterate our positive opinion on the stock. As part of its CMD, Schneider confirmed its medium-term financial targets, with an adjusted EBITA margin expected to improve by c.+200bp by 2021 and a +3% to +6% organic growth over the cycle. It also expects to deliver c.€1.1bn productivity gains over 2019-21. Schneider now has a strong product portfolio and a clear strategy based on cross-selling, offering a complete and innovative solution to its customers.
Schneider's CMD was divided in two parts. First, management held a presentation at the company's headquarters where it confirmed its medium-term financial ambitions in terms of adjusted EBITA margin, organic growth and ROCE. We also had an update on the different activities, which are Energy Management (including Secure Power) and Industrial Automation. Then, it took analysts to one of its Smart Factories at Le Vaudreuil to show what factories 4.0 means.
Clear strategy
Schneider's strategy is basically divided into three distinct phases. For a decade, between 2003 and 2013, the group constantly focused on building up its product portfolio, by making several acquisitions in Industrial Automation solutions on the one hand and Energy Management (medium and low voltage and, secure power) on the other.
Then, the second phase was essentially the integration of these acquired assets during the build-up phase with the implementation of its first-generation EcoStruxure based on edge control platforms in 2008. Since this date, EcoStruxure has been boosted by cloud and digital services, not forgetting the recent acquisition of AVEVA in 2018, which has completed the group's portfolio and its software offering. Lastly, the third phase is the one where Schneider is currently focusing, which is the scale of its offerings. All in all, we consider the group's strategy is well oriented. It is also clear and we appreciate this.

Source: Company report
Commercial strategy based on cross-selling and partners network
While some of its competitors (e.g. ABB) focus more on a vertical approach to sell their products, Schneider is adopting a different strategy based on cross-selling. The sales force of the different business units, i.e. Energy Management and Industrial Automation, meet regularly in order to be aware of the whole portfolio and then pass on the knowledge to its customers. This makes a lot of sense in our view as low and medium voltage solutions are completely aligned with the industrial automation activity, as is offering secure power solutions combined with software apps to collect and analyse production data.
This sales strategy also benefits from a worldwide presence across a 600k strong partner ecosystem, with 70% of revenues going through partners. There is one company but several structures, as local needs are different. A local presence is indeed required to identify the client's needs and to collect feedback from them. Schneider has more than 350k points of sales worldwide and more than 400 online platforms (€2bn of e-commerce sell-out in 2018, +20% yoy). Lastly, the partner's loyalty is based on leading mainstream brands in each country. However, we didn't get a clear explanation about the incentives offered to partners, which is key in our view.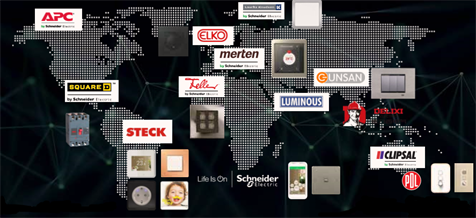 Source: Company report
Software solutions is at the heart of the whole offering
During the presentation, Schneider highlighted the success of the Aveva acquisition (60%) which is now fully consolidated into Schneider's offerings. Aveva is accretive to Schneider and offers more resilience thanks to its 54% recurring revenue, but it is also accretive as it has an adjusted EBIT margin of 23.8%. The fact that Aveva is listed gives more visibility on the company's strategy and confirms that the software is compatible and running well with Schneider.
This acquisition makes a lot of sense as Schneider also has its EcoStruxure IoT platform that offers to customers a significant leverage to optimise the efficiency of their activity. We believe Schneider's EcoStruxure platform combined with software solutions is a real advantage that will strengthen the leading position of Schneider in both Energy Management and Industrial Automation.
Source: Company report!
As mentioned previously, we had the opportunity to visit a Smart Factory and to observe exactly what factories 4.0 is. To give an order of magnitude, the implementation of Ecostruxure and software solutions in the factory has cost c.550k with a return on investment below three years.
All machines are connected and each one generates data which are collected, stored in a cloud, and, last but not least, the data are analysed in order to manage production more efficiently, to identify potential issues and to locate them quickly. All of this can be managed very simply with an application on a tablet or a smartphone. When one mentions production and data, this obviously requires a high security level which is provided by the Secure Power activity.
Much of this is about production but both EcoStruxure and the integrated software also simplify everything for services. In other words, any maintenance personnel, even a novice, can resolve an issue with an extremely low or no error rate thanks to the application, as it can assist him in his decisions with the tablet's live camera. This assistance is very crucial as it maximises efficiency, a novice is trained by the app, reducing stress to fail, but, above all, it avoids errors that can lead to a production stoppage that may last for a long period.
What about financial targets?
The company confirmed its organic growth target of +3% to +6% over the cycle, which is ambitious but achievable as Schneider is well oriented and has a strong product portfolio.
Schneider also confirmed its medium-term EBITA margin target, which is expected to grow by c.200bp by 2021 and the majority of this improvement will be organic. It also sees more room for margin development after this date. We are quite confident of the company's ability to reach these targets for different reasons: i) 70% of COGS is outsourced, thus limiting margin cyclicality, ii) higher exposure to later cycles, and iii) higher margins on software solutions and more recurring revenues related to services.
Schneider should no longer be seen as a cyclical company. First, it now has a more balanced geographical mix with North America at 22%, Western Europe at 31% and Asia Pacific at 31%. Then, it is targeting services much more, around 20% of total sales when services were just 9% of total revenues in 2014 and 12% in 2018. So, altogether, it makes us more confident of the resilience of the company.
How much should come from the inorganic side? It is difficult to say… but, we believe that, going forward, Schneider will not make large M&As, but rather bolt-on acquisitions, as the phase of the big ones is now behind. Indeed, between 2010 and 2014 for example, Schneider spent huge amounts to acquire Telvent ($1.4bn 2011) or Ivensys ($5.6bn in 2013). The situation has now changed.
Over the past four years, 80% of the free cash flow has been returned to shareholders. So, now we believe that the focus is more on scaling and returning excess cash to shareholders. The last share buy-back running over 2017-19 was concluded six months ahead of schedule and, now, Schneider has already initiated a new buy-back over 2019-21 of €1.5-2bn.
New investments were announced. Schneider continues to increase its investments in R&D, digital, the sales force, marketing and communication in order to meet its commitments of long-term organic top-line growth and margin development of +200bp to 2021. The cash investment for this additional effort is expected to increase the average annual restructuring costs over the next four years to a level between €200m and €250m without an impact on the bottom line.
As a result, the group expects to achieve a €1.1bn productivity gain by 2021. It is worth noting that, in the case of an economic downturn over the same period, the extra productivity generated could also be used to increase the margin. Schneider continues to expect an ROCE in the range of 11-15%.