[dropcap]T[/dropcap]he French side of the EssilorLuxottica management seems to have discovered that there is a dominant shareholder, Mr del Vecchio, who wants to exercise his rights to decide with a 31% stake. It is his money which is at risk while so far the merger (announced two years ago and completed last October) has generated no gain.
The stock is essentially where it was before the merger was announced, nursing EPS downgrades then and again now. Mr del Vecchio may have a good case to challenge management. To be fair the Stoxx600 has not done better but nobody expected Essilor to be lagging this way.
The issue at Essilor is ill-prepared governance. As a matter of fact, Essilor never had a satisfactory rating on that front on AlphaValue's now 11-year proprietary metrics.
Governance weakness is an accident waiting to happen that most shareholders will then care to note. So that the following list of issuers with mediocre governance ratings presumably does not matter so much. It does not hurt to be warned though.
Stocks are ranked along their governance score, i.e. AlphaValue's proprietary and independent metrics of governance parameters matching the needs of investors in secondary markets. The next three columns indicate metrics that participate to that score. These governance measures are matched to the fundamental strength of the business (resilience of margins and balance sheets) and our current upside potential.
Trying to draw financial inferences from governance metrics is a lost cause. Keeping an eye on the latter should be excellent practice.
Governance bottoms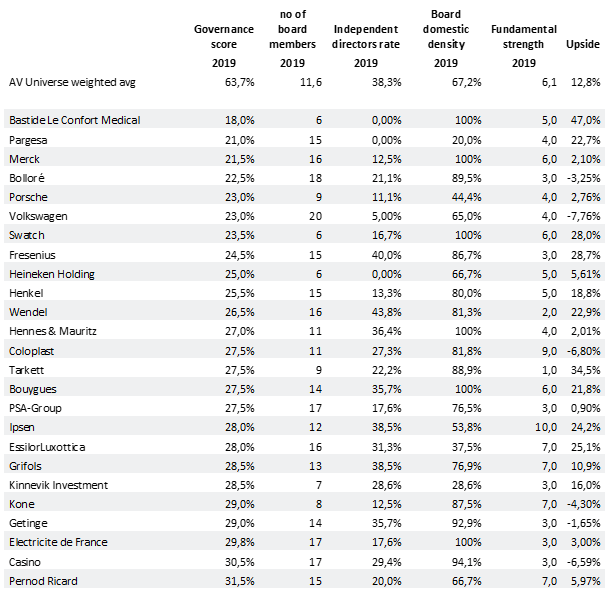 Learn more about AlphaValue's Governance research tools : click here