Safran free to fly higher
The ramp-up risks induced by the LEAP and the Zodiac integration hiccups are something of the past. This matters a lot and frees up Safran to move on to the next round of growth. Believers can relax even if the stock is not cheap. We stick to our Safran preference pulled up by its current best-seller, the aptly named LEAP, rather than Rolls Royce  which is still facing technical issues and the costs of its ongoing reorganisation.
MTU Aero Engines, the other listed alternative, is as expensive P/E-wise as Safran but is still embroiled in the technical problems concerning the PW1100G, the alternative engine to the LEAP when it comes to powering the A320neo family. MTU being in a consortium has less leeway to adjust quickly.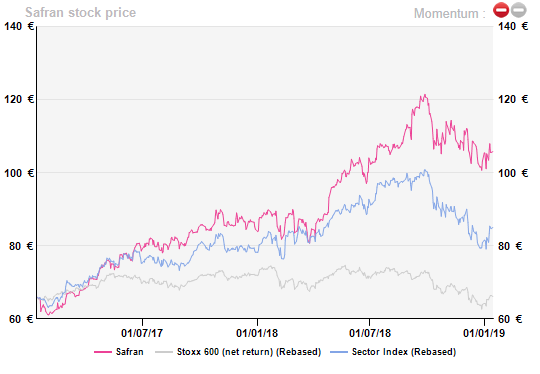 Impressive transition and production schedules
With 999 LEAPs delivered at end November, the target of 1,100 LEAPs for this year should be reached, and those for next year and 2020, of respectively +1,800 and +2,000 engines, look decidedly on track.
What Safran has achieved with the LEAP transition appears to be the most challenging ramp-up in aerospace's history. It took CFM Intl.  (50/50 JV with GE) its actual civil jet engine manufacturing unit, more than 25 years to churn out 1,500 CFM56 engines a year while it scaled up the production of the LEAP engine to 2,000 units in just five years.
The LEAP is set to become the world's best-selling aircraft engine, beating its predecessor, the CFM 56. Of course there are somewhat more aircraft up in the air than when CFM Intl. launched the CFM56. So that things are not comparable when it comes to analysing the ramp-up slopes provided by Safran (chart below). But it remains quite a feat.
The CFM56 cash cow lives on for longer
More than 38,000 CFM56/LEAP engines will be in operation in 2025. LEAP servicing will progressively ramp up and provide additional oomph to growth, while the CFM56 spare engines will also contribute to growth as clients are already buying spare engines in anticipation of the end of production in the coming years.
Even better, 60% of CFM56s (5B/7B) in service have had no shop visits whereas an engine needs a shop visit after eight years on average with the first two visits contributing most to revenues and margins.
A large maintenance activity is at hand for the CFM56-5B/7B, with an estimated peak of 3,000 shop visits per year around 2025 and ensuring continuing robust cash flows from its ex star-seller.
Maintenance is the best part of any jet engine manufacturer's business but this is very much an analytical accounting exercise. Safran rightfully does not split its maintenance margins as this side of the business cannot be separated from the other.
Zodiac's come back
Between 2015 and 2017, Zodiac managed three profit warnings. Its acquisition by Safran was not very well received but the last Zodiac's profit warning led to an eventually lower acquisition price for Safran (<€25 per share, a discount of 15% compared to the initial offer, or a €1bn saving).
The focus has been on restoring trust and confidence from customers in terms of quality and on-time delivery. The one-off implementation costs (€215m) and the annual €200m cost synergies expected to be delivered by 2022 have been confirmed at Safran's CMD last November. Including a portion of these cost synergies, Safran expects an operating margin of 13% by 2022 for the ex-Zodiac activities, which is encouraging after delays when Safran opened the Zodiac bonnet. The bulk of the problems were related to the Interior activities (Cabins and Seats) with design and production issues piling up.
Safran made a proper strategic move as this is an opportunity to develop additional relationships with airlines which chose the right combination of seats (2018-22 CAGR +4.6%) and Inflight Entertainment (2018-22 CAGR +7%) to match their commercial policy (usually smaller seats matching the race for the bottom in ticket prices as it happens). The business model has changed. 10 years ago, seating and inflight entertainment were outsourced by aircraft manufacturers, but now they want to capture the benefits of a closer integration of seating in terms of total operating cost of the aircraft.
Not exhausted
Safran has surprised by its ability to deliver but is not yet trading in expensive territories. On the valuation front, we see a 14% upside potential. The outlook is one of upgrades to EPS expectations as the company has demonstrated its ability to stick to its ambitious plans.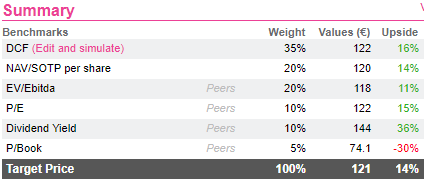 To access the full research report on Safran : click here