Investor vs. GBL ? Go for Brussels
[dropcap]O[/dropcap]ver the last 10 years, 5 years or 6 months, Investor has left GBL for dead, performance-wise. This is worth exploring briefly as both firms share similar features: family control with an indisputable long-term view, fully transparent portfolios with the immense majority of assets being listed, solid no-nonsense tight management at the holding level, a small domestic market with, as an offset, on-boarded assets which are truly global.
The following chart shows that it was a good choice to go Scandi and that it is increasingly a good choice (green-shaded area highlights a strong momentum in favour of Investor).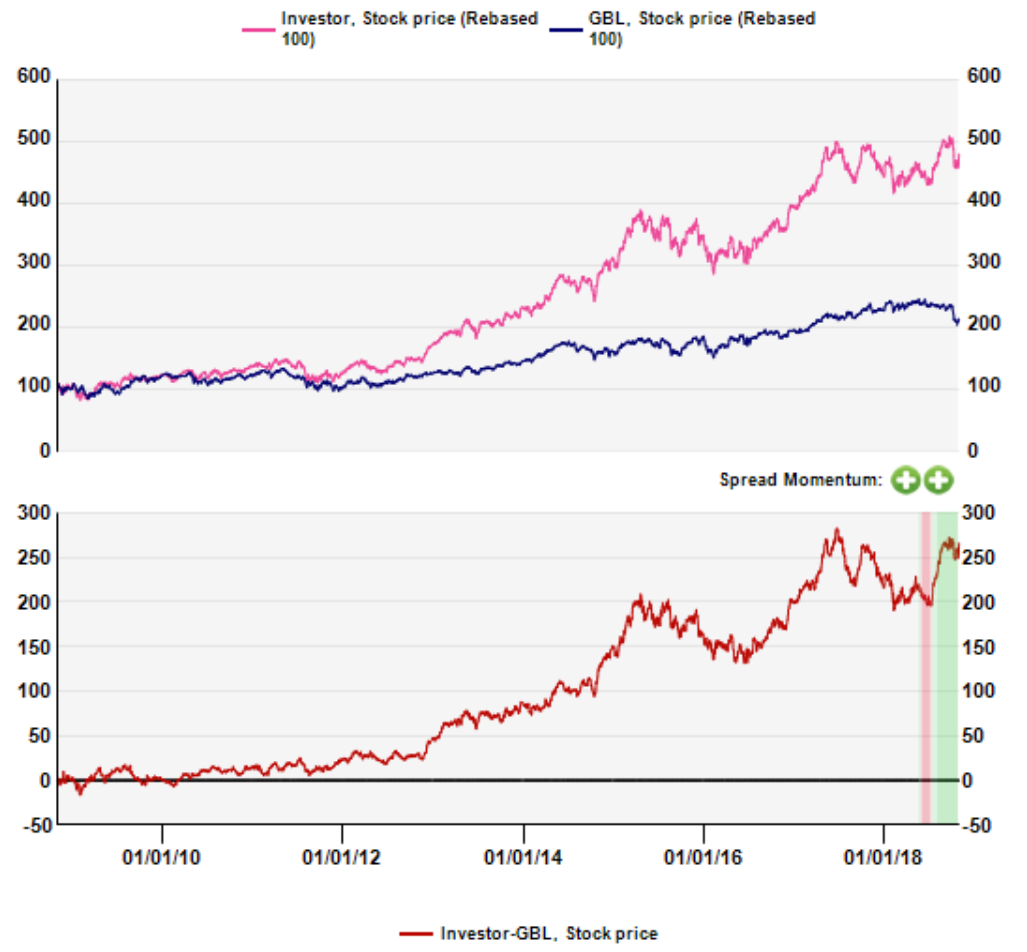 On the valuation front, which means a discount to NAV, Investor is clearly dearer with a 13% discount to NAV where GBL will hover closer to 24%. Yields are close at 3.2% for Investor and 3.8% for GBL. 60bp may make the difference compounded over 10 years' time but cannot start to explain the difference in performance between the Swedish behemoth (€30bn market cap) and GBL (€13bn).
One would expect the difference in performance to lie in the very underlying assets. This would be wrong. Investor has a top-notch gallery of holdings which has actually been massacred single-handedly by the one Donald willing to stop international trade.  The ABB, Atlas Copco and other Wärtsilä have been pushed down the drain as a result. The interesting observation though is that the discount to net assets of Investor has contracted over the ensuing messy period. This amounts to giving to Investor's governance considerable credit. We would buy that, but the story of GBL is even more perplexing. GBL's asset quality is on a par with Investor's (same "fundamental strength" after a successful rotation of its portfolio; Adidas  + Pernod + SGS weigh more than 50% of gross assets) but its discount to net assets has been going … up.
Although sentiment is clearly in favour of Investor (chart at the beginning), we wonder to what extent it is reasonable to buy into global capex with a fast-contracting safety cushion (lower discount to the NAV of Investor) while a neat combination of fast-fashion shoes, booze and international inspection is just as alluring with a better margin for error.
In short, the money is on GBL. We would buy into the current weakness of the Brussels-based version of a family holding company.
Investor's asset breakdown
GBL's asset breakdown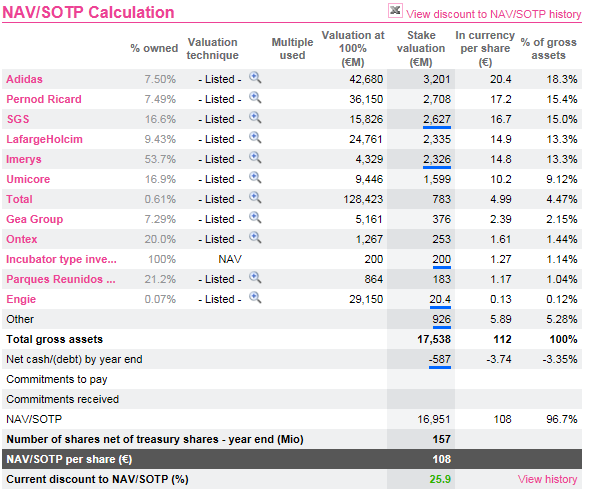 Full analysis available on www.alphavalue.com