Casino fights back – successfully
2018 has been a nightmare for Casino. Investors have dumped the stock en masse (its price touched 22-year lows just a few days ago) due to apprehensions about the health of the French business (contributes c.50% of group profit) plus high leverage in both Casino and its parent company Rallye – the retailer contributes more than 90% of Rallye's consolidated revenue and gross assets.
In fact, bears are quite convinced that Rallye will default on its near-term obligations – CDS spread skyrocketed >2000bp mark vs less than 500 in August 2017.
Muddy Waters' tweet about delay/absence of a subsidiary's 2017 filings (named Casino Finance, the cash-pooling entity of the retailer) and S&P's decision to junk Casino's financial rating has put the final nail in the coffin. No wonder Casino is/was the most shorted stock in France today (15.19% interest).
While we agree there are some pressing pain-points with the French grocer, shorts appear to be in retreat as the company fights back.  We have raised our target price twice to allow for faster operational adjustments so that we are left with an 11% upside still.
Not a structural issue
We do not share the concerns about sustainability of French FCF. This is largely due to management's strategy of focusing on high growth formats, which jointly contribute c.60% to the country's revenue – 28% from premium banners (e.g. Monoprix and Franprix), 22% from supermarkets and convenience stores, and 9% through e-com.
Notably, the company's cash-cow banner Monoprix (accounts for more than 50% of French profits) is well prepared to blunt any competitive onslaught – its stores are situated in prime urban areas, cater to relatively affluent/less price-sensitive urban customers and generate c.2/3rds of net sales from loyal customers despite higher prices.
The e-com format (9% vs c.6% market average) is also well placed to benefit from Casino's recent tie-up with Amazon and Ocado (Add,UK) – catering for same-day express delivery and weekly grocery purchase orders, respectively. The retailer also stands to gain from Ocado's expertise to offer/operate a profitable online grocery business (a rare ability today). This is where Jean-Charles Naouri holds an edge over the likes of Leclerc and Carrefour (Add, France) in the long term (in addition to its well-established store network in urban areas).
As a reminder, Leclerc commenced online/home delivery services in Paris in early 2018 (it has an historical reputation of selling cheaper goods vs other grocers) while second-ranked Carrefour has also launched a turnaround plan to revive its dwindling fortunes.
Casino's FCF concerns get allayed further as the trading profit is clocking 10% plus growth in France (also at the group level) and working capital management is also in the black. As a result, the entity should be able to pay regular dividends to Rallye.
Even LatAm (especially Brazil) should remain healthy on the back of the cash & carry business. Third-ranked Walmart's decision to sell an 80% business stake to private equity firm Advent International is also a lucrative opportunity for subsidiary GPA.
The debt drama
There is no doubt Casino's French books are uncomfortably leveraged today. However, the business is in much better shape vs 2014 (gross debt has declined sequentially). Management's commitment to reduce it further (by disposing of €1.5bn worth of non-core assets by March 2019) and its track record (the Asian business sold for c. €4bn in 2016 to reduce debt) is reaffirming.
Moreover, the €1.7bn credit line available to Rallye should be enough to honour its short-term obligations, even if the refinancing becomes difficult due to the prevalent high yield requirement.
On 17/09, Rallye got further oxygen with €500m from four banks without the need to pledge new Casino shares. We agree the parent entity needs to take more concrete steps to get in-shape/serve long-term obligations. We would not be surprised if Rallye also decides to dispose a part of its non-Casino business GoSport (Courir?). We also draw comfort from the absence of covenants attached to Rallye's bond documentation/commercial paper programme.
Hop on!
Our valuation offers substantial upside on fundamental metrics (DCF and NAV), on the back of improving mid/long-term performance in both France (driven by premium banners and e-com) and LatAm (gradual economic recovery and easing of FX headwinds). For the DCF, we have applied a 400bp debt spread to factor in the risk of debt default.
On a relative basis, we have applied a 10% discount to the peer average, in the wake of bearish market sentiment, prospective entry of international retailers in France (e.g. Chinese giant JD.com in 2019) and the lack of growth triggers in the near term – until management takes some 'on the ground' steps regarding the non-core asset disposals.
However, the price rebound might be sharp and earlier than expected, if a strategic investor gets on board (e.g. an international player like Amazon or a deep-pocketed sovereign fund; Casino's stock price trading at a c.50% discount to historical average).
By Monday, 17/09, it looked as if shorts were looking to close positions after a 16% surge over the previous five trading days. Any truth in Casino's plan to close 20 French hypers would be an icing on the cake (underpins the DCF valuation by c.€5 per share). Hop on before it's too late!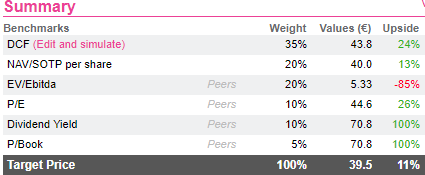 Full fundamental analysis is available on http://www.alphavalue.com