Hopes that led Parmalat shares to jump by late 2016, presumably because Lactalis, its 89% shareholder, would pay a good price for a squeeze-out have been dashed.
In late 2017, problems at Lactalis itself did not help either. In 2017, Lactalis once again failed to convince the minority shareholders to surrender their shares with a proposal of €3.00 per share.
Tight-fisted Lactalis seems to have decided not to plough in more money to delist Parmalat. This stalemate is just looking ridiculous by now but Parmalat may help Lactalis solve its own problems and thus have a different strategic value.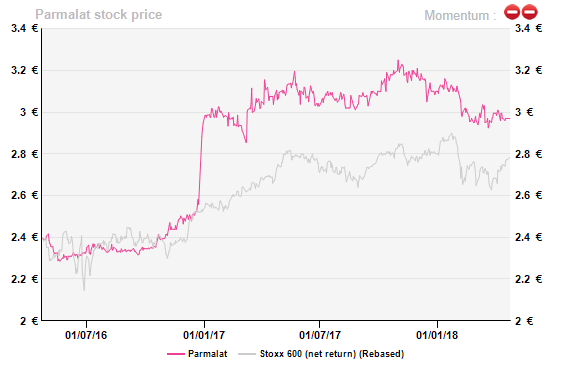 Lactalis hit at the heart
At the end of 2017, Lactalis was hit by a truck when it transpired that its Infant Formula was infected with salmonella. The scandal resulted in huge withdrawals of its products (Pepti, Picot and Mulimel) from almost 80 markets (France being the most impacted).
Then it becomes guess work. We estimate that baby food could represent c. 5% of Lactalis' total sales at c. €17.3bn in 2016. In terms of profitability, Baby Formula could generate c.10% of the group operating profit. For Baby Food producers, safety scandals essentially amount to a death knell.
As a reminder, Danone was obliged to sell Dumex which never recovered after a botulism alert (however false) in 2013, triggered by Fonterra, its supplier. In Lactalis' case, even if the Health Ministry said that the ban on sale of baby food produced at Lactalis' crown factory in France does not concern other products of the group, we believe that the damage percolated into the entire Baby Food portfolio.
Such damages at Lactalis' Baby Food could lead it to consider another asset reshuffling under which the Infant Formula could be produced and pushed under Parmalat's brand. Asset reshuffling between Lactalis and Parmalat is nothing new. In 2012, the company sold to Parmalat its Lactalis American Group (LAG) for $904m. This deal gave rise to big opposition from minority shareholders.
The LAG acquisition price was subsequently cut back to $774m, and the difference returned to Parmalat. But minority shareholders still think that the price for LAG was too high as they put a "proper" value at $500-550m.
The management of Parmalat was finally accused of acting against the company's interest. The acquisition became the focus of a lengthy legal inquiry by prosecutors in Parma with no results. Notwithstanding, minorities have been demanding financial compensation since then.
Boosting its presence in Baby Food segment could be an interesting move for Parmalat whose profitability has always been impacted by raw material swings as the company is largely exposed to liquid milk, the margin level of which is highly dependent on the raw white stuff.
In FY17, the company delivered unimpressive results with flat revenues at constant exchange rates and perimeter (excluding Venezuela, unsurprisingly) and an EBITDA which contracted 4.5% yoy (on reported figures net sales were up +3.2% whereas EBITDA contracted 1.1%).
The company expects, however, FY18 to do better with net revenue up +1.5% and EBITDA improving within a range of about 3% to 5% (at constant exchange rates and perimeter and excluding the Venezuelan subsidiary). Despite this more optimistic guidance, we remain hesitant to build a positive valuation case on existing operations.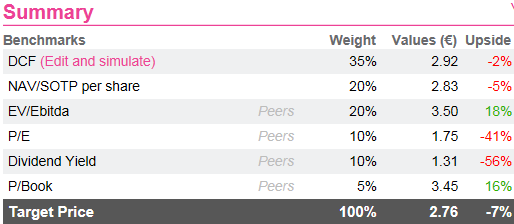 The switch for Baby Food assets could be a new opening for the Lactalis-Parmalat long-lasting love-hate relationship. Lactalis is well known for its reluctance to communicate about its plans. It actually never communicates.  Will it make a decision to boost Parmalat's potential?
Could it go as far as merging with Parmalat to get a listing on the cheap and possibly raise funds? The tight family ownership of Lactalis is not conducive of such strategies but it may well be that Lactalis' finances are not in a great shape.
Parmalat's share is some sort of a binary option. The most likely scenario is that Lactalis will not crank up its €3 per Parmalat share. As we value Parmalat currently at €2.8, this seems good to have.
The unlikely scenario is that Lactalis is desperate to access either Parmalat cash flows or its fund-raising capacity as a listed firm. Hold-outs would then be in a strong seller position.
Another wait indeed.