Airline Industry Outlook 2023: Flying Higher or Lower?
Any CFA hopeful will have learnt that, in the stakeholders' battle for supremacy, shareholders lose out when it comes to the airline industry. The staff know how to time a strike, all the assets are pledged, airports will exhaust client wallets and overcharge for landing fees, governments will interfere for the flag, and the taxman will never be last. Shareholders are crushed again and again but never to the point where they stop entertaining the dream to cover their past losses by throwing more good money after bad.
Over 5 years of easy money, i.e. when it takes considerable energy to lose on any investment, Airlines will have wiped out 53% of their value (the occasional dividend included).
The road to ruination: airlines' 5-year performance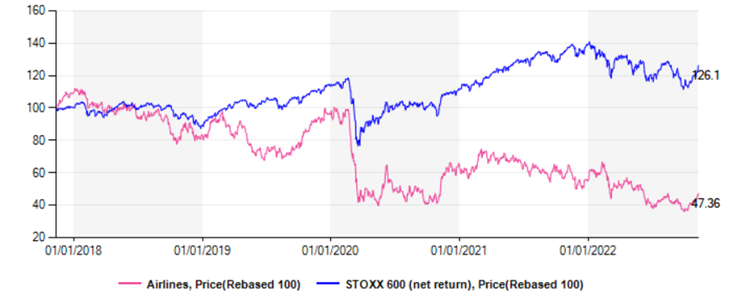 The recent sector surge combines all sorts of contradictory hopes: China will fly again beyond its borders, rates will not rise as much and as quickly as feared, kerosene need not be a brake to western consumers chasing the sun, the industry has decided to protect its margins, the return of consolidation, etc. Whilst the odds of a 2023 recession are rising daily starting with Germany, the sector has shown a remarkable resilience ytd with only a 14% loss. Amadeus IT, belonging to a different operating bucket, has also only lost 11% ytd.
One wonders how an industry, essentially destroyed by Covid and unable to break even when money is free, can hope to navigate the coming recession without diluting its shareholders again.
To get a sense of historical profits, in the following chart, we have basically cancelled the years 2020 and 2021. The peak profit was nearly €8bn when the world experienced a bout of genuine global growth never seen since the GFC. Over 2006-2009 the industry gained €35bn. Over 2020-2021, it lost €31bn. It will be lucky to book a €2bn profit in 2022.
Airlines' profit development excluding 2020 and 2021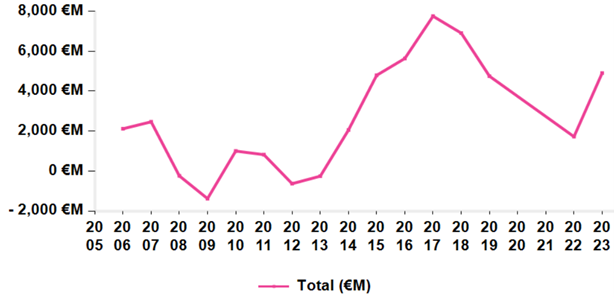 Strangely the sector only raised €6bn over the 2006-2022 period. Lenders were happy to throw €36bn at the industry while it remained highly profitable to pluck that goose while keeping first-hand security on the aircraft. Shareholders now face a most surprising development as highlighted in the chart: they account for virtually nothing versus the lenders (debt as a % of market cap). European equities at large will post a fairly stable net debt/market cap ratio at c.20%. Airlines are testing the stratosphere and its increasingly rarified oxygen with a 100% ratio.
Of course, the adrenaline lies in this very ratio: if cash flows could only pay off part of this debt, shareholders would record massive gains. Airline shares are a ticket to a glorified lottery with the odds against the holder. We would not take the risk.
Net debt/market cap: Airlines (pink) ever more stretched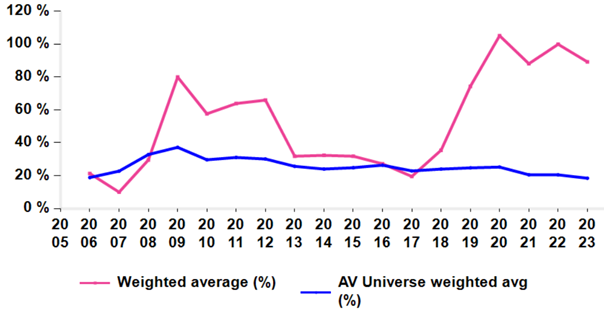 Airlines will have a great 2023, of course, as the industry is still recovering from the pandemic
AlphaValue provides unbiased, reliable and independent equity research. We believe that this is key to ensuring market integrity. Find out more about us here.