AALBERTS DESERVES WIDER RECOGNITION

Aalberts is a Dutch manufacturing company of Industrial and Building Technology. The group employs 14,402 people and it has a turnover of €2.98bn (2021). We initiated coverage in late spring this year and currently have a BUY recommendation with a +46% upside potential.
Rightly Aalberts is pushing back against the idea that it is a holding company.
Indeed it has evolved in recent decades into what is today an industrial conglomerate with full control over its subsidiaries. From twelve in 2012, these subsidiaries today only have four end markets, well-chosen so the capital intensity and know-how requirements are (very) high and therefore act as barriers to entry.
The reason to invest in Aalberts is thus to own a company that is present in promising sectors, recently backed by the Biden plan and European Green Deal, like eco-friendly buildings (58% of revenue), sustainable transportation (15%), semi-con efficiency (9%) and industrial niches (18%), good ESG investment but above all enjoy strong pricing power. The only serious risk we see is that the threshold for transferring prices has been reached or is soon to be reached or that plenty of smaller construction companies go bankrupt which could lead to pressure on margins.
The war in Ukraine could play to their benefit
With 95% of revenue coming from the USA and Western Europe, there is no exposure to developing countries or even Eastern Europe. The only material exposure is the dollar, but even that is naturally and almost fully hedged by the company's local operations.
One might even say the high energy prices, a direct result of the war, work in their favour. More than ever, investments and subsidies in the heating and cooling of buildings with heat transmission based on water circulation rather than based on individual gas-fired units, would pay off quickly. And then there is of course the electrification of car parks that also plays into their hands. 
Predictability is as high as it can get
It is therefore not surprising that big funds like Blackrock, Capital Group and FMR Corp are loyal shareholders, despite a ROCE which according to our own standards lies on average just below WACC. No fewer than half of the shares are owned by funds which own more than 3%.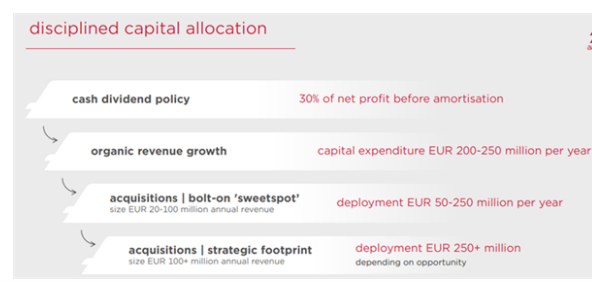 The distribution of a yearly-increasing dividend, assuming net profit grows, stands at the top of the priorities of the company. Apart from 2020, Aalberts has always delivered on this ambition. A healthy balance sheet, with only €491m net debt or 0.93x EBITDA, also allows for dividend distribution in challenging times, a likely scenario for 2023.
R&D spending of up to €150 million per year by 2026 combined with capex of €200-250 million prioritise organic growth and trophy acquisitions are avoided. Acquisitions, both bolt-on and bigger strategic ones are at the bottom of the spending list, but are still important. The company has history of external growth which will continue. Indeed, as the figure below shows, its addressable market may be big with €24bn, still its fragmentation is very high and Aalberts sees itself in the consolidation driving seat.

2022 on track to be a very strong year
Although no view on profitability was given in the Q3 update on 09/11, the organic YTD growth of +8.8% and orderbook increase of +48% is impressive and we note only a small slowdown in growth versus the half year results. We still foresee a record EBIT for the year of €351m (2021: €348m) but this is not reflected in the current price of the stock, which is trading at levels not far above those of 2015-2017. This market pessimism is not warranted. For now, thanks to the strong pricing power and clear vision, we still believe the company could pull off (very) modest growth of 1% but with a greater focus on margins in the years to come.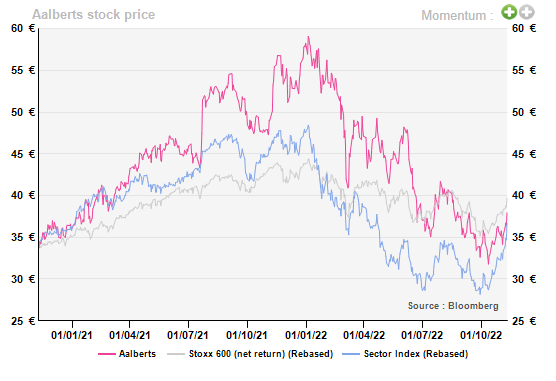 We see 46% upside potential more driven by the peer-based metrics and the NAV than by an old-fashioned DCF. Aalberts' defensive balance sheet implies a Wacc dominated by expensive equity (the capital sector beta stands at 1.13). A case of having ones' cake that cannot be eaten: safe but poor apparent returns. The real issue with Aalberts is that, beyond Benelux, it has to yet gain an Atlas Copco type recognition.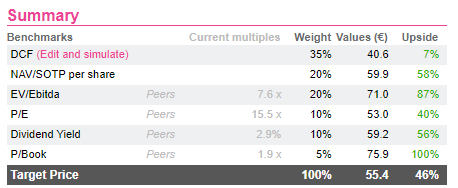 AlphaValue provides unbiased, reliable and independent equity research. We believe that this is key to ensuring market integrity. Find out more about us here.