The long-lasting battle for control over Generali has finally come to an end. The current CEO Philippe Donnet has been re-elected by Generali's shareholders, along with a new set of Board members proposed by the exiting Board. Now that the governance turmoil should be over, the management will be able to focus on delivering on its ambitious and challenging strategic plan (unveiled before the invasion of Ukraine by Russia). The battleground may now move to Mediobanca.
Generali's AGM took place this morning and was long-awaited as the Governance battle for the election of the firm's CEO had depressed the share price. With a record attendance of 70.7% vs. a more usual c.55%, 56% of Shareholders decided to support the CEO's list.
Philippe Donnet, backed by main shareholder Mediobanca, will thus remain the CEO of Generali whereas he had been heavily contested by historical Italian investors Leonardo Del Vecchio and Francesco Gaetano Caltagirone.
Following this win, CEO Donnet should be relatively free to take initiatives in that Caltagirone will only have 3 of the 13 Board seats given the number of votes recorded in his favour (c.41%).
This battle had lasted for months (since summer 2021), triggering the regulatory authorities and exerting a warring influence over shareholders. In fact, since we declared the challengers' plan "a farce" on its unveiling, the Generali share price has underperformed its main peers. Back then we wrote that, other than for speculative reasons, we would avoid the stock in that the company's governance-led instability was not worthy of an insurance major.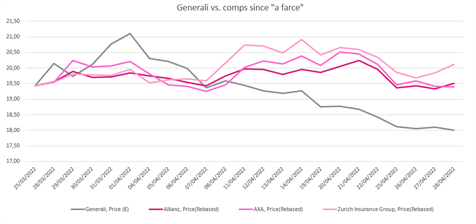 We added that this boycott of Generali's stock would remain in place until the dust had settled, which might not be as of today.
Our first word of warning is about CEO Donnet's current strategic plan, which was drawn up well ahead of the Russia-Ukraine conflict and the potential impact of inflation and a recession. We believe that there could be a change of tone in the coming days as the assumptions are likely to be very different from those in the original plan (presented last December). It was effectively tricky to announce an updated plan prior to the vote while the challengers were proposing an illusive and dementedly-ambitious plan instead.
In recent months we have also learned that the conflict between Mediobanca and the challengers extended beyond Generali's scope and took the form of a highly personal dispute. Caltagirone and Del Vecchio may now pursue their hustle at the level of Mediobanca in that they hold respectively 3.09% and 19.39% of the banks' shares. While, since the beginning, we have labelled this conflict a war, it may well turn out to be only one battle within a much longer war.
The dust has not settled yet, but there is now a little more transparency for Generali.
Read more on www.alphavalue.com