Sustainability with a difference
At AlphaValue, we are proud to promote a traditional equity analysts-based review of sustainability factors which is inclusive of all the 465 stocks currently under coverage. There is no exclusion, no sector idiosyncrasies but a systematic review of simple metrics that apply to all.
The benefits are that it points to very differentiated views on 'sustainable' stocks whereby contrast algos coming from third-party databases tend to stumble or spit out standard views on crowded trades.
As available on the sustainability page of the AlphaValue website, here is the list of the best stocks (on a scale of 0 to 10). It is interesting to see as well that most are actually worth investing on financial metrics. One can have sustainable stories which are not overpriced.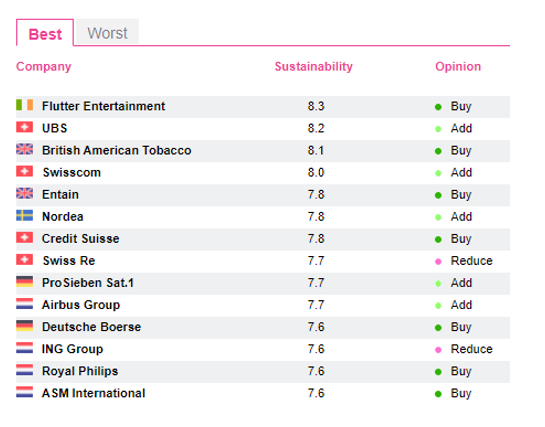 Flutter, Entain or BAT will irritate investors under pressure to avoid what used to be called vice stocks. What matters in AlphaValue's gauge of sustainability is whether the governance is up to the job of long-term, constructive thinking. That hinges on independent-minded boards with a fair degree of diversity.
All the stocks above do well on that most essential condition for a sound business, able to adapt to stakeholders' pressure. This means that such companies can strive to impact less on their environment, i.e. their clients, when it comes to addiction-based stocks. The shift in the business model of BAT is telling of what can be achieved (e-cigarette, vaping and oral nicotine, cannabinoids).
Sustainability is about endless adjustments to the changing understandings of what is at stake. A good board will do the trick, which is to rethink the business model.
The above ranking is also taking its roots in the ability of issuers to improve their standing on the emission and social fronts. Looking for progress rather than low absolute levels provides for more interesting and engaged investing. This is how an Equinor manages to be ranked 62nd/465 stocks on the sustainability front. In a year when Big Oils did better than most so-called green stocks, this is good to know indeed.
Discover our ESG research : click here
Access to research platform : click here