Reaching Net Zero emissions using CCS technologies
Carbon Capture & Storage (CCS) technologies divert CO2 and store it underground, avoiding its release into the atmosphere. It is a key tool in reaching net zero emissions and we expect the oil services sector to be one of the main contributors in this industry. In this note, we take a look at the CCS value chain and at several companies (under AV coverage) involved in it.
Carbon Capture & Storage (CCS) technologies are convenient as they can capture the CO2 at source (e.g. power plant, industrial site), and are necessary in decarbonising sectors where electrification is challenging (e.g. cement, steel). It can also be an alternative to electrification, as in the case of hydrogen, when combined with steam methane reforming (vs renewables electricity with electrolysis).
In its net zero scenario, the IEA estimates that CCS would offset 7.6 gigatonnes (Gt) of CO2 per annum by 2050, c. 20% of today's total emissions. Note, however, that the IEA also says that the current level of investment is insufficient to reach such a target. The IEA estimates that $160bn of cumulative investment is needed by 2030. While optimistic, this shows the potential of the market. In order to reach 1Gt of capacity by 2030, investments in CCS could be at around $10bn p.a. This would represent around 5% of the mid/downstream investments in oil & gas (c. $250bn for 2021).
This is also a critical piece of decarbonisation for the oil & gas sector. All integrated oil companies expect CCS to contribute to their net zero targets (as an offset). Eni, for instance, believes it will have a CCS capacity of 50mtpa by 2050, in order to be a net zero company. This is more than the total capacity currently in operation.
Today, there are around 30 CCS facilities in operation, predominantly in the US, with a capacity of c. 40 million tonnes per annum (Mtpa) of capture of CO2. While, this is small compared to the IEA's target and therefore implies a massive deployment of such systems, CCS is not new. The first CCS was operational in 1972 (Terrell/Val Verde, Texas), where a unit would capture CO2 from a gas power plant to inject the CO2 into an oilfield. Most of the CCSs currently in use are for enhanced oil recovery (i.e. injecting the CO2 in an oil/gas field to maintain pressure on the reservoir), and are therefore not contributing to net decarbonisation.
However, the current project pipeline is, mainly, to store the CO2 in a dedicated reservoir. Essentially, this is led by decarbonisation efforts rather than oil & gas extraction. There are around 40 CCS in development/construction, for an additional capacity of 70-80mtpa.
The cost of a CCS facility depends on the source of gas, but also the scale of the facility, or the distance to the storage site. The CCS will capture the stream of flue gas from the asset, and a technology (e.g. solvent, sorbent, membrane) will recover the CO2 from the gas. The partial pressure of the CO2 varies depending on the flue gas and the higher the partial pressure of CO2, the lower the cost of CO2 capture (as it requires less energy for its capture). The IEA estimates that carbon capture costs c. $40-120/t of CO2 for dilute gas streams (cement production, power generation). Therefore, a higher cost for CO2, as well as government subsidies and tax credits, incentivise the development of CCS.
In Europe, there are several large projects in development: Northern Lights (Norway), Net Zero Teesside (UK), Zero Carbon Humber (UK), Acorn project (Scotland). Essentially, each project is around the construction of a pipeline from an industrial cluster to a storage site. There are then multiple projects around the decarbonisation of the industrial assets.
The capacity of each CCS facility depends on the asset it intends to decarbonise. Dutch company Twence has contracted Aker CCS for CCS of 100ktpa for a waste-to-energy facility (with a €14m funding from the European Commission), which was the first sale from Aker CCS's small-scale offering ("Just Catch") starting at 40ktpa.

At the other end, there are projects with a capacity in excess of 1mtpa. The Peterhead (gas) power plant has a capacity of 900MW, and a CCS (part of the Acorn project) could remove up to 1.5mtpa (note that we estimate that a 900MW gas power plant producing continuously emits c. 3.5mtpa).
Impact
The following graph, from the Northern Lights project, provides an overview of the value chain: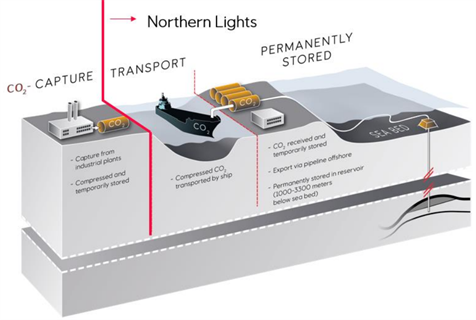 All in all, we can expect future projects to be equipped with carbon capture facilities (e.g. Qatar North Field expansion), which would increase the size and scope of work for contractors. Therefore deployments of CCS are positive for the sector, yet it should stay rather modest compared to the size of the mid/downstream market. Perhaps the most important point might be an indirect one. Indeed, as CCS technologies are flexible units (e.g. it can be retrofitted), we would avoid a complete overhaul of industrial processes. If CCS prove to be as effective (in reducing CO2 emissions) as advertised that would therefore ensure some sustainability for the industry.
Companies under AV coverage are mainly involved in activities related to the CO2 capture (design and installation of the capturing unit in the industrial site), and in activities related to the storage site (e.g identifying storage sites, and monitoring them when in operation).
Fugro
Opportunities during the full lifecycle of the project, both in site characterisation and asset integrity activities. Fugro can help operators to find safe storage sites, identify how long the CO2 can be stored. Storage sites are geological formations (e.g. saline aquifers, depleted reservoirs, salt caverns), with sufficient depth and pressure to maintain the CO2.
CGG & PGS
Both companies can perform geology and geophysics activities for site characterisation and monitoring. In geophysics, data sales or data acquisition can be acquired on a proprietary basis or on a multi-client basis.
Latest developments: In July 2021, PGS and CGG signed a Memorandum of Understanding to develop MultiClient Data Collaboration for CO2 storage. During Q3 21, PGS reported that it has made its first significant sale (c. $5m) related to CCS. There are three CCS acquisition tenders planned in the North Sea next year, and PGS is expected to perform at least one of them. Asked during the call whether the company will sell dedicated CCS data, management said it is a combination of the existing MC data with a dedicated offering, specifically for CCS.
In November 2021, CGG released a screening study in the northern North Sea to identify storage sites.
Saipem
Saipem sees a potential in projects for retrofit. The group can do carbon capture in refineries (i.e. Saipem's traditional sector) but also in hard to abate sectors, and is having discussions with cement producers, municipalities, etc.
Latest developments: In January 2020, Saipem acquired a proprietary technology CO2 capture solution from the Canadian CO2 Solutions Inc (CSI). The technology is in the field of enzyme-enabled carbon capture. Enzymatic carbon capture has the benefit of requiring the input of heat at lower temperature, as well as lowering the use of energy, all leading to lower waste. The group's latest developments evolve around this technology. In March 2021, Saipem signed a feasibility study agreement with Norwegian advanced materials manufacturer Elkem to evaluate potential development plans along the CCS value chain, using Saipem's enzymatic carbon capture solution. In December 2021, Saipem signed a collaboration agreement with Danish biotech company Novozymes. Saipem will develop the mechanical and equipment design, while Novozymes will provide enzymes.
Technip Energies
The company is involved in the feasibility study of the Acorn CCS & hydrogen projects in Scotland, and delivered a pilot plant (via its subsidiary Kanfa) at Fortum Oslo Varme (waste to energy plant) in Norway this year. The plant uses Shell Cansolv CO2 capture technology, using amine-based solvent treating processes.
In December 2021, Technip Energies has been awarded a FEED update contract for the Ghasha development fields (UAE), which includes the integration of CO2 capture. This follows the LNG contract for the North Field expansion in Qatar awarded in February 2021, which will also include a CO2 carbon and sequestration facility.
In November 2021, the company signed a head of agreement with Petronas, for a collaboration on further development and commercialisation of CCS technologies, including Petronas' cryogenic carbon capture technology (CryoMin), as well as membrane-based technology (PN2).
TechnipFMC
In October 2021, the company has entered a strategic alliance with US exploration & production company Talos Energy to develop CCS projects along the US Gulf Coast. TechnipFMC's capabilities are in engineering and installing the subsea infrastructure.
SBM Offshore 
In April 2021, the company announced that its subsidiary, Imodco, has received approval in principle from Bureau Veritas for its CCS Tower Loading Unit (TLU), which will be deployed by the Dutch company Carbon Collectors. The TLU would be used to connect a transportation barge to the storage field.
Access to full report : click here