Generali/Mediobanca: A bloody game of thrones
Generali and Italy's most powerful business empires are throwing themselves into a bloody battle over Italy's biggest insurer CEO's head. Considering the timing, there is a high risk of Generali suffering from a jeopardised governance, while the Italian insurer is deciding upon its 2022-24 strategy, to be presented in two months time. The next few days as well as Mediobanca's AGM on 28 October will be decisive.
The outgoing Board will propose the renewed one
On 27 September, Generali communicated that its Board of Directors had approved the procedure for the renewal of the Board of Directors by the outgoing Board, although subject to changes coming from potential requests from supervisory authorities.
As previously disclosed, 8 out of the 12 non-executive directors, who met on 14 September, supported CEO Donnet's renewal. Hence, there is a high probability of seeing the current Board proposing the renewal of the Frenchman. According to the procedure for submitting a list for the renewal of the Board of Directors by the outgoing Board, a consultation of the main shareholders is required, which is where Mediobanca and the Italian families Del Vecchio and Caltagirone will battle.
However, this is not the end of it. This procedure does not substitute the shareholders' right to propose their own list, hence, the battle currently occurring to rally as much voting rights as possible. As we have seen over recent weeks, all of them have increased their stake in Generali, propelling the insurer's share price. We expect this to continue.
Balanced powers
The families of Del Vecchio and Caltagirone as well as Fondazione CRT have become allies through a shareholder agreement (12.8% of voting rights) in order to propose a new list of Board Members, which is intended to exclude the current CEO Philippe Donnet. We would expect the Benetton family to join them at some point, which would increase the alliance's weight to 16.8%.
They intend to rally further parties together to gain more weight in the Board's renewal decision, while the exiting Board has also been allowed to propose a renewed list for the Board.
This second list would include CEO Donnet, supported by Mediobanca's presence on Generali's Board (17.22% of voting rights since it increased its stake from 12.69% via a share lending programme) and ardent supporter of the Frenchman.
A (fairly?) contested CEO
A few months ahead of the end of his term (Spring 2022), the CEO Phillipe Donnet is being heavily contested by the families of Del Vecchio and Caltagirone. Much criticism has resulted from a weak M&A approach, while we could also read some bitterness in having a Frenchman at the head of Italy's biggest insurer and pillar of its economic sovereignty.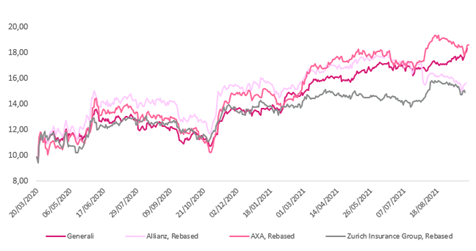 In fact, the opposite camp (in the incarnation of Mediobanca's management) strongly supports Mr Donnet as a result of his fair dealing of the COVID-19 crisis and the recovery from it.
Looking at Generali's share performance over the past two years, there isn't much to blame nor to celebrate as the insurer's performance stands slightly above DACH peers and is broadly similar to its main competitor AXA, albeit rather pushed up by the recent unceasing buyouts resulting from the shareholders' race to grab as many voting rights as possible.
Mediobanca, the central piece
Mediobanca's support to Generali's CEO, despite Del Vecchio's 18.9% ownership (since he increased his stake by 3.5% in July), comes with the strong control of the bank's management over the Board. It is the lack of independence that Mr Del Vecchio intends to break according to his submitted resolutions to Mediobanca's Board ahead of the AGM (28 October) by cancelling the executive directors' weight on the Board and add new independent members. Mediobanca published a statement a few days ago to announce its Board would meet imminently.
If the Italian families manage to turn Mediobanca to their side, there would not be strong enough opposition left to counter their proposed list and adoption. CEO Philippe Donnet would be out.
Storm ahead
This is the worst possible context for Generali to face such governance issues. The firm is about to announce its next three-year plan (on 15 December) and might be ending up with a new CEO and a completely different strategy as of Spring 2022 after the AGM.
Unless Del Vecchio manages to change the by-laws governing Mediobanca's board over the next few days and pushes Donnet to be a puppet for the Italian tycoon's view for Generali's next three-year plan. If this happens, a waterfall of consequences would occur on Mediobanca's governance, more specifically the executive directors, since they have shared diametric views for a while.
A victory by Del Vecchio, who has strongly criticised Mediobanca's push for a soft hand on M&A, would mean a more aggressive strategy at the expense of capital return to shareholders, in the short to medium term.
On the other hand, a win by Mediobanca would mean continuity in the strategic plan but uncertainty would remain as to the bank's strategy to keep such an ownership in the medium term given its pre-COVID-19-willingness to swap some of its Generali shares for some of Banca Generali's.
Read more: click here