Big caps will do the rotating job
Tracking sector rotations has been a tiring exercise so far this year with sentiment changing fast about growth, central banks' next stop, the pandemic capitulating or not, Biden's policies, etc. Weekly rotations would have been mostly late and costly affairs.
Obviously an index ETF would have saved time and money. As an alternative, we looked into a dumb strategy to own equally the biggest stocks of every one of the 30 sectors covered by AlphaValue. Such a portfolio has liquidity benefits and quality implications: the largest stock of a given sector cannot be a dog. The point here is that such a strategy may be a better bet ahead of a looming correction than trying to rotate away from extended sectors.
The starting point is to select the stocks on the basis of their average market cap in 2020. This leads to a performance equal to that of the Stoxx600 NR ytd.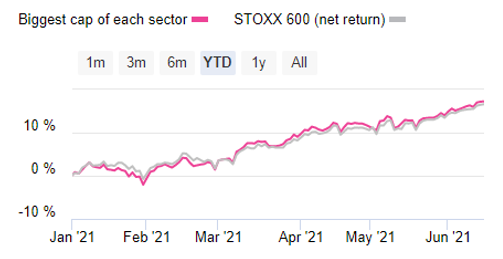 This is half a surprise as those 30 names account for €3tn market cap or more than a quarter of the market cap of the AlphaValue coverage (463 names; €11tn). They were bound not to diverge from the index.
So why bother? Because of the possibility that they will diverge on the way down, i.e. be more resilient. Interestingly the average metrics of this quality portfolio do not point out to way better figures than the average computed for the 463 stocks (which are weighted so that the 30 big caps imprint that universe disproportionately).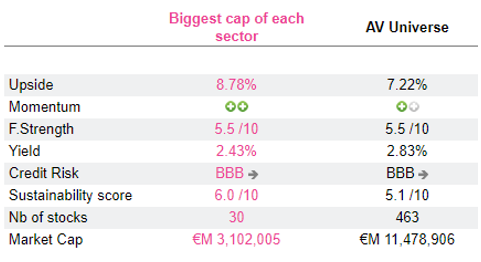 But looking at a more granular way confirms, for instance, that balance sheets are very strong with the non-investment grade stocks being so only in a transitory way (e.g. Airbus). AlphaValue's credit ratings are its own (i.e. independent) and yearly ones, i.e. very reactive to changes to cash flow generation.

Ratings of the club of 30

The other attraction is that a narrow portfolio of large caps will settle the issue of ESG risks. Bigger caps tend to be better equipped to tick the increasingly demanding boxes and to finance the move to greener credentials. The table below shows that these large caps do better than the rest (reminder: these ratios are equally weighted).
Bigger caps are (nominally) cleaner

In all, it looks as if one can ride the lasting good mood with a narrow portfolio of 30 quality names and hopefully avoid being crushed when sentiment dries up.
And the names are…
Get the full list : research@alphavalue.eu