Yet another disconnect between Brent and Oil stocks seems to be in progress. The Brent bulls are recovery bulls and back-to-2019 hopefuls. China is the black box of oil demand. Bulls will see China's 6% GDP growth rate as being as carbonated as ever and here to stay so that crude is meant to revert to $70, or more.
By contrast, ESG minded observers do know that the pressure on CO2 emissions is relentless (check EU carbon rights' steady rise in the chart below), that business models are changing fast, and that even China is ready to be very frontal on carbon emissions as attested by the very recent forced steel production cuts.
Still Oil in the guise of listed Oils has lost 8% since early March.
Crude (blue) vs. Oil companies (pink) and EU Carbon rights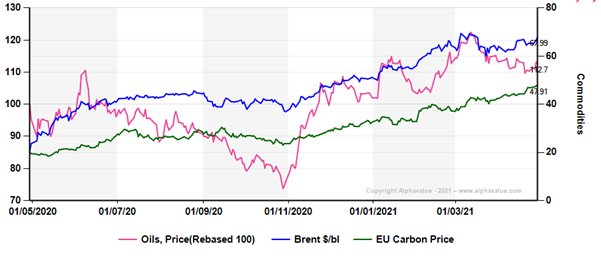 As the consensus grows that Oils are stranded assets, the unknown is how much of the SFDR reporting implications will force the sector down further as investors dump it or whether it will be rechristened as "black on its way to green redemption" as it uses its abundant FCFs to buy itself a new cloak in renewable energies. Contrarians, such as hedge funds not chasing ESG money, will see an opportunity too that could help support the sector.
The paradox is that the green cloak is likely to have big costs /unsavoury returns as too much money is chasing the same assets in bidding wars. Big Oils can stand it but the capital discipline that it respects in black energies is at the same time creating the conditions for its black assets to be very profitable ones. Eventually, Big Oils may end up generating even bigger oil earnings while having bought themselves an expensive green passport.
Oil companies' shares are in profit-taking mode while their earnings outlook is improving. The following table shows the steepness of the 2021 earnings upgrade over the last three months: +€12bn or +55%. For benchmarks, 2020 is closing at €9bn while the 2019 tally was €49bn.
Oils' earnings upgrades

While we harbour some doubts about the extent of the fast-forward recovery (India's COVID-19 suffering will cap demand) and its Oil demand intensity, our contrarian inclination would be to buy into Oils' strong pay-outs and inevitable switch to green. While the sector is an anathema to ESG talibans, the business model will inevitably pivot away from carbonated energy. It is a case of having once's cake (future green energy) and eating it (proper pay-outs, 5% yield).
Oils' valuation essentials

To connect to AlphaValue research platform : click here
Related companies : Royal Dutch Shell, Total, BP, Equinor, Neste, ENI, Repsol, OMV, Galp Energia, TechnipFMC, Sbm Offshore, GTT, Technip Energies, Saipem, Hellenic Petroleum, Cairn Energy, Fugro, Tullow Oil, CGG, Tecnicas Reunidas, Saras, PGS