Where has the ESG money gone?
Inflows into ESG-stamped European ETFs trebled last year and overtook those of 'ordinary' ETFs over Q1 21, according to TrackInsight and Morningstar. These figures would cover all asset classes but the question becomes how much the ESG-driven demand in European equities is possibly skewing valuations.
Very little so it seems, or said differently, everything investment is called ESG compliant when it goes the ETF way.
A neat benchmark is European Utilities. The sector has long been a darling default sector for going the green way, confirmed by a few star stocks such as Orsted or Iberdrola.
It is easy to see that their start status has been (briefly?) lost. The same goes for the Utilities sector P/E relative to the AlphaValue coverage P/E (second chart): nothing significant happened ytd.
Orsted and Iberdrola 2021 P/E
2021 Utilities P/E and relative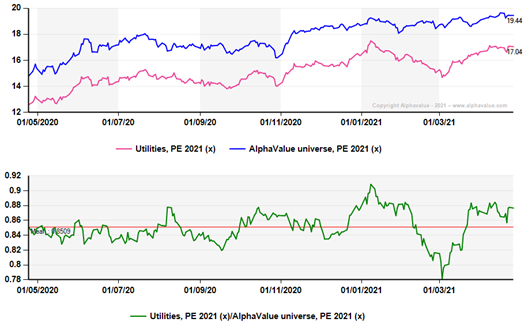 We looked too at the best stocks from an environmental standpoint (49/464 stocks with a green score above 8 out of 10) and can see that they are not outperforming in any meaningful way.
Environment is not a differentiating performance factor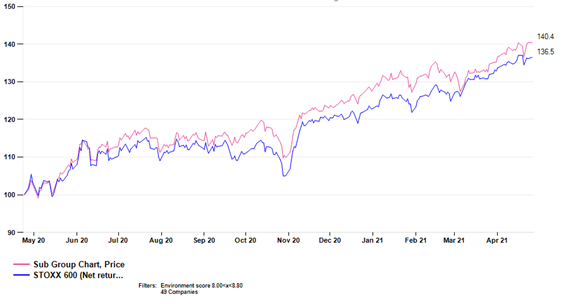 Another try through AlphaValue's sustainability metrics confirms the suspicion that ESG-driven stocks have not been running the show; actually the reverse in this case.
Sustainability (51 best in class stocks, in pink) has been a brake to performance over 1 year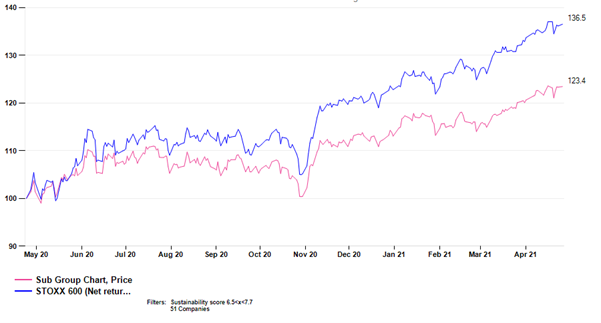 So the money that flowed into ETFs with ESG mandates looks like having found its way into an investment universe unlikely to differ much from indices or from a selection of very large stocks that will cover all corners of an investment mandate including the ESG angle. If confirmed, ESG money is really ordinary money in ordinary big caps with some green marketing blurb on top.
That is bound to open further questioning about the difficulty for active fund managers applying ever stricter https://www.viagrageneric.org/ reporting rules on the sustainability front (SFDR) while their efforts are competed away by ETFs selecting investments on scoring provided by data companies with no skin in the game.
The debate is only starting.