Our repeated concerns about excessive dependence of the European luxury industry vis a vis China gained substance last Thursday when Chinese consumer ire has been driven through social media against H&M and Burberry, amongst others, for their earlier stance on the use of Chinese cotton, possibly relying on forced Uyghur labour. 
The lesson is really that the easy wins of European luxury in 2020 came from its smart use of social media/e-retail platforms/influencers by European brands with very effective results. These same tools can just as well deflate those brands overnight. We did not see that blow coming and were more concerned by other forms of diktat from the CCP when it comes to letting Chinese consumers splurge freely on foreign imports of discretionary goods.
The lesson in that blow is also that nobody saw it coming as it amounted to the skewed and delayed interpretation of public but unnoticed ESG commitments of European corporates as so many anti-Chinese acts. Rousing the flag through consumers boycotting of foreign brands is a well-established way for the Chinese government to send messages.
The temptation is to conclude that we have seen it before and that consumers will buy the European luxury brands again as they historically did with Japanese cars that were burnt the week before on a political stance. We are not so sure as the high intensity diplomatic adjustment between China and the western world, obviously pulled by the Biden administration, is likely to be brutal and lasting. European brands are easy targets as are the local operations of European firms in China.
As a reminder, European Luxury is trading at a cool 37x its 2021 earnings, themselves 30% owed to China. Would it mean that it is 30% too expensive should things turn sour? The sector performance chart shows that investors are currently relaxed.
Luxury top-notch valuations

Luxury sees no Chinese hurdle for now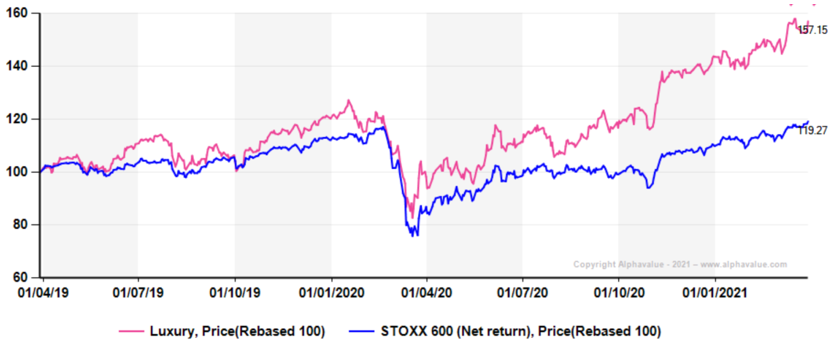 Burberry's chinese "dream" or "nightmare"?
Burberry's turnaround plan is moving in the right direction but not its share price development as it stumbles on too may rocks. In January 2020, when the market started to celebrate Tisci's better-than-expected deliveries for three consecutive quarters and a FY19 guidance upgrading, the outbreak of the pandemic led to a 30% contraction in sales and turned growth to negative. A year later, an unscheduled guidance upgrade despite the continuing pandemic rekindled again our hopes. Sadly, the group became the first luxury brand to suffer from the Chinese backlash over the Xinjiang matter.
Since taking over as CEO in July 2017, Gobbetti has ticked all the boxes. He hired Givenchy's former creative director, Ricardo Tisci, to revitalise the "fashionability" of the iconic British brand. Tisci's collection now covers almost the entire mainline retail offer. Excellent customer response to the new collections and increased full-price sales momentum have confirmed the Italian designer star's fashion taste.
The group's use of new media, tailored locally and with strong coverage, also paid off. Burberry's engagement rate on Instagram has increased by around 35%, and the engagement rate on WeChat more than doubled over the last two years. In particular, with a bold marketing strategy and innovative sales channels, the group has won the hearts of young Chinese consumers. Chinese shoppers account for nearly 40% of the group's global sales.
Pushing the brand further upmarket, Gobbetti trimmed most outlets and shifted distribution to a more retail-focused channel (wholesale sales have been reduced to 18% in May 2020, down from 22% in January 2018). In addition to the shift in retail channel, the group has jumped on the bandwagon of the rapid growth of e-commerce in the luxury industry, with most wholesalers being replaced by e-commerce (direct e-commerce, e-concession, e-wholesalers…).
Last July, the group launched the first "luxury social retail stores" in Shengzhen, China, with WeChat's parent group Tencent. Shoppers could use their WeChat programme to unlock exclusive content, personalised experiences and share them on their social networks. All clothes in the shops are labelled with QR codes which, when scanned, display full product information directly on the customer's phone. This innovative "social retail store" has achieved a new level of customer engagement, especially for the younger generation.
The ongoing pandemic has resulted in several rounds of store closures around the world. However, Burberry's leading position in digital/omnichannel distribution and greater exposure to the Chinese market has given the group extra leverage. The stronger-than-expected rebound in full-price sales from the year-end 2020 led the group to raise its guidance for the FY ahead of consensus expectations. The stock jumped 8% on that day.

He who lives by the social network…
That market's enthusiasm drummed up by social networks backfired. Chinese netizens have boycotted Burberry, following H&M and Nike last week, as the brand seems to have publicly stated that it refuses to use cotton from Xinjiang over the accusation that Uighurs have been subjected to forced labour in the region.
With the market's raised attention on ESG, public companies are making every effort to improve their ESG profile (View Burberry's ESG profile). When concerns about forced labour in China's Xinjiang region were front and centre in the international media, Burberry had no choice but to indicate its ESG commitment and joined BCI (Better Cotton Initiatives) following other global apparel groups.
That well-intended BCI anchor turned the group into the first European luxury group to be boycotted by Chinese citizens. Burberry's Chinese ambassador, Zhou Dongyu, immediately terminated her contract with the group when Chinese social media discovered that Burberry had an (implied) opinion on the Xinjiang matter. The group's business partner, Tencent, also announced that it had cancelled plans to create 'skins' with Burberry for its popular online game "Honor of Kings".
The point here is not how long the boycott will last and how much direct damage it will cause to the company's direct sales, nor is it a question of whether or not the European luxury group is making use of Xinjiang cotton. Our take is that this boycott is a clear wake-up call to all Western companies which have any meaningful exposure to the Chinese market. It is a tale of two masters which will not be solved for ages (in financial markets' time perspective). The mesmerising purchasing power of the Chinese consumer is a Faustian contract which falls foul of European ESG commitments. China is another world per se which has short-circuited all traditional retail tools by deploying with immense talent e-retail in infinite designs but all dependent on social networks. There is no hiding for any brand that has capitalised on these mechanisms. This crisis is a sector-wide one with Burberry probably feeling very alone in the crosshairs of Chinese wrath.
The price of two masters?
HSBC and its Chinese/HK problems may be a benchmark for the price to be paid when serving contradictory requirements. The giant bank is 20% late on the sector as it bounces back. That may be the discount expected for groups trapped by their Chinese dreams. 
In spite of confidence in what management has delivered, we have thus decided to maintain our cautious stance on the stock due to its 40% total exposure to Chinese consumers. Burberry's weakness now is its Union Jack as China and the UK clash over a number of issues, including the ban on Chinese Technology Company Huawei, China's new security law in Hong Kong and the recent boycott of the Xinjiang matter.
On the other hand, Burberry's ownership structure makes it one of the few targets in this sector. Any setback must have a bottom.
More research on Burberry, H&M or the Luxury sector : click here