Danone still has a long way to go
So much has happened in such a short space of time. CEO Faber's departure, which seemed highly unlikely a few months ago, has now been acted upon under pressure from activists who verbalised a growing and multi-year shareholder frustration about poor operational performance when the CEO was brandishing the "company with a purpose" concept.
Danone is on its way to rebuild its governance, with a board reshuffle and the appointment of a new CEO to spice up the coming months. However, we believe that the change of heads will be insufficient to face organic growth issues. Danone should go further and faster in its strategic plan, that is in the overhaul of its portfolio, which has shown weaknesses even during the pandemic when every other grocery staple has enjoyed a boom. The more difficult bits still lie ahead.
Danone has lost ground to its rivals under Faber's leadership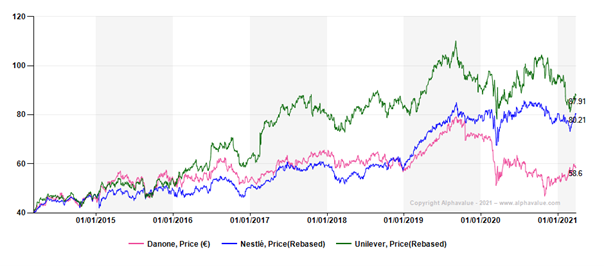 Chairman Schnepp at the helm
The governance saga that began in mid-2020 has finally resulted in the appointment of Gilles Schnepp as chairman. A newcomer to the food industry but a recognised CAC 40 executive (also on the boards of Legrand, Saint Gobain and Sanofi), he has been charged to find a CEO capable of restoring confidence with shareholders and employees alike. It looks like a call for an outsider with extensive experience in consumer goods as most likely to bring a fresh perspective. Ideally, the appointment should be made before the second half of the year and the strategic plan before the end of the year. In the meantime, the new balance of the board of directors, expected at the AGM on 29 April, should send a key signal about the "new" culture of the group. It needs one.
What future for the "Local First" strategic plan?
Danone's board reaffirmed its support for the "Local First" reorganisation plan championed by Faber in November 2020, and, although Artisan Partners and BlueBell Capital, the two activists, regarded it as good for the bin. The plan aims in particular to unify the management entities in each country, thus moving from a category-led to a local organisation with six additions to the executive committee to reflect new zones. It is good to think regionally in a world that is increasingly consuming local, although that may not help investors used to different analytics if no bridge is provided.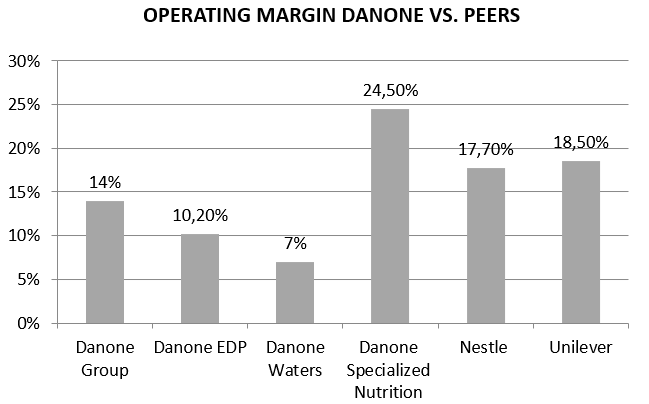 More like a cost-cutting initiative than a growth plan, the group expects €1bn cost savings by 2023, including a 20% reduction in overhead costs and a reduction of c. 1,850 jobs, including 458 in France. This is ironic when it had pledged to protect jobs and boost employee benefits when COVID-19 hit. Good sentiment is not enough to build a business.
70% of these savings will be accruing to the margin. That is not a luxury as Danone posts the lowest margins in the global food sector, with considerable gaps between divisions. However, if we look at the previous strategic plan (Protein), the group had relied on a 30% retention rate and 70% of the savings were invested back into top-line growth. This obviously raises questions about Local First while Danone is currently blamed for under-investing and having to reshape its portfolio. Its advertising budget – the lifeblood of consumer products – which has been declining for years is the main example and should definitively increase, without which Danone is unlikely to reach its 3-5% organic sales target mid-term.
For FY21, Danone expects flat margins, down in H1 and up in H2, before increasing by 100bp to 15% in FY22. Beyond 2022, the group believes that it will accelerate further to the mid to high teens. Perhaps a little too ambitious for the new boss.
Look at the portfolio
Selling off underperforming assets and investing in growth ones remains the key to meeting the often-changing desires of consumers. While Nestlé has been proactive in terms of portfolio management, with an 18% portfolio turnover since Schneider became CEO in 2017, the French http://armodexperiment.com/ group seems to have lost that plot. FY20 ROIC was c. 8.5% vs. the 12% ROIC target set for 2020 (pushed back to 2022), and while its Swiss counterpart achieved its 15% ROIC target (+240bp) in 2020, earlier than expected.
In the wake of its strategic plan announcement, the group announced the sale of Argentina and its US sports nutrition business Vega (both representing 2% of group sales), and, more recently, its 10% stake in Mengniu valued at €1.8bn. This is a first and welcomed step, but we believe that Danone should take a harsh look at its other assets, especially in Water, going nowhere. The proposed roadmap offered by Artisan was in fact proposing to dispose 10% of sales in Dairy and Waters.
The group has, moreover, confirmed that the majority of the proceeds from the sale of Mengniu will be used for a share buy-back. Restructuring is, however, far from being synonymous with distribution…
No need to rush
The first quarter, to be released on 20 April, is expected to be weak though, on comps and continuing pressure from out-of-home operations (especially for Waters). Combined with a strategic plan on hold (CMD on 25 March cancelled for obvious reasons) and stock price recovery ytd (c. +10%), we see limited short-term catalysts. Danone trades on a 12.1x FY21 EV/EBITDA and 17.8x FY21 P/E vs. 12.8x EV/EBITDA and 19.2x P/E for AlphaValue's F&B sector. While the group is on its way to restoring confidence, we shall wait for the new boss to make his move.
Access to AlphaValue's research on Danone : click here