Looking at countries as a proxy to analyse equities has been out of fashion for a long while. We periodically mention Denmark as a singular case due to its formidable array of Med Tech companies and pretty unique businesses such as Maersk or wind energy related. Below is a chart (unweighted) of the 14 Danish stocks that AV tracks. We use the unweighted approach due to the small number of stocks.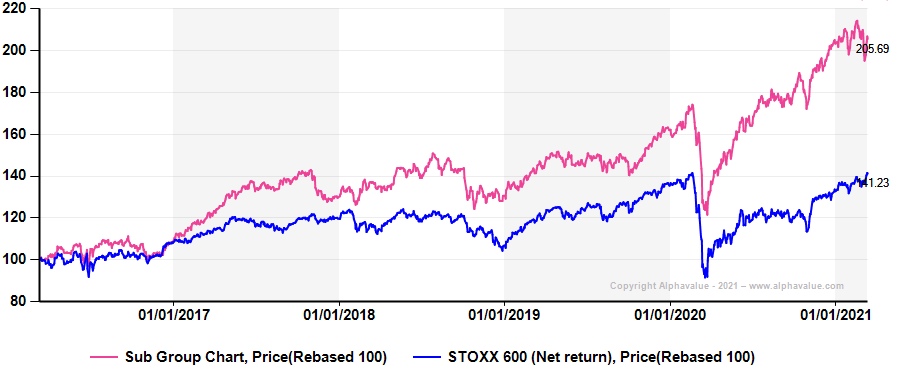 Another dimension of easy money / fear that easy money may reach its end is visible in that this Danish universe capitulated since 2021 opened a new chapter of growth post-vaccine.
Now compare that with the unweighted eight Norwegian stocks under AlphaValue's coverage, again on five years. The chart speaks for itself with a surge in Norwegian stocks from last November.
Norway's sudden take off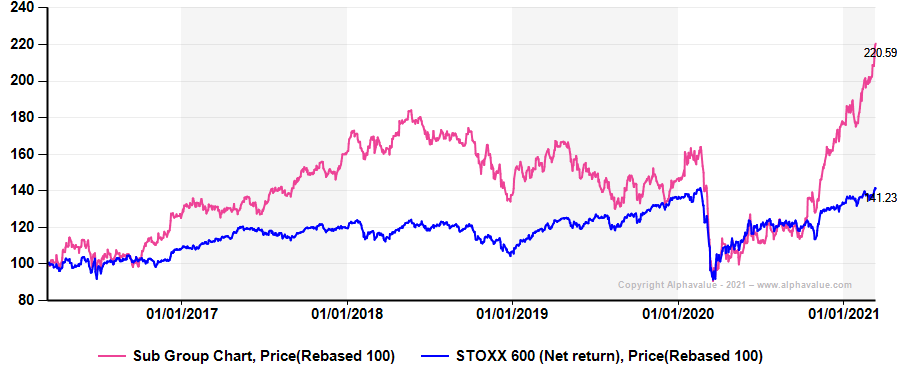 Below is a ytd blow up of the 23% outperformance of Norway (in red) set next to cooling down Denmark (green).
Ytd Norway (red) vs. Denmark (green)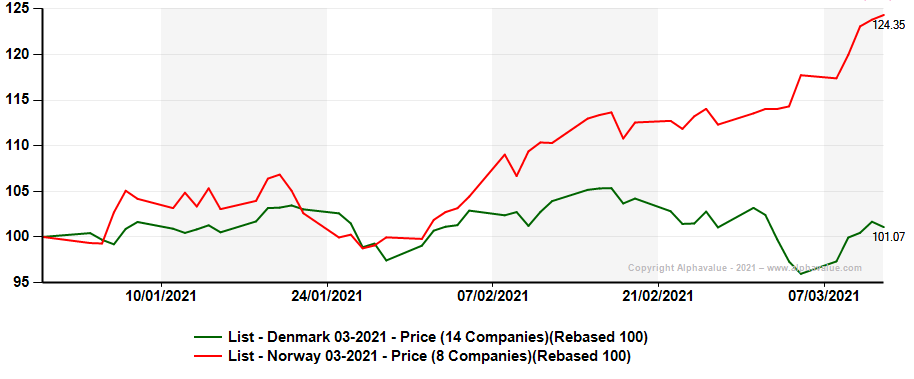 Norway as a stock exchange is much more than the performance of Norsk Hydro, Equinor, PGS and Yara. But it provides a clear indication of where the money suddenly went. Each stock has good reasons to outperform individually but collectively there is the unmistakable flavour of buying into cyclical, GDP expansion strategies. Telenor's lack of performance (3%) attests to that as well. 
Interestingly, on fundamentals both countries are expensive: Norway because we still hold a cautious view about Brent prices and thus about Equinor's profits; Denmark because its top-quality names have not lost enough height (AP Moeller and Orsted are just too dear). As we mentioned before, Danish Med Techs are again attractive though (we already pointed out the more acceptable valuations of this sector on 10-03-2021).
Coverage Denmark: AP Moller-Maersk, Carlsberg, Coloplast, D/s Norden, Danske Bank, Demant, FLSmidth & Co, Genmab, Gn Store Nord, H Lundbeck, Novo Nordisk, Novozymes, Orsted, Vestas Wind Systems.
Coverage Norway: DnB, Equinor, Norsk Hydro, PGS, REC Silicon, Storebrand, Telenor, Yara International.