EU's herd immunity bottlenecks 2.0
Concerns surrounding the EU's COVID-19 vaccination campaign refuse to die down. With AstraZeneca now reporting a safety scare – after already acknowledging supply constraints, export controls and (varying) issues for other vaccine-makers seem to have (further) stalled the EU's vaccination momentum. Overall, this isn't good news for the region's herd immunity ambitions.
After a bumpy start, the EU's COVID-19 vaccination campaign has picked up pace, with >11 doses being administered per hundred people (at present) vs. only two doses at the end of January 2021 – for more details, refer our Latest titled "EU's herd immunity bottlenecks" dated 28 January 2021.
However, when compared to other developed countries, the EU is still a laggard, having administered c.50m doses, which is less than half the doses administered by the US (c.109m). Moreover, in terms of doses administered per 100 people, the bloc is far behind its neighbour, the UK, which has administered at least one dose to c.40% of its population.
Vaccination program details
Vaccine approval: (potential) timelines

Brewing concerns
So far, the EU has approved four vaccines – which account for c.70% of its supply contracts. While these volumes (illustrated below) may seem sufficient to inoculate the region's total population of 450m, persistent supply delays by most vaccine-makers have only compounded the problems.
EU's vaccine contracts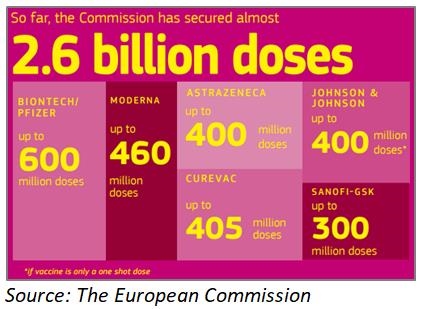 Vaccine nationalism
In January 2021, after Pfizer (c.23% of total supply) and Astra (c.15%) reported supply cuts, it was expected that the situation would have normalised by now. However, Astra has again cut its Q1 21 supply target to c.30m doses vs. c.40m doses (original plan: c.80m doses) – agreed last month, after a bitter stand-off with the EU member states, as it failed to move vaccine supplies across its various manufacturing sites. Vaccine export controls (mainly by the US) have been cited as the main reason for the latest supply cuts. Even though Astra's vaccine is currently not approved in the US, the country is not allowing exports of vaccines manufactured locally under US Defence Production Act, citing concerns of future supply constraints. The British pharma giant's hands seem tied in this situation as it accepted $1.2bn of funding from the US government for the COVID-19 vaccine development under Operation Warf Speed. What is worse, Astra has 'again' acknowledged supply cuts in Q2 21, and is expected to supply only 70m doses vs. original target of 180m doses.
Conversely, vaccine exports from the EU are continuing uninterrupted, with only one request for the export of Astra's c.250k doses to Australia being denied by Italy. As of 11 March 2021, c.34m doses have been exported from the EU, which includes c.9m to UK and c.1m to the US. Remember, under the EU's export control authorisation mechanism, it mandates the authorisation of vaccine exports outside the EU for companies with which it has signed Advance Purchase Agreements.
Astra's run of safety concerns
Concerns surrounding the safety profile of Astra's vaccine have re-surfaced after cases of blood clotting / bleeding have been reported in patients receiving vaccine shots and this has resulted in a host of European countries, including Germany, Italy and France, (temporarily) suspending some or complete use of Astra's vaccine. In its defence, Astra has clarified, after a review of c.17m people, who were administered the vaccine in EU and UK, that it has found no evidence of increased risk of blood clotting or bleeding due to the vaccine. Also, the group has garnered support from the UK's regulator (MHRA), which has stated that the number of cases of blood clotting that have been reported post vaccination are no greater than what would have occurred naturally. Assuming that this claim is true, the EU nations' decision so far seems to have been more driven by fear and to avoid a political/social crisis.
Remember, scepticism with respect to Astra's COVID-19 vaccine has been around since the late-stage trial results were reported in November 2020. Considering the way trials were handled, including lack of explanation for two dosing regimens and the limited (c.12%) share of elderly in trials, the EU always seemed hesitant to approve the jab for the elderly. Also, the large presence of anti-vaxxers in the EU (vs. UK and US) and lower efficacy of Astra's vaccine (vs. mRNA-based vaccines of Pfizer and Moderna) have resulted in lower acceptance for the jab. For instance, even before news concerning the blood clot risk came to fore, >50% of Astra's jabs were lying unused in various EU countries (including >60% in France) vs. c.15% for Pfizer's vaccine. Moreover, with French President Emmanuel Macron, in the past, having raised doubts over Astra's vaccine, various factors have compounded anti-Astra rhetoric in the EU.
Bloc's weaker unity exposed
The row over Astra's vaccine seems to have further exposed the weaker links within the EU members. Remember, six member states, including Austria and Bulgaria have complained to the European Commission about unfair vaccine distribution. While the EU has a pro-rata population-based allocation system in place, it has also allowed individual members to buy more or less each vaccine they wanted. With perceived benefits associated with Astra's vaccine candidate – less stringent temperature requirements and being cost-effective, a number of EU countries were inclined more towards the British vaccine. But, now with supply and safety concerns coming to fore, some EU members are even lagging behind the region's overall slower roll-out and have instead resorted to Russia's vaccine – approved despite no proper trails, to expedite herd immunisation.
Problems with other vaccines as well
Even after approving Johson &Johnson's single dose vaccine, the EU is not expected to receive the delivery of J&J's jab anytime soon – at least not before the second half of April 2021. The US giant has informed EU officials that it is under stress to deliver c.55m doses promised for Q2 21 (2021 target of 200m doses) and has acknowledged bottlenecks at production sites in the Netherlands. Also, like Astra, J&J's request to loan US stockpiles to the EU have been denied by the Biden administration. Moreover, according to leaked EMA documents, the regulator in November 2020 had flagged concerns that some of the early commercial batches of Pfizer/BioNTech vaccine carried lower than expected levels of intact mRNA, which could have severe implications on the performance and/or safety of the vaccine. While these issues seem resolved, as the jab secured approval in December 2020, it raises serious questions on the stability of vaccines as they move globally through complex supply chain networks.
New virus variants adding to struggles
Like all viruses, coronavirus also constantly mutates into novel variants and, while most of the mutations are of little/no significance, some could be even more dreadful than the original virus itself. In the case of COVID-19, its variant first surfaced in South Africa, i.e. 501.V2 (also known as B.1.351) and has been found to spread more rapidly. Moreover, ineffectiveness of the currently approved vaccines to counter this mutation further adds to the woes. Apart from South Africa, this variant has also surfaced in >20 other countries, including the UK, Austria, Norway and Japan. Also, the limited virus sequencing globally has so far resulted in the discovery of only a handful of newer mutations and it is possible that a more threatening mutation is already spreading unnoticed.
Though some remedial measures are underway
The EU has announced that it is planning to reduce dependency on global supply chains for sourcing crucial vaccine raw materials as 'vaccine nationalism' gathers momentum. The European Commission has particularly identified:
disposable plastic bags – used in bioreactors, which mix the vaccine ingredients
vaccine vials and lipid nanoparticle – for manufacturing mRNA vaccines
low dead space syringes – which help extract doses from vials, as some of the critical items
This is an important step since the US has already put export controls on these inputs, with the Serum Institute of India – the world's largest vaccine maker and Astra's manufacturing partner in India – already acknowledging problems in sourcing key inputs from the US.
While the EU's vaccination campaign was already running behind other developed countries, the recent spree of negative news has resulted in further inevitable delays in herd immunisation. Factoring in these developments, the EU's herd-immunity timeline is likely to be pushed to late Q4 21 vs. our prior estimate of late Q3 21.
AlphaValue's Big Pharma coverage: Glaxosmithkline, Novartis, Sanofi, AstraZeneca, Bayer, Novo Nordisk, Merck, UCB, Grifols, Vifor Pharma, H Lundbeck, Hikma, Ipsen, Faes Farma.
Read more : www.alphavalue.com