As 2021 develops, there may be plenty of ESG blood on the investment walls. 2020 was ESG convenient with low carbon mandates essentially matching the high P/E stories that surfed on extraordinarily easy financial conditions. Buying on momentum could be called an ESG compliant strategy ex post.
Enter the reflationists (actually a story that we do not quite buy yet) and the dash for value & cyclical while commodities are said to be entering a new 'super cycle'. Any green ArcelorMittal or Glencore out there? 
The risks are high that 2021 would turn out to be driven by stocks that ESG mandates should not own … unless those mandates agree to call green the Oil sector. There will be plenty of intellectual contortions and regulators will follow with interest how the "article 8" fund managers will fare. A reset will be necessary for all investors bent on sector/stocks exclusions. 
We looked at stocks with poor environmental scores (below 4 on a scale of 1/bad to 10 /excellent) as per AlphaValue's own independent metrics (learn mode on http://esg.alphavalue.com) . The chart of 142 'dirty' names (31% of the coverage) cuts a long story short. The ytd outperformance of those 'dirty' stocks is already 5%.
Stocks with non-green credentials (pink, not weighted) are in favour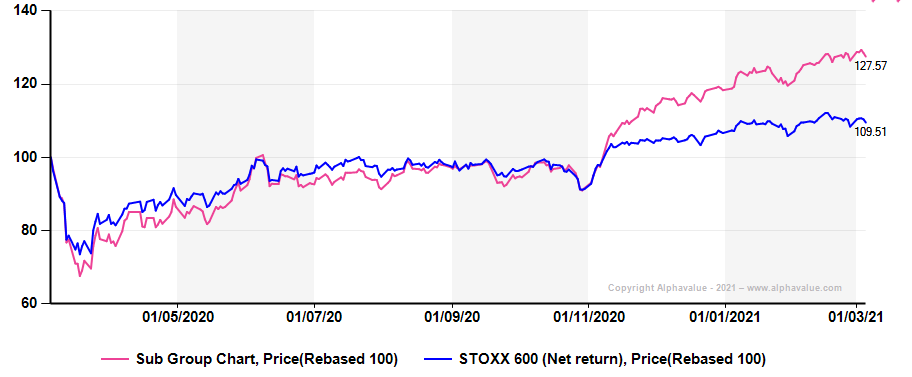 Interestingly, the stocks with the highest green credentials (score from 7 to 10) do just as well suggesting that there is no shortage of money to buy into that expensive corner of the equity markets. The depressed body is made up of the middle ground stocks (score between 4 and 7/10). They are accounting for about 50% of the coverage universe.
We also looked from the point of view of sustainability which at AlphaValue is also in-house designed and dominated by governance and, specifically, the independence of directors. The 34 stocks with excellent Sustainability scores did very well too (see chart). As it happens their strong governance is matched by strong green credentials.
That does include a number of oil companies as AlphaValue's environmental scores favour the dynamic of emission cuts rather than snapshots. In short, one is better off buying into carbon-intense industries doing the right thing than sticking to the exclusion template. That is the point of SFDR/article 8. AlphaValue analytics support that.
Sustainable stocks (pink) do well too as they are well governed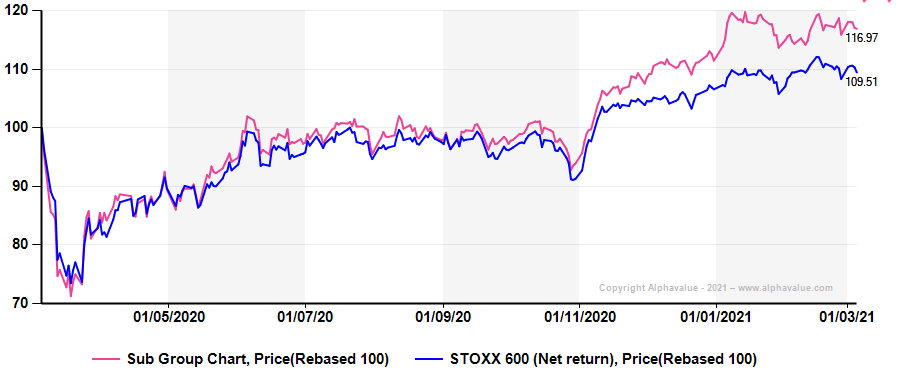 PS: 34 top sustainable stocks available on request or use website tools/company finder/sustainability/Sustainability score best.