Sustainability not required
Sustainability scoring goes up with market caps. This is half a surprise (see plot chart) as the richer a company is (the market cap is an excellent proxy for the ability to spend), the more likely it is that it will want to do well on the sustainability front. In rare few instances, the sustainability profile creates the market cap (say Orsted).
The bigger, the more sustainable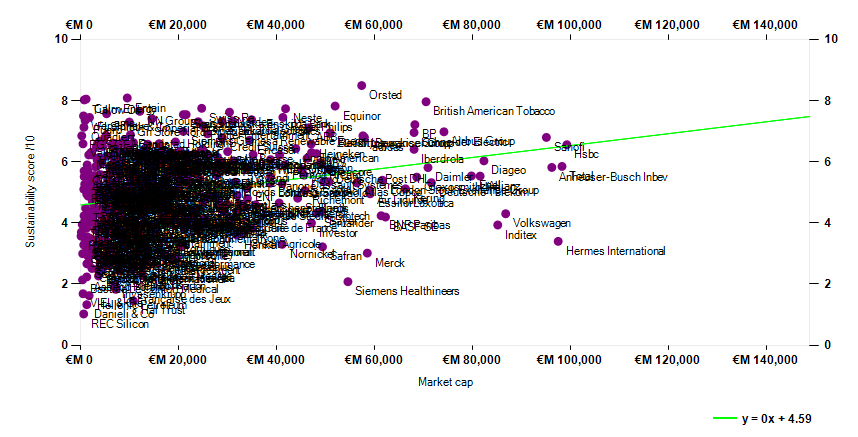 For readability reasons, we dropped market caps above €100bn from the above chart. So the next chart is a focus on the 50 stocks with market caps above €50bn (which also account for 50% of the market cap …). Here is the surprise as the correlation between sustainability and market caps is a weaker one.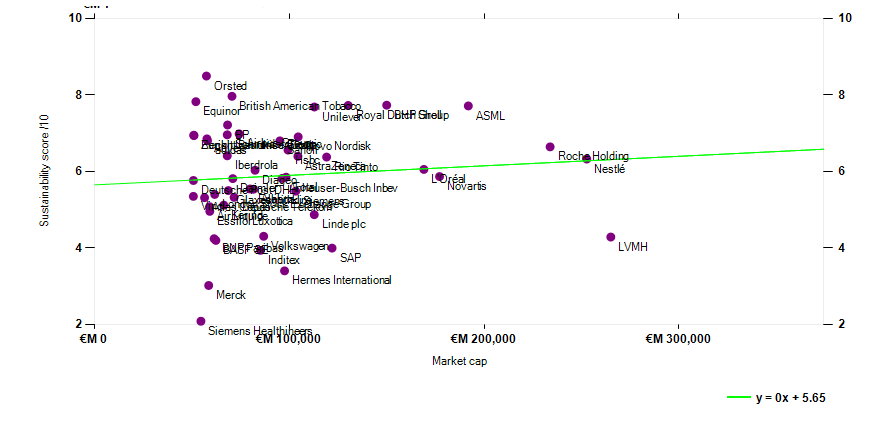 This paradox is easily sorted: the very large caps are not paragons of governance virtue (see next plot chart). It so happens that sustainability scores at AlphaValue are strongly weighted in favour of good governance which is a function of independence of the board and its diversity. Poor governance equates to poor sustainability as there is no way the long-term demands of sustainability can survive a weak board.
Bigger in size but lower governance standards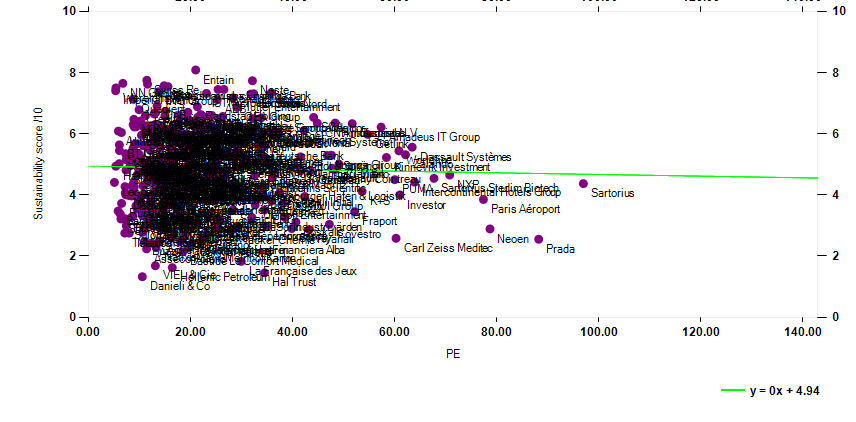 The above chart is evidently weighed down by the emergence of French luxury players in the heavy-weight category. These are family-owned and driven with corresponding modest governance scores. Speaking of French major stocks, one can have a board ticking up all the governance boxes and, nevertheless, completely fail to deliver, as Sanofi did with its COVID-19 vaccine miss. Governance can not be perfect science. On that front, AlphaValue will always be at odds with supporters of family-run companies.
But who cares about sustainability?
Looking at stocks below €50bn (next paragraph for stocks above that threshold), it is clear that P/Es are not determined by sustainability metrics. It may even be a negative correlation. We use 'may' as the universe of 412 has been cleaned up from the many stocks with negative 2021 P/Es or infinite ones. The results are no different based on 2022, but fragile too.
Stocks with market caps below €50bn: high P/E does not equate high sustainability credentials
The same chart narrowed down to caps above €50bn makes for an interesting moment: the higher the P/E, the worse the sustainability measures, i.e. investors will pay top money for uncertain stocks on the sustainability front.
This merely confirms what we knew: it will be hard to manage a fund with genuine ESG credentials and do well. The alternative is to pretend that stocks that do well have ESG credentials. Regulators who seem keen to debunk abuses of the ESG words will have here an opportunity to keep themselves busy.
Big and expensive stocks are not so because of their sustainability credentials
Learn more on AlphaValue ESG research : click here