Last week's winners: Oil, Metal and Green Wind
We looked at stocks that stood in the best decile of performers both last week to 08/01/2021 inclusive and last month. This could be called a base commodities trade with metal stocks and oil derivatives (aka Oil Services) underpinning  last week's fireworks. 
We added a few comments. In addition to the pull of higher energy and hard commo prices, the green wind continues to push strongly including in the sails of suppliers to green utilities (Nexans).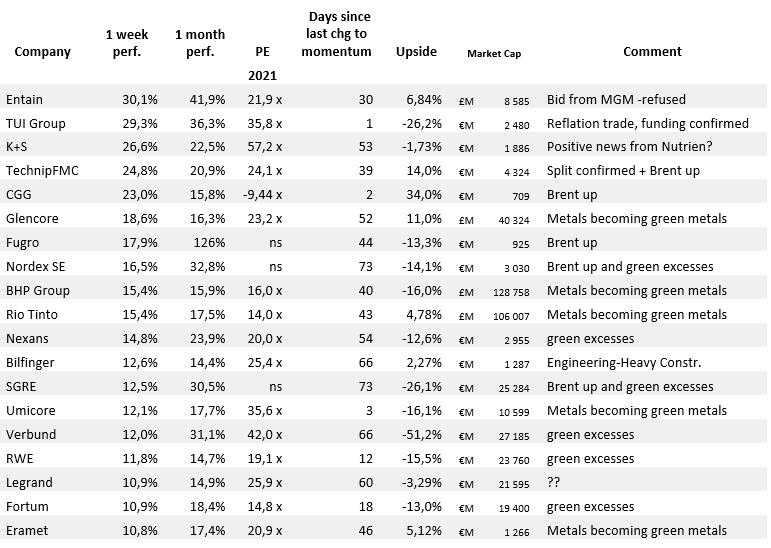 It does not take much to see that most of these stocks trade above their fundamental valuations. The exceptions are rather on the Oil side as Oil Services suffered so much up until the last OPEC+ meeting supported the case for going long Brent again and gave them a boost. Stocks with a modest upside potential are not worth the effort on fundamentals as their volatility is too high.
For buyers with no reference to fundamentals, it is obviously a different story. On the view that what went up will go up, it is worth looking at the column tracking the number of days since the share price momentum changed. Some stocks have been gaining rapidly for two months: say Nordex before it went ballistic last week. Others are new to the game, say Umicore or TUI or CGG. 
We are not sure about whether momentum calls are worth going for and even less sure about whether established momentum calls are less risky than new popping ones.
For the sake of the discussion, we also dug into the last week (ranking of table) and last month worst performers. Contrarians should see an opportunity in the likes of Atos, DiaSorin, Atlantia  or even Ryanair.