Tesla makes the news with its all-time high and rising, up to its inclusion in the S&P500 by mid-December. But, over the last month, its arch adversary, Oils, has managed a similar performance. As did hotels for that matter. These are provocative words to make the point about how unhinged market momentum has become, to float all boats.
Oils (pink) at Tesla's pace (blue) should not last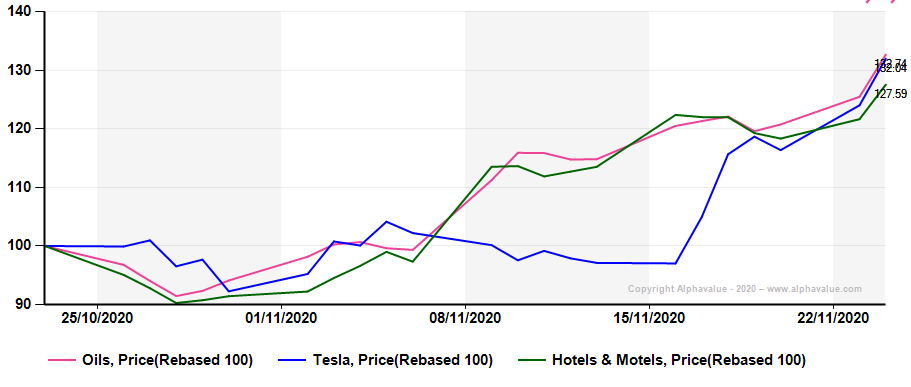 On 9/11/2020, we commented on "2021 sectors on performance reversal", with Oils quoted as no go. That was a mistake indeed as the sector has added some 30% since and in effect covered the upside potential foreseen then (27.5%). The magic of rising markets is that one stock supports the other so that AlphaValue still sees a 4% upside potential not worth going for, unless one considers the smaller fry in the Oil Services segment, which is probably the thing to do. 
Admittedly, OPEC has done a good job in controlling supply, and seems capable of doing so for longer, while China and vaccine perspectives call for a rebound to world GDP growth that can only be matched by rising demand for fossil fuels.
Still, the connection between higher crude prices and the surge in oil stocks price is always a difficult one over a short observation period. It is not particularly convincing and would suggest if anything that oils companies' share prices are indeed ahead of what a rise in the barrel would warrant.
Brent and Oils' share prices: dubious correlation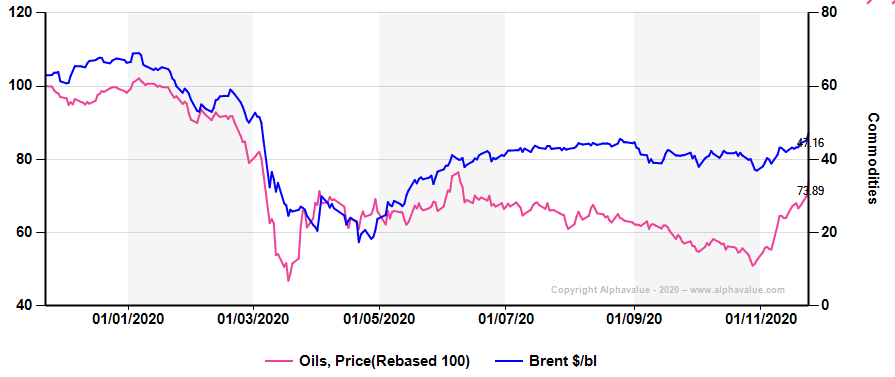 Buying into the sector in 2020 amounts to accepting that its combined earnings will retreat by €41bn to €8bn to recover only by €15bn in 2021 to €23bn. That is not great news but the 191% increase in EPS is impressive, although it will not help pay dividends. The contrast between an impressive earnings recovery and the depressed hard cash reality is epitomised in this sector.
The hard reality is that the sector was on verge to run a loss in 2020, an inconceivable idea only a few months ago. It may well be that earnings have bottomed out but it does not turn the sector into a Cinderella.
The longer-term issues of what to do next in a fast decarbonising sector have obviously been ditched in these bull markets.
Our advice would be the same as a few days ago, go for the high optionality businesses (upper part of the following list) and keep fingers crossed.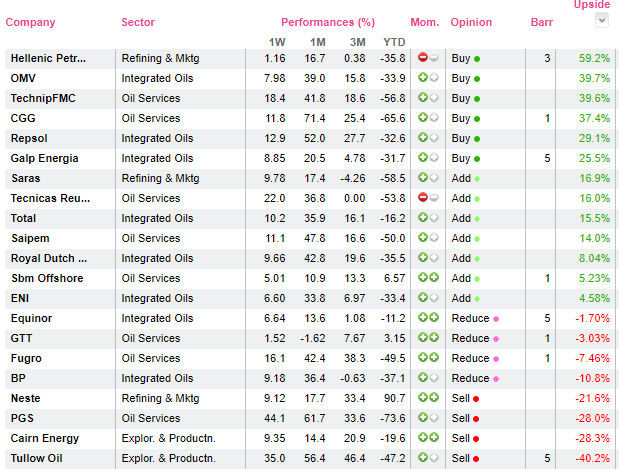 Learn more about AlphaValue's research : click here