Shame on Suez's board and Parisian inbreeding exposed
The Veolia bid for Suez has exposed again the French penchant for boards of the same feather. The irony is Suez's poison pill relying on a Dutch stichting under the aegis of some of its board members. This is pushing the envelope too far and makes a mockery of shareholders' fundamental rights.
Suez's board has no mandate to deprive its shareholders
The Suez board's latest effort to fend off Veolia is to push a key asset (French water concessions) into a Dutch foundation while keeping the key at board level. Kicking out the existing board means losing the key. This does the trick of stopping the Veolia bid in its tracks, which depends on disposing of those same assets for anti-trust reasons. As it would not be in a position to access the key, Veolia cannot sell those Suez assets and its bid is pointless. The Suez Dutch trick is a governance scandal as its board has no mandate to misappropriate assets at the expense of shareholders. In effect, the Dutch set-up is a pure technical device that gives the board control while the economic rights are not affected. This helps Suez's board argue that everything is fine because it is as before.
The Suez board's posture is a misrepresentation of the impact of its decision, as giving a special voting right to anyone has a cost to other shareholders, i.e. to Suez's shareholders.
Engie, which owns 32% of Suez and seems to have been left in the dark, did not hide its annoyance, rightly considering that the decision requires the approval of all shareholders and asked for an exceptional board meeting. An investment fund, CIAM, has made its negative opinion known but has yet to deliver on discussions with other minority shareholders to launch a joint action. Caltagirone Editore and Criteria CaixaCorp, the next significant Suez shareholders, have been remarkably silent about the Veolia bid so that their position will be interesting.
In addition to the Dutch trick, Suez is happy to pay out more to defend its independence. On the back of the acceleration of divestitures, Suez would redistribute about €2bn over FY21 and FY21 and target a dividend increase, while the latter has been flat since 2009. This will take some convincing or raise questions about what management was up to over the last 10 years. Putting this into perspective, the current offer from Veolia is €2.9bn, so that were Suez to buy c. 30% of its shares it would have to find another €1bn or so. This is possible but requires more work and is too late, notwithstanding the fact that Veolia is most likely to raise its offer.
In short, we consider Suez's strategy to be deplorable, both because it flouts shareholders' rights and because it has no industrial ambition – which is all the more unpleasant considering that Suez's initial tactic for tainting Veolia's project was to blame its excessively financial aspect. Now that the group has managed to gain time, the alternative offer that Suez is expected to submit to Engie must be particularly convincing. Market-wise the near-term outlook is one of court fights, i.e. loss of value for both Suez and Veolia.
Which leads us to mention Engie's very own shortcomings when it comes to governance.
Engie, JP Clamadieu as the C(EO)HAIRMAN
The striking feature of Engie's governance is the weight that JP Clamadieu (Chairman) has in the everyday management. It led to the ousting of I Kocher (former CEO). Triggering Veolia's offer on Suez was the announcement by JP Clamadieu of a disinvestment plan in order to accelerate in the renewable energy field. This is a proper direction for Engie to take but it confirms that Mr Clamadieu acts as the de facto executive.
This could change. According to rumours, Catherine MacGregor (currently at TechnipFMC) might take over Engie's lead. In our opinion, her international profile could be a great rebalancing to the French-focused JP Clamadieu network. It would then be great for Mr Clamadieu to restrict himself to the agenda of a Chairman.
Veolia, self-pressured
Veolia emphasised the urgency of creating a global leader in water & waste services and thus tried to precipitate the procedures inherent to this massive takeover. Most importantly, it had prepared for anti-trust objections by entering into an agreement for a third-party buyer of Suez's French water business.
The announcement of a merger between Veolia and Suez was expected, but one would have hoped that the project would have been better prepared before being announced. By communicating directly to the market without any prior consultation of stakeholders, Veolia forced them to air their dirty laundry in public.
Such a questionable communication strategy can be explained by the desire to maximise pressure on parties, but looks to have misfired.
Parisian inbreeding cont'd
The Parisian business community has the reputation of being populated by narrow elite circles. The French public services sector is no exception to this observation. When digging into the careers of the stakeholders' managers, the similarities are striking. There is a high concentration of French graduates from Parisian engineering "Grandes Ecoles". This over-representation of French engineers turned senior managers "by right" is explained by the roots of those businesses but has no acceptable explanation when considering their international ambitions.
The issue is obviously that solutions to hostile bids such as that of Veolia on Suez tend to be determined by the future of old boy networks. One CEO does not want to hurt a future board member. That means that shareholders are unlikely get the best return on their money.
Lurking in the dark and polluting governance as well is the French state with top civil servants of the same standing. The French government was quick to mention that it had objections to the Veolia bid. Even though it is the reference shareholder in Engie, it is not its job to pick up the mike first amongst all stakeholders.
Key persons share a similar profile in different companies
Source: company reports
AlphaValue 'G' rating said so
Unsurprisingly, none of the companies involved in the control of the Suez saga (Suez, Engie, Veolia) receive a governance score above the industry average. Of note, no board member is considered independent according to AlphaValue's criteria.
Governance rules are for…others to respect. The three French stocks have exposed themselves to public scrutiny. They had better adapt fast, above all as they focus on public services where bad habits used to be rife.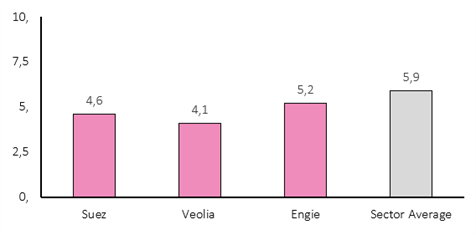 Learn more on SUEZ/VEOLIA/ENGIE : click here