The Airbus share gained 50% last week. Not bad for a €63bn stock accounting for a solid third of the sector's market cap. It would need to gain another 50% for pre-COVID investors to see their money back. Now consider the following chart which plots Airbus's share price and its 2020 P/E and ponder at what cost these extra 50% would come. That would be a 2020 P/E of 53x or 25x in 2021 money.
Airbus (pink) makes a comeback too, albeit at a steep price (P/E in blue)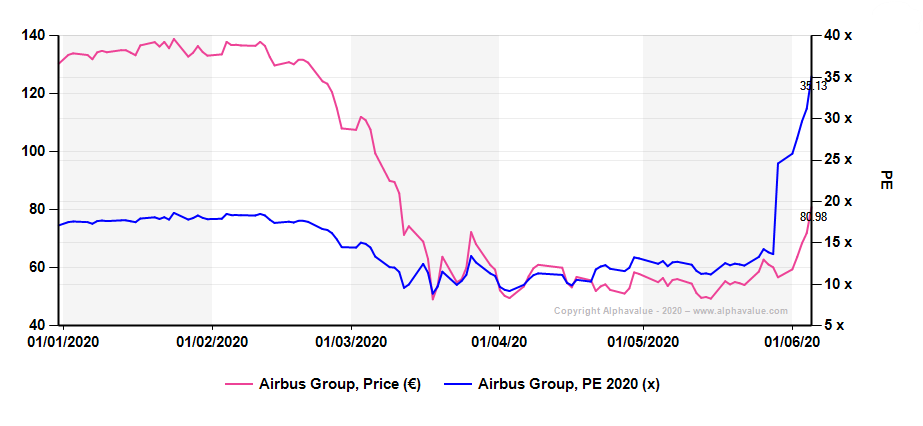 The surge of the Aerospace sector last week, not limited to but largely pulled by Airbus, looks very much like the last redoubt to capitulate to markets' enthusiasm for central banks-provided free liquidity. Even Rolls Royce, brushing with a near-death experience, rebounded by 30% over the last week. The following chart is the same as the one deployed for Airbus. The sector now trades at 23x its 2020 earnings but only 15x for the 2021 variety thanks to the low P/Es afforded by defence stocks (BAE, Leonardo, Rheinmetall).
Aerospace tries to take off too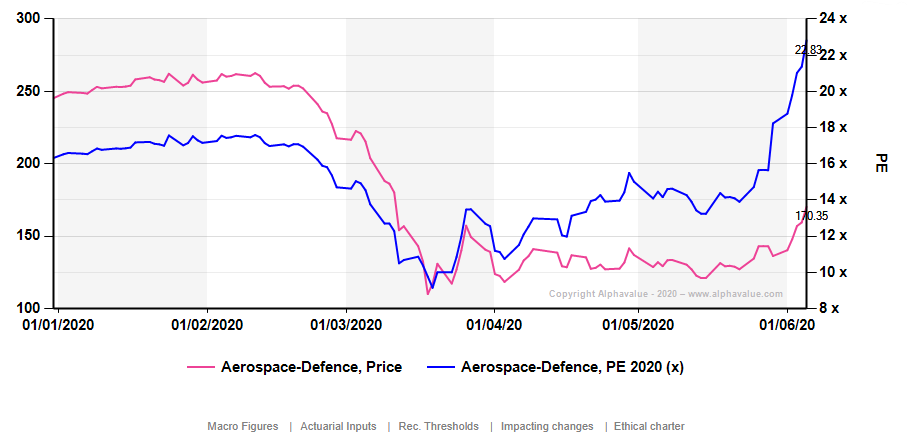 This rediscovery of the sector has little to justify it on fundamentals beyond… low prices for investors with a long calendar. Market sentiment vis a vis the industry has been, up to the last 15 days, essentially dominated by fast-contracting order books. That they remain phenomenal in absolute terms was irrelevant (still a 7,621 aircraft order book for Airbus as of 31/05/2020). The drive behind the share price recoveries is footfall in airlines/airports, exactly as has happened with retail real estate. Whether footfall converts into positive FCF is not the issue. For now.
As most things COVID, high expectations on the Aerospace sector are a head-scratching moment. Airlines are still in the process of contracting (if they have a state godfather) or folding altogether, whereas the complex supply chain that converges into a Boeing or Airbus product is facing deep issues as it was gearing up for deliveries twice as high as the run rate for the next few years. The talk is now about the Airbuses and Safran funding their suppliers. This will leave scars. It is telling that the French government said it is to inject €10bn into the French bits of the industry including via a fund dedicated to equity investment. Government sponsored R&D spending aimed at propping up the sector will come with strings attached.
We certainly do not give any credit to the ongoing talk of a brave new and greener world that would do away with 'pointless' flying but we just as certainly believe that a recovery will take ages. So that cuts into near-term capacity and thus cuts in demand for airliners and servicing of what flies is near certain.
As implied by the charts above, the pace of earnings cuts has been dramatic. For 2020, they have been halved over the last three months to €7bn. For 2021, the cut is 40% to €11bn. For 2022, the earnings are seen at €12.4bn, the first year of the rebound. For the sake of accuracy, thsi level is below what was expected in 2019 before the heavy provisioning by Airbus for its corruption cases.
In other words, we would not board this plane just yet.
Aerospace's valuation essentials

More research on AEROSPACE : click here