AlphaValue tracks the universe of Non-Investment Grade issuers under its coverage. For that purpose, it relies on its proprietary risk metrics which are highly reactive to changes in cash flow expectations from its equity analysts. It's no surprise that these are trimmed daily.
The number of NIG firms before COVID-19 struck was 77 out of 400 non-financials. It is now 150, thus close to 40% of the universe. This is unprecedented. This is obviously before Q2 releases are likely to paint a worsening picture of future FCF generation.
We updated the measure of the relative performance of this universe of 150 NIG issuers to check how they behaved in the 'risk on' context of late. Impressively is the summary.
We look at the relative performance of this 150 strong NIG universe vs. the Stoxx600. There are three phases highlighted by arrows: 
1/ The first (blue arrow) is the long-established view that zero or negative risk-free rates are of no importance to basket cases as what is gained on risk free rates is lost by way of widening spreads. This reflects the fact that zero rates imply deflation, lower sales, lower FCF and lower odds that debt will be repaid.
2/ The second phase (purple arrow) shows that fear is quick to set in when debt markets are expected to freeze, as happened at the beginning of COVID-19.
3/ The last phase in pink reflects the charge of the Fed cavalry with fresh hopes setting in as debt markets remain functional. 
'Risk on' NIGs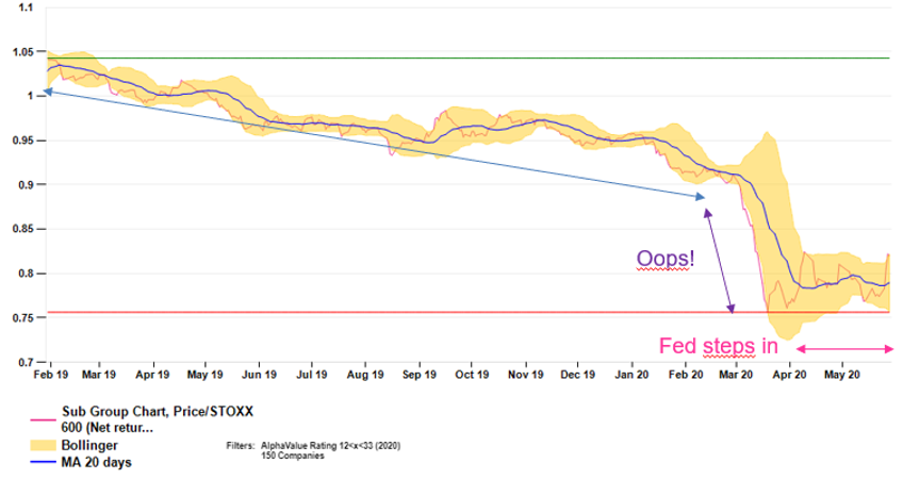 Clearly, the right-hand side of the chart shows that the exit phase of lockdowns is providing plenty of sentiment support to this universe. This reflects the call option profile of an equity exposure with a net debt/EBITDA at 4x (6.8x for gross debt) and a market cap at €1.3tn vs. net debt at €1.2tn (€1.7tn gross).
AlphaValue stands amongst the cautious crowds when it comes to recent market optimism and would rather stick to the quality side of the offer (encapsulated in its Buy & Hold Portfolio).