Food retail, event without Ocado
The Tesco Board is in the middle of a governance crisis for having dropped Ocado from peer performance metrics designed to measure that of Tesco's top brass and their bonuses. That was before last week when Ocado nudged another 18% gain…

So we look again at an Ocado-free Food Retail performance. It remains rather impressive and a complete departure from the relative erosion suffered by the sector in pre-COVID times (see green line for relative performance below). It is clear that over the last few weeks when investors have been buying the Fed's deep pocket and took more risks, the Food Retail relative performance declined.

Food Retail has its day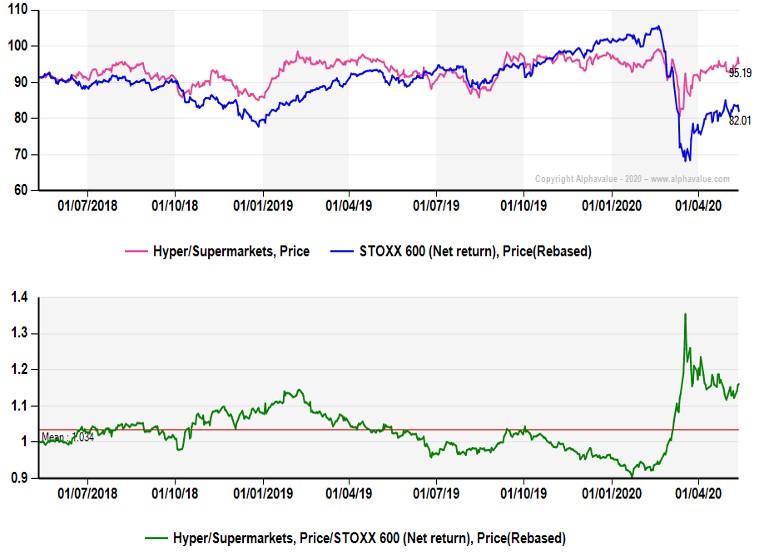 The good news is that the sector has failed to disappoint on its Q1 earnings releases and is putting on a positive face for the rest of the year. As a matter of fact, on AlphaValue's metrics there has been no downgrade to 2020 and 2021 forecasts so that the +7% EPS growth expected in both 2020 and 2021 may stick after all. It is a grandiose figure when matched to the -42% expected from the total European coverage of AlphaValue.

Food Retail (ex Ocado)'s valuation essentials
The above table also shows that the sector trades at a sharp discount to market P/Es even in 2021. This warrants a near 20% upside potential vs. 18% for the total coverage.

The bears case on the sector has eroded as Food Retail has not faced supply chain disruptions nor price inflation. Costs have certainly gone up due to safety measures and more servicing such as home delivery implying more staff and more expensive staff. But governments have shown great determination at helping businesses meet their costs by paying for half time, cutting business rates, providing state guarantees to funding, dropping pressure on competition matters.

On the bull side, food demand has confirmed that it remained inelastic, as what has not been eaten out has been eaten at home and retailers have shown skills at maintaining footfall through proper safety measures and containing operational costs. E-commerce, quite minimal when entering lockdowns, has also gained a lot, suggesting a new business model has been precipitated that leaves food retail groups less dependent on the big box format.

And now is lockdown-exit time across the western world and so, the question is where will spending go? More discretionary buying at Tesco, or new DIY spending at B&Q, or that weekend in Venice? It is unlikely to be a clear answer for a while but a bigger trolley load at Tesco or Casino looks likely.

The jury is still out but the Food Retail sector will have gained fresh credibility in brilliantly managing a full-fledged crisis, most notably by keeping the food channels open with no impact on prices. Governments may want to give the sector credit in future regulatory discussions. This means that valuations may stick.
More Food Retail research by AlphaValue : click here