AlphaValue has maintained over the last 6 years a Buy & Hold list of 25 names which has consistently outperformed. There is hardly ever any change to that list as a quality name tends to be so for a long, long while. Ytd it outperformed by 12.7%:

Nearly a year ago, AlphaValue launched a Short & Hold portfolio on the view that there are broken business models which lead to structural underperformance. This portfolio had a bad start as bulls took over in 2019. It has gained 52%, however, ytd (absolute performance).

Both lists are managed with a very long-term view so that we do not rely on current recommendations.
The point is that both strategies work in a disastrous context: buying into quality pays off as do shorting mediocre operations. We put that into a chart that computes the performance of both lists as they stood in component terms as of 21 April.
This is slightly different from the actual performance of the two portfolios, but the point is made: buying one list and shorting the other would have been a great call in relation to the Stoxx600, say close to 100% in relative terms.  
The long and short of quality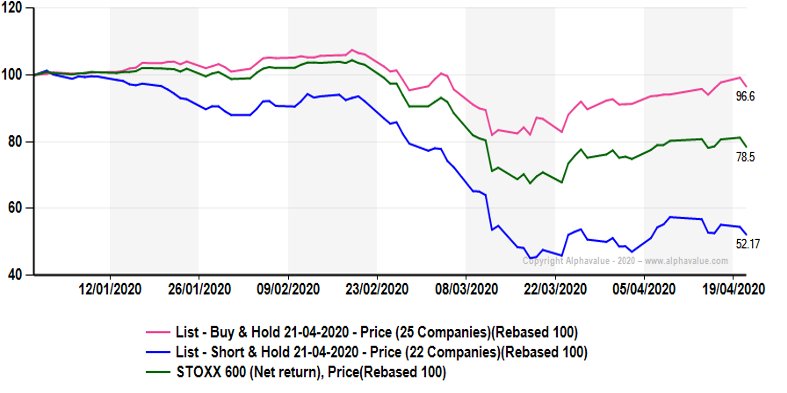 The point of the above is not so much to flag AlphaValue's stock-picking competences (the Buy & Hold is available to most subscribers, the Short & Hold is on request only) but to insist on a lasting equity strategy view in the midst of the COVID-19 crisis: forget sectors, concentrate on the right stocks.
It is good that Health and Pharma stocks belong to the quality cohort as exiting COVID is bound to benefit these sectors. But quality does not stop at Pharma. It can include an Atlas Copco as well as an Elisa.  
Just as well on the short side, it is not a discovery that retail real estate is not a winning business model but one should also take with a pinch of salt the business models of an Eurazeo or a K+S.
Forget sectors. 
Learn more about AlphaValue's Selections : http://selections.alphavalue.com