Amber Capital in electoral campaign against Lagardère
Joseph Oughourlian, founder of Amber Capital and Olivier Fortesa, Managing Partner, held a meeting this morning in order to explain a number of major requests to be made at the next AGM on 5 May 2020.
Amber Capital Fund, which became the group's main shareholder with 16.41% of the capital and 12.48% of the voting rights, intends to push for major requests at the next AGM on 5 May 2020. Among them is to renew the entire supervisory board, to reduce the costs of the holding company and simplify the group's structure (namely abandoning the limited partnership with shares), to review the dividend policy and free up cash to develop the two core divisions (Travel Retail and Publishing).
An unfriendly legal structure
As a reminder, the group is a limited partnership with shares (SCA), with two categories of partners: general partners (indefinitely liable for the company's liabilities) and limited partners (the same situation as shareholders in a corporation). The structure de facto enables the CEO Arnaud Lagardère, through the holding LC&M, to control effectively the group with only a 7.26% equity stake, which we always have considered as a highly unfriendly legal structure….
Resulting in significant value destruction
Based on Lagardère's last 17 annual reports, Managing Partner Olivier Fortesa, highlighted a number of anomalies/ irregularities directly linked to the group's very poor governance.
Amber Capital namely calculated that, over 2003-18, out of €10bn sources of cash, only 21% came from generated free cash flow and the vast majority (79%) from asset disposals… Out of this €10bn, 44% was used for dividend payments and 48% used for M&A (by the way often leading afterwards to numerous write-downs) with 27% in Active and Sports (no longer considered as strategic) and, respectively, 14% and 7% in the two core divisions (Travel Retail and Publishing).
The Fund also highlighted that, since 2006, the total amount of restructuring and impairment charges had reached €4.2bn… No need to say that these figures speak for themselves…
A costly holding structure
Since 2003, the holding company's cumulative costs reached €1.3bn, of which €408m in personnel costs (133 people), €572m of other costs and €336m for the five people of the Executive Committee of Lagardère SCA (as the latter is employed by LC&M…).
Note that Arnaud Lagardère is remunerated as General Partner, Managing Partner and owner of the LC&M and that he has been paid on average €6.6m per year since he was appointed in 2003.
Arnaud Lagardère's financial vulnerabilities
As we recently wrote, the financial difficulties of Arnaud Lagardère are seemingly persistent and the 7.26% of his shares in Largardère SCA are used as collateral for personal loans… One issue is that the value of this 7.26% (currently c.€120m) does not cover LC&M's estimated debt (Arnaud Lagardère is not really transparent on the subject, but the latter would have reached €164m in 2019 according to French media Le Point, December 2019)… This implies that the family holding company could crash and lead to an ownership and management change, for the better. Another issue is that the dividend policy would have been more to the advantage of Arnaud Lagardère than to other shareholders over the last few years (stuck at €1.30 per year until recently, irrespective of the financial results)…
At the end of the day, the Supervisory Board is accused of not fulfilling its role
In a limited partnership with shares (SCA), the Supervisory Board is the only counter power. Amber Capital is accusing it of not having at all played its proper role. The Board has never publicly contested the strategy put in place over the period, renewed Arnaud Lagardère as General Partner twice (in 2009 and 2015), never contested LC&M's costly profile nor controlled Arnaud Lagardère's remuneration…
Rising pressures
Amber Capital has been pressurising the firm to drop its SCA/partnership by-laws for a while (as a reminder, earlier attempts to unseat the minority owner and, de facto, absolute power holder have so far gone nowhere but to the courts). But the pressure has increased over the last few months as Amber Capital progressively raised its stake in the group (even leading Arnaud Lagardère to say during the Q3 19 trading update conference call his intention not to touch the SCA/partnership by-laws : "not over my dead body").
His mandate is, however, voted for renewal every six years by the Supervisory Board and it appears that the next deadline is in March 2021. The composition of the supervisory board is therefore crucial for Arnaud Lagardère's future and is logically seen by Amber as a unique opportunity to renew the Managing Partner…
As a matter of fact, facing challenges from activist fund Amber Capital pushed the group to try to surround itself with friends… It will propose former French President Sarkozy to join its board at next AG in May. It is well known that Nicolas Sarkozy, a friend of Arnaud Largadère, is also very close to Qatar and remember that Qatar Investment Authority is the group's second shareholder with 13% of capital and …19.5% of the voting rights.
The nomination of Mr Guillaume Pepy, former president of the SNCF, the French national rail authority was also proposed. They would replace Xavier de Sarrau and Francois David, who are stepping down from board. Note that Amber Capital does not appear to be against these two potential members of the Board…But it requests the entire Supervisory Board to be renewed (which we would indeed consider as a more independent one…):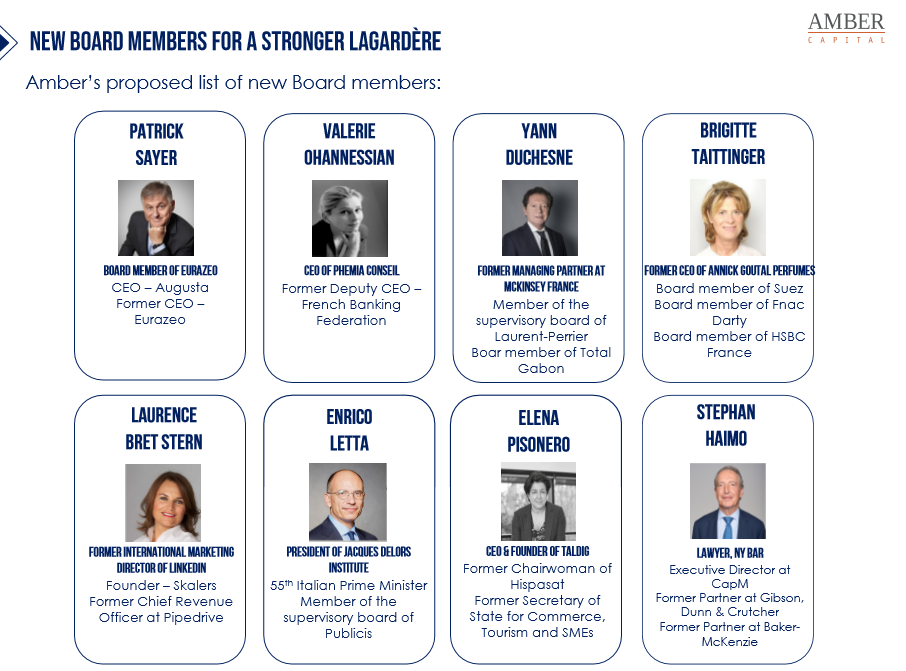 As it says itself, Amber Capital is clearly doing its electoral campaign!
No need to say that the next AGM to be held on 5 May 2020 will be critical and that Qatar Holding, as the other large shareholder of the group, is likely to have a crucial role to play at that time… By the way, Amber Capital made it clear it has had no discussions with the latter.. Note that if Qatar Holding was to support Lagardère again, Amber Capital estimates it would need the voices of about 30% of institutional shareholders to win its arguments.
To get access to full research report on LAGARDERE : click here