A snapshot 1 month into the Covid mess
We still hold the view that a second leg of price correction is likely, now that the extent of stimuli across the world is known/discounted while investors understand somewhat better the extent of the mess on society and economy alike.  
What is the picture on the valuation front?
On AlphaValue's 460 stocks coverage (a good proxy for the Stoxx600), the going price is 20x 2020 earnings or 14x the 2021 variety. 2020 earnings are now seen down 36% on 2019, a -46% swing in less than two months.
Current valuation multiples – European equities  

The conflict between bulls (2021) and bears (2020) has reached astounding proportions (see chart, right hand side). It will take another few weeks to assess whether the 2020 damages will percolate into 2021 (dilution and slow recovery).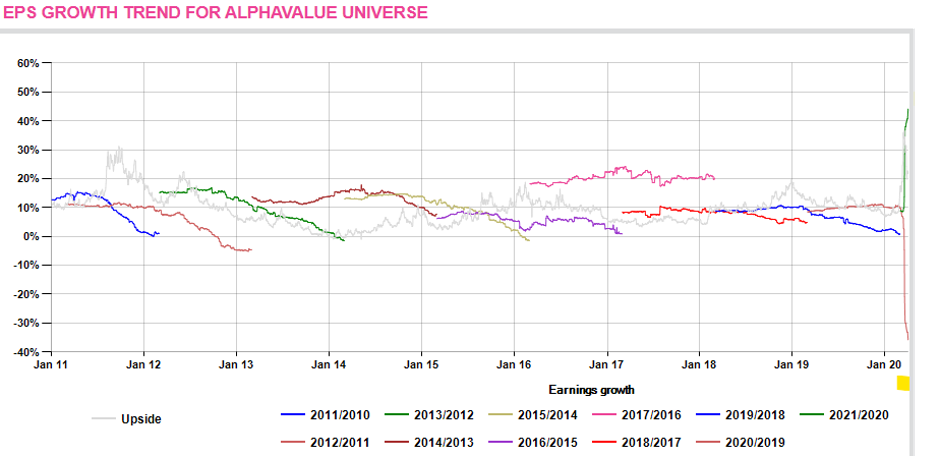 The 2020 yield at a rather conventional 3.7% is on 2020 dividends paid in 2021. The pace of dividend downgrades (see short piece dated 27/03: VANISHING DIVS) is now pretty steep so that yields look set to fall, assuming prices do not fall even more quickly. It looks as if the 2019 dividend (paid in 2020) will not make it at all for all Banks, most Oils and most Autos so that a good 30% will be missing from dividends when compared to the previous year.
The 2020 P/E at 20x includes Banks that we see in the red in 2020 and Oils at 26x. Ex Financials and Deep Cyclicals the 2020 P/E reverts to …17.6x. It is quite a statement to have a lower P/E when Financials are excluded. It has never happened over the last 15 years. For the record, the 2021 P/E becomes 14.7x (ex Financials and Deep Cyclicals) which is rather expensive for such an uncertain delivery.
The better post stimuli mood is very visible now in the net computed between the percentage of stocks with a very negative share price momentum and the percentage of those with a very positive share price momentum (see following chart where the pink shaded area looks like contracting a bit).

It pays to remember that Q4 18 was an absolute disaster for equity markets which lasted a full quarter (we have never recorded such a long period of distress over the last 12 years). The exit from the COVID disruption may be smashing the said record.
To conclude on a positive note, here are the names of the stocks with a current strongly positive share price momentum. Unsurprisingly, many are already in our COVID opportunities pick list.