Utilities already all greened up
We knew this could happen but we were certainly not anticipating such an early dash for Utilities on the back of green money chasing 'brown to become green' assets. European utilities were expensive in 2019 as all of a sudden everyone woke up to the positives of ESG money looking for scarce assets. They have also started 2020 with a bang, gaining 7% YTD in a market up 2%.
Utilities accelerate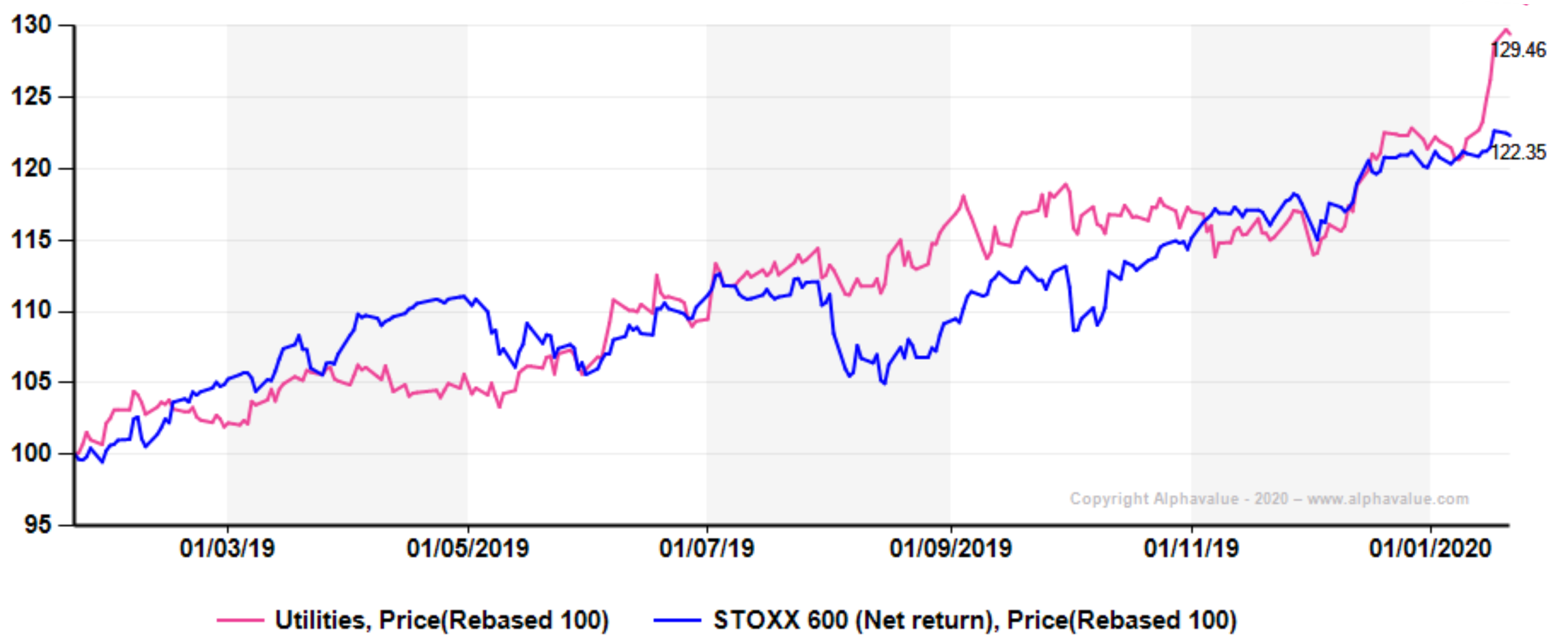 It is a fair bet that, should "Sars-2" fears gain momentum, investors will see even more attractions in inward-looking stocks providing basic services aka utilities. We would not have bet our shirt on the YTD Utilities winners – RWE up 14% and EdF up 15%. Both have been hard at work endowing themselves with green credentials.
It looks as if investors were willing to buy the idea that RWE could bury its brown history at a limited cost, courtesy of Federal subsidies to exit coal while EdF has surged on speculation of a changed regulation that would help it stop selling below cost to its competitors who in turn address retail clients. But this change would be, above all, the first step in carrying out the Herculean task of purifying the group's activities by isolating the renewable part. Never mind the fact that EDF never ever considered trimming its fat first. Consumers are being made to pay which is good news for shareholders.
It is thus quite remarkable that two not-so-green-compliant utilities have surged on de facto government help. This says a lot about the flows of money chasing green-looking assets: the economics and sustainability are an afterthought.
The going price for partying with Utilities is 15.4x 2020 earnings and 7.4% EPS growth. The starting PE is already higher than the 2019 average. Such dearness implies a 4% 2020 yield which is no longer that much above the 3.5% that one would get by buying the Stoxx600.
Utilities valuation fundamentals

It will come as no surprise that Utilities are well past the point of being valued on fundamentals. At such lofty levels, management should consider raising equity as their outlook is one of a gigantic capex effort/cleaning up of stranded assets while it is not even certain that they will find the mechanisms to pass those expenses on into prices in more open markets.
There may a parallel with Telcos. They overspent a decade ago and now have nothing to show for it but burdened balance sheets. Utilities may go down the route of Telcos but the collective passion for/flow of money into a zero-growth sector is presumably only just starting.
Learn more on ESG research by AlphaValue : click here