Identifying Governance Champs
Governance matters but sadly, mostly after the horse has bolted. Between good governance and a fast buck, investors made their choice long ago. The marketing talk claims that good governance matters but we pointed out a year ago that a 2009 cohort of 47 stocks belonging to the worse decile of governance metrics actually outperformed massively over the last 10 years. Just as much as the first decile cohort.
We are pleased to update that poke in the nose of governance buffs. The average governance rating for that universe of poorly governed issuers was 3. 36 in 2009 on a scale of 10 (average for AlphaValue coverage at 6.2) and now stands at 3.76 (6.16 for the coverage)
Poor governance did pay performance wise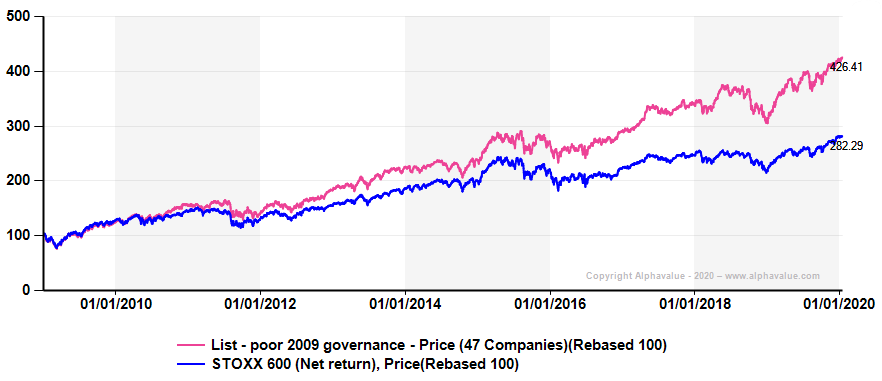 As a reminder we are pretty sure of our findings as they rely on AlphaValue proprietary independent governance data over the last 11 years. As a research firm keen to put to rest non sense in ESG claims as well as in valuation metrics, AlphaValue has always relied on its own data and given no credit to corporate box ticking and algo black boxes relying on such fragile data.
Board Independence is better
AlphaValue view of equity research has always been that independent is better, accountability matters and that a firm should be run with a long-term view to the benefits of all shareholders. We thus have made particular efforts to dig into the individual profiles of board members and to be transparent about why we think they are not independent. Here is an example.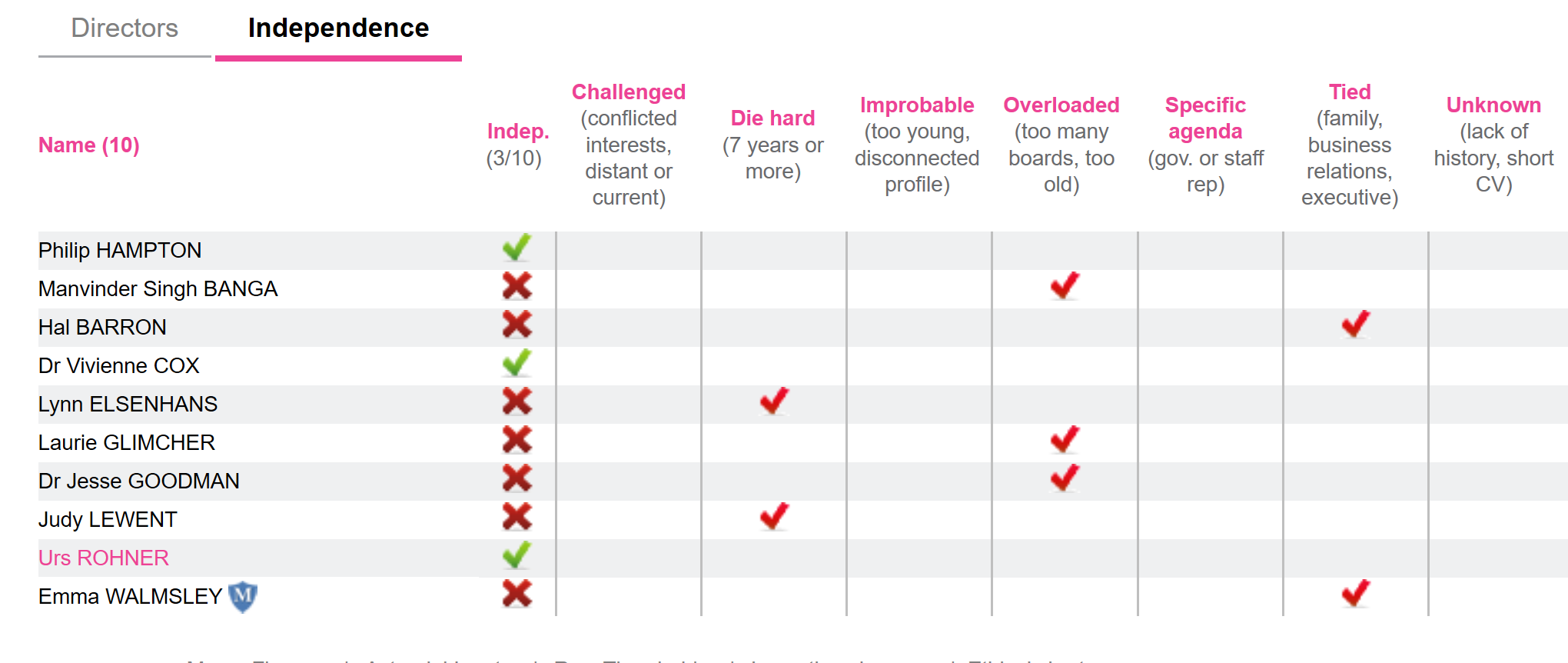 Governance impact on valuation
Connecting good sense on the use of clean G data with valuation is the grail that AlphaValue reached when it set up an automated tweak to the small "g" in its DCF. Governance if it ever matters can only do so in the long run. A DCF may project that. The better the big G, the higher the small 'g' to recognize that proper governance must pay off in the long run. We will only know in 10 years when we cross check what we thought then. Bear with us.
For now AlphaValue is making available a narrow list of stocks selected for their strong governance and a robust business model. The underlying valuation opportunities are not taken on board. So far so well with a 10% outperformance in 2019, from late May when we designed the initial portfolio of 25 names. The first few days of 2020 are off to a good start too.
The Governance driven portfolio is run as an equally weighted fully invested proposition. This portfolio is available only on request as it is fair to say that good governance combined with good business models (another AlphaValue proprietary metrics) are hard to come by.
To Learn more about AlphaValue's selections : click here