Cevian's rough patch continues….
In May, we had a look at Cevian's exposure to European equities and the dismal performance of its key holdings, at least those which are tracked by AlphaValue.

We update the quick review as it is telling about how painful the exposure to average quality assets with a recovery potential has been. By late May, we had computed that the holdings in the 9 stocks that AlphaValue tracks were worth €10.5bn. This is now worth a combined €8.6bn when the Stoxx600 has been essentially flat.

Cevian assets as tracked by AlphaValue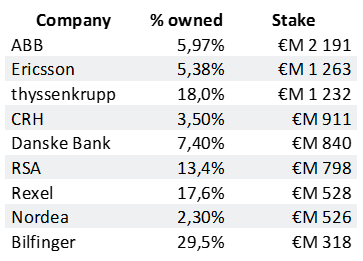 Clearly the current market mood where the money is on Nestle does not help the stable of assets of Cevian.

A summary view of this 9 stocks portfolio shows a universe of mediocre quality stocks, mediocre yield and mediocre balance sheets. As we mentioned before, Cevian's point is presumably to get those businesses up to scratch and collect the double benefit of higher earnings and multiples expansion. Still, those assets are not fashionable. The only good news, sort of, is that the relative underperformance has been steep enough to open a near 13% upside on AlphaValue fundamentals (vs. 9% 3 months ago). As can be seen from the following table though, this is not much more of an upside potential than in aggregate for the market, after all.

Summary metrics on 9 stocks portfolio
Detail of individual holdings

The following chart assesses the performance of the 9 stocks that AlphaValue covers, according to their weightings. The going has not been much better than 3 months ago with an underperformance worse than -20% by now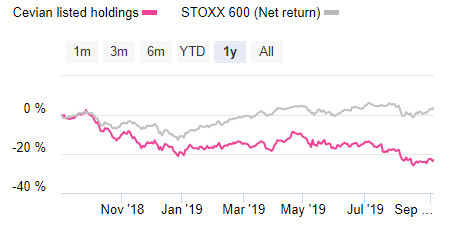 The point when looking again across this portfolio of listed assets is that it is yet another case of prolonged underperformance for asset managers who are digging for value of some description. Cevian's strategy is to convince managers that things can be done differently. This takes time and is likely to be successful on their horizon. The price to hold these directional strategies is a heavy one and, sadly, makes even more of a case for promoters of investment in non-listed equities. As non-listed investment is an anathema at AlphaValue, we wish the best to Cevian and will most likely continue to look at their… gains.