Getlink sees no channel fog
Getlink, 15.6% owned by Atlantia and 5% by  Eiffage, may well have speculative appeal as the two companies indeed have a history of fully acquiring the corporates they invest in. This may be right but sounds like a minor positive when facing the Brexit uncertainty.
With a view to its strong performance Getlink shareholders must know something such as a 100% probability that Brexit will be a smooth affair/delayed. Assuming such a rosy outcome, the stock has another 11% to go. But what a surprising one-year performance.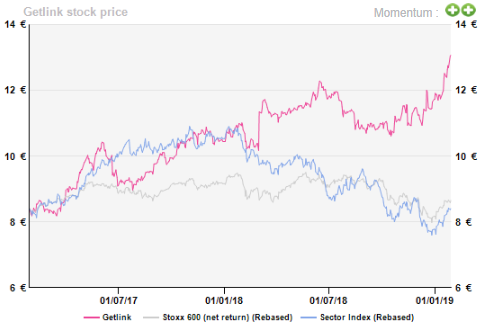 Hard or soft Brexit doesn't matter: trade will flow regardless
Eurotunnel is THE vital link between the UK and the EU. It channels €138bn worth of goods each year, 26% of UK-EU trade, just ahead of Heathrow (incidentally Spanish Ferrovial is the biggest shareholder) with over 25% of total exports by value. A soft Brexit /Ms May deal need not be an issue. A hard Brexit and border controls would presumably result in traffic jams and slower volumes over an adaptation period.
However, a possible volume decline may be partly offset by price increases such is the pricing power of Getlink. We estimate at around 3-4% per year the pricing power in a normalised business environment. It may extract more in a hard Brexit context when getting products may matter more than their logistics costs. Getlink could, hence, prove to be Brexit-immune by means of a de facto oligoply.
Business model: a mix between tariff freedom and tariff regulations
For the Shuttle business, the group's pricing system adjusts ticket prices according to the departure time and load factor, like any airline. The business model simply goes for optimising revenues by increasing the average yield per shuttle. Getlink managed to increase the load factor from 45% in 2004 to 58% in 2017 and enjoys impressive market shares (some 40% for the truck Shuttle, some 55% for cars and some 40% for coaches).
For the Eurostar business, revenue is correlated to the UK and French inflation rate (50/50). The original pricing mechanism is fixed by the Railway Usage Contract (RUC) and should be applied until 2052. Eurostar's market share is some 76% between Paris and London and 83% between Brussels and London.
58% utilisation rate paves the way for future organic growth
With a 58% utilisation rate in 2017, Getlink has enough headroom to grow further without going for major capex. In April 2018, Eurostar opened the London-Amsterdam route: currently, there are only two one-way journeys a day but the number of journeys is expected to go to four and quadruple by 2020.
On top of this, Getlink has an agreement with High Speed 1, Lisea and SNCF Réseau to study the prospect of a highspeed rail link between London and Bordeaux.
ElecLink: extracting more juice from Eurotunnel
ElecLink is expected to be commissioned by 2020. The 1,000MW interconnector laid out in the tunnel should add c.€80-100m in extra EBITDA by 2022, traded against the €600m capex between 2017-20, namely a meaningfully shorter payback than a typical concession. The main profit driver will be the MWh price spread between France and the UK, which historically lies at some €15 per MWh and thus justifies paying for the link to transfer power across the border.
Currently, Getlink is experiencing higher capital employed due to the greenfield investment profile of the ElecLink infrastructure investment, with no NOPAT to show for it, so that its ROCE capitulated (less than 5%). Another year to go and it may be that the price imbalances in a Brexited UK will be even higher pushing the spreads/profits in the right direction.
Ferries
The UK government awarded up to £103m to three ferry companies to provide additional cross-Channel capacity in the event of a hard (no-deal) Brexit which would lead to massive logjams in Calais/Dover link thereby requiring ferry capacity to other UK ports. Although a ferry-less winner of this government's somewhat botched initiative has been stripped of its contract last week, it is clearly a negative for Getlink as it amounts to a subsidy to its indirect competitors.
On top of this, the UK capacity market (for power) has been rendered illegal after a surprise EU court ruling issued on 15 November 2018. Since the ruling, the capacity market has been frozen. It is thus difficult to assess whether the impact on the financial performance of Eleclink would be positive or negative on Getlink share price.
Ultra-long concession, possibly undervalued?
The channel link concession lasts until 2086. Only 407 ETR (a Canadian unregulated toll road with a remaining maturity of 80 years valued at an implied EV/EBITDA multiple of c.27x 2019 EBITDA) and Gatwick (a "freehold" – meaning unlimited – concession assets with a contract-based regulation, bought by Vinci  for an EV/EBITDA of slightly less than 20x, which looks cheap, most likely because of the timing in the middle of the Brexit uncertainties) have longer maturities.
These examples of high valuation multiples set the ground for explaining the 18.5x EV/EBITDA of Getlink. However, we believe that the company remains undervalued on this account. Getlink did its home work on the subject with the following chart.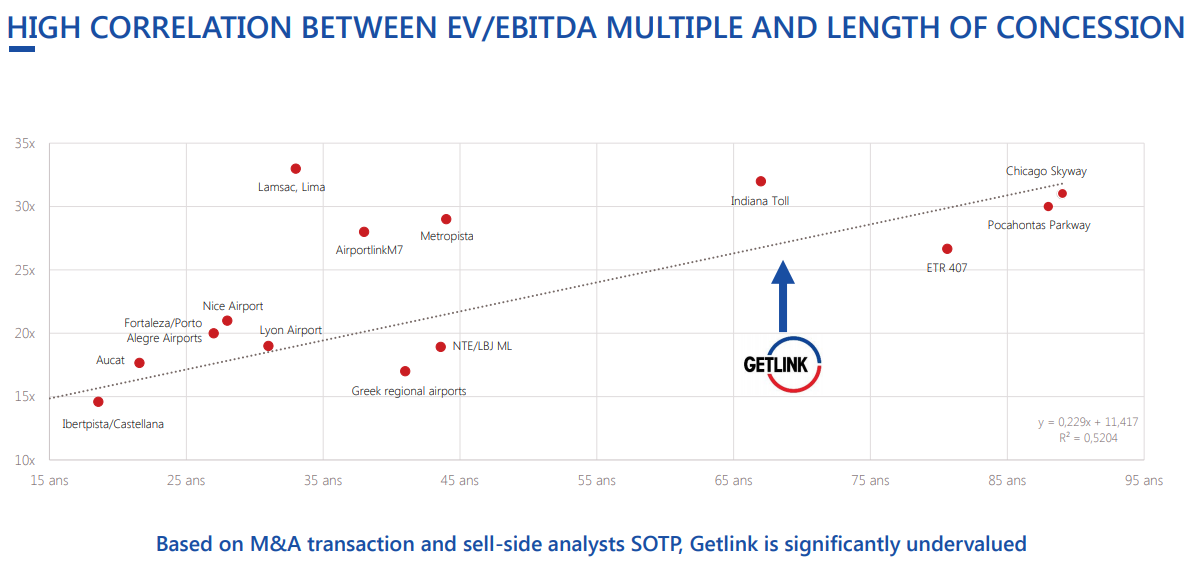 Source: 2018 Getlink CMD
Two-sided valuation
As would be expected from an operation with long-lasting assets and near certain and forever returns, a DCF and a NAV look for the moon. Try with peer metrics and one finds a hole instead. The average valuation metrics is just that, useless. Getlink has been a 12-month positive surprise in a pre-Brexit context turning sour. It may well be that risk-takers are indeed mostly focusing on the fact that Getlink cannot lose.
Acces to the full report : click here