Exor is one of those large family-type holding companies that does not hesitate to poke its nose in the management of its key assets. Minorities enjoy the luxury of a transparent portfolio (70% of Exor's assets are listed). In early 2016, the Agnelli/Elkann family revamped its business lines by fully acquiring Partner Re. Sadly, that led to a delisting. So that Exor is an intriguing balancing exercise between listed Auto-related assets (FCA, CNH and Ferrari – the latter being rather regarded as a Hermes on wheels) and reinsurance.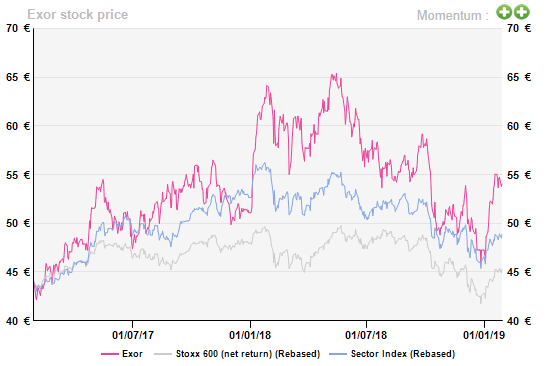 There are two reasons to have another look. The first is an Exor commitment to pay out the excellent returns of the Marchionne era at FCA. We believe that this may not last and will be happy to be proven wrong. The second is that French Scor, a €7bn market cap reinsurer, has officially been investigating a tie-up with Partner Re. This has been made public on the back of Scor's initiated court case on 29/01 against Covea, its largest shareholder and a French mutual insurance company that attempted to take over Scor and suddenly dropped its plans in a weird about-turn.
We would think that dipping a toe when the discount to NAV stands at a cool 32% cannot hurt. 
Strong dividend inflow
Exor's essential feature is its strong dividend inflow. As shown in the following table, dividend income easily covers Exor's pay-out. The bulk of the dividend income was derived from Partner Re in 2016 (€245m) and in 2017 (€145m). In 2018, the steady dividend distribution of CNHI and Ferrari saved the day. Indeed, Partner Re, subject to natural catastrophe uncertainties, saw its pay out fall dramatically to €41.3m.
From 2019, FCA's dividend distribution would reduce Exor's reliance on the reinsurance segment and would make for a more balanced business. The cherry on the cake for 2019 is that Exor should benefit from the c. €0.6bn exceptional dividend paid by FCA following the sale of Magneti Marelli. Thus, the holding company profile is expected to shift away from that of a reinsurer proxy to that of a more balanced business. 

If we compare Exor to similar family-type holding companies with a control/hands-on type of approach (see table) and a transparent portfolio made up of listed stakes, Exor is clearly a cheap proposition in terms of discount to NAV at 32% but much less so in terms of yield at less than 1%. Clearly the market expects more on the dividend front which is today a FCA-dependent answer or, we would venture, a Partner Re one, should the business be bigger and thus more predictable.
Exor discount to NAV vs. peers

The following dividend history of FCA is a fragile one with a zero dividend between 2011 and 2017. In 2019, the bulk of the €1.9 dividend is stemming from a €1.3 exceptional one on the disposal of Magneti Marelli. The chart below is not completely fair as it hides the fact FCA has been exceptionally competent at maximising assets through spin-offs under the Marchionne era. Witness CNH and Ferrari. Still, we hold the view that the FCA dividend is unlikely to hit new highs as it battles on with the paradigm shift of electric cars.
FCA's dividend history
Obviously, Partner Re could do better if only. The fact that Scor's board had a look at Partner Re is consistent with what we have been writing (read "Is Covea the only Scor driver, 13/11/2018). Bring Partner Re and Scor together with Exor selling Partner Re to Scor against new Scor shares and many issues are mechanically solved:
Scor finds a new reference shareholder in Exor

Scor and Partner Re do address their lack of size

Exor swaps an unlisted assets for a listed one
The magic wand is unlikely to be striking overnight (Exor is unlikey to want to launch a full bid on enlarged Scor if it becomes a 33% + shareholder; hence, some financial engineering required) but this suggests that there is value in Exor that can be expressed fairly easily.
From Exor's stand point, pushing its listed assets to above 90% of total gross assets can only help reduce a discount that is not really justified today.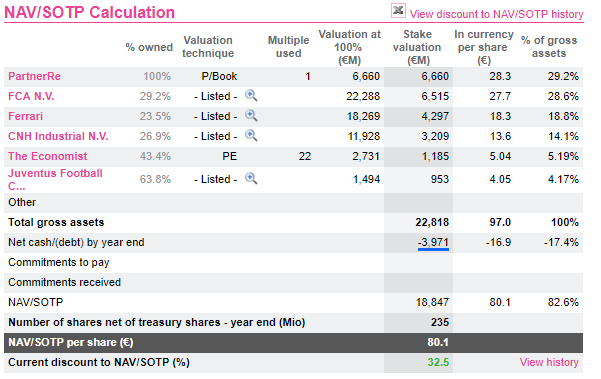 The point of looking at Exor today is really that it is at the centre of something big on the reinsurance front, can pay out and trades at a wide discount. The downside risk is limited.
Request access to research : click here