Prada, a brand made smaller by its owners
As the Luxury tide of last summer lifted all boats, Prada reached a three years' high. Courtesy of trade war risks and an economic slow-down in China, the Prada share has since given back 45%, the worst sector crash as it derives almost half of its sales from Asia.
The brand momentum is not strong enough to cope with possible downturns. We hold a cautious view with a 4% upside potential and do not see a case to prefer Prada to a Kering or a LVMH.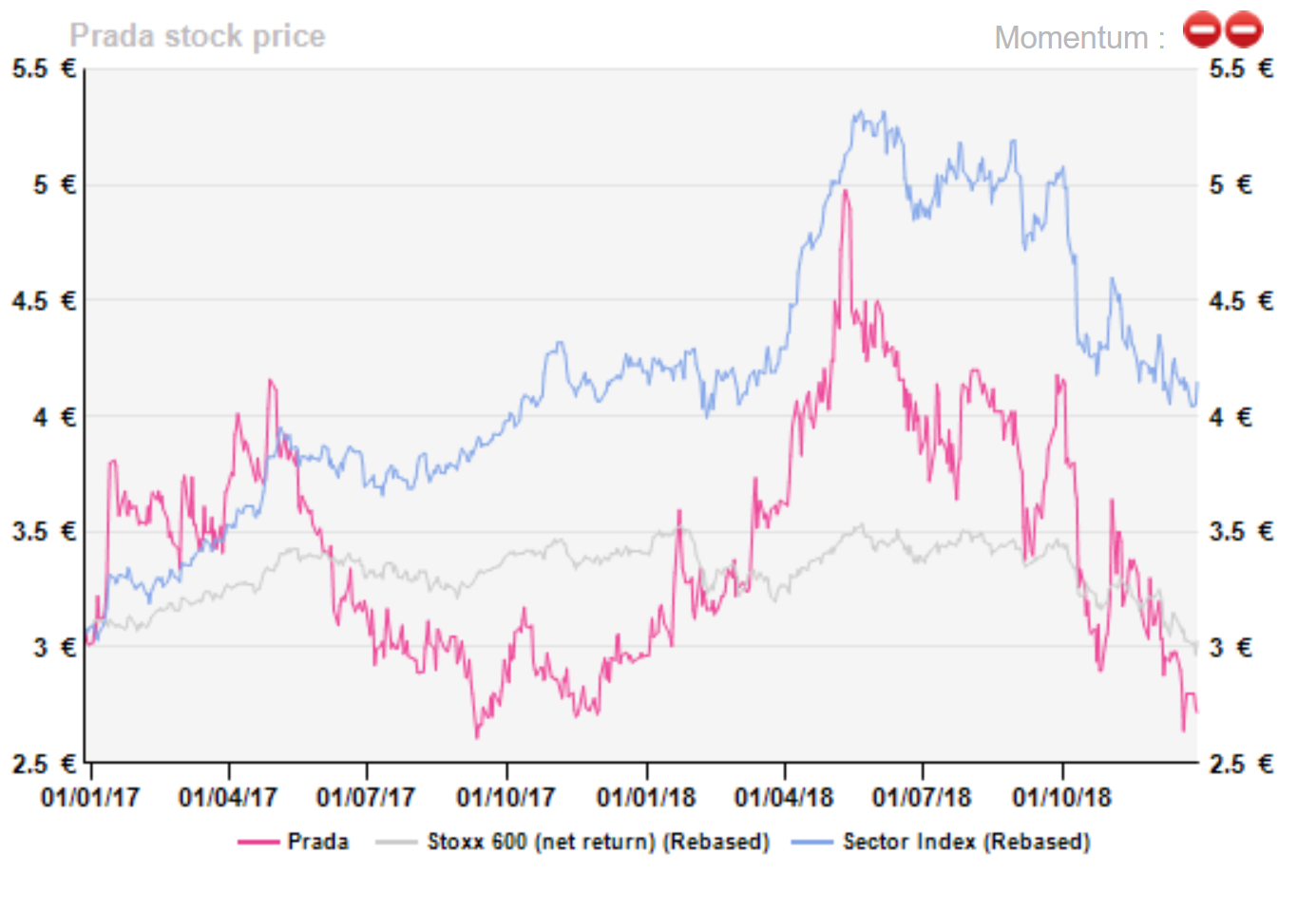 End of the tunnel but it is cold outside anyway
Prada has finally put an end to four years of slipping sales and profits. This turnaround took longer than expected. The company has re-issued some of its historical successful lines which helped give a push to the group's results. However, we would rather give credit to better winds in China with a recovering demand for luxury at least up to H2 18. Conversely, the brand momentum is still, by far, weaker than peers.
Indeed, sales in China rocketed by 17.2% like-for-like in H1 18, pulling up the group's performance to +9.4%. Sales in Europe and America increased by +6.5% and +7.7%, respectively, which is a poor performance when one allows for easy comps. Stronger organic growth gave oxygen to margins adding some 80bp and 120bp to EBITDA and EBIT, respectively. However, they remain unsatisfactory, being the weakest among peers.
Hopes to beef up margins are slim as the overhaul expenses are substantial and Prada's pricing power leaves no leeway. Burberry has been in a similar predicament which it exited when it split management and creative direction, and handed over to a new team. Mrs Miuccia Prada, designer and granddaughter of the founder and her husband Mr Bertelli will have none of this and presumably do not care much of the market's opinion which is a limited to a 20% float.
That has a cost though. When Prada's margins were the industry highest and peaked in 2012, the firm was worth a quarter of LVMH and the Prada couple weighed c. €10bn. Today the couple weighs €5.6bn and Prada is a worth less than 6% of LVMH.
From industry best to laggard (Prada's EBIT margins in pink)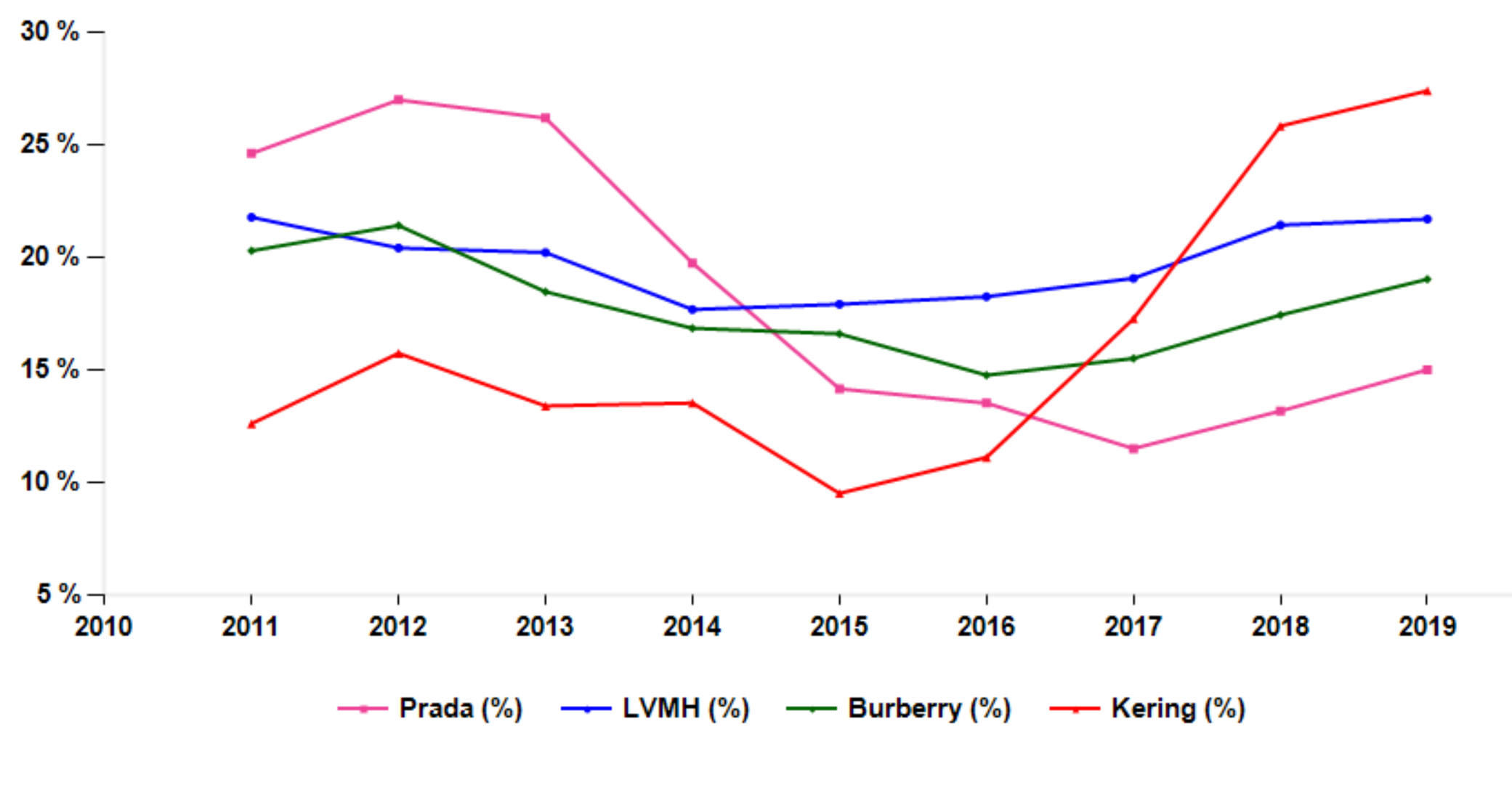 No news, sadly
Few fundamental changes have occurred at Prada since our last teasing short paper about two years ago. Some changes went in the wrong direction. Asia still has the biggest share of net openings (+5 vs. +4 for the whole group in H1 18), the business is still stretched and the product mix remains relatively thin.
Church's is still struggling and Miu Miu has a weak contribution to the group's results. The only cheerful fact is the upgrade of the digital integration.
When it comes to collections, the brand re-launched its Linea Rossa line dating back more than twenty years and other classic lines. The relaunch has presumably prompted the turnaround in 2018 but it has also unmasked a lack of creative potential.
The 69 years old inheritor, co-CEO and creative director, Miuccia Prada, needs to make room for fresh blood to rejuvenate the brand as Gucci successfully managed with Alessandro Michele. No one will complain about extracting cash from past collections if it can be reinvested in creative talent to prepare for tomorrow.
On the communication front, Prada seemingly tripped itself when it used figurines similar to black faces in its new store campaign in New York. The small creatures are part of its "Pradamalia" line of small items like keychains. These imageries have aroused consumers' anger on account of racist inferences.
A widespread criticism wave expanded on social media calling for a boycott. The efforts to roll out an offensive marketing strategy went in the wrong direction. Social media will turn any comm or marketing misstep into a PR disaster which can only be prevented by a broader-based management effort and, above all, with products that sell by themselves.
Deadlock
The valuation metrics (see table) are not such that one would take the risk of buying into a tiny float with a deadlock on the managerial and creative fronts. Even the hiring of bright creative talent would not tip the balance if the room for manoeuvre is tight.
The issue for a minority shareholder is then when current owners and managers will start suffering in their flesh. With no debt, that might take a while. A nicer scenario would be a degree of succession preparation by joining a bigger group.