Unilever tripped by its owners
[dropcap]U[/dropcap]nilever has been known for its shareholder-friendly attitudes and timely delivery on its plans.
Step by step, task after task, the company has been fulfilling its strategic plan until the beginning of October when it was forced to drop the idea to unify its headquarters with the Netherlands winning the competition with London.
As a reminder, more than 75% of Unilever's Plc shareholders and more that 50% of NV shareholders were required to vote in favour of the proposal for it to pass.
The growing opposition of UK shareholders forced the management to diplomatically bin the plan to avoid a conflict escalation and presumably a governance mess with management plans not agreed and the board looking silly.
Unilever's management puts itself in an embarrassing a situation with long-time shareholders such as Aviva Investors, Columbia Threadneedle, Legal & General Investment Management, Schroders and M&G Investments raising questions.
The March 2018 plan was to have a single HQ in the Netherlands while maintaining its listing in London, Amsterdam and New York. Simplification was one engine, Dutch protective by-laws were another, which must have motivated management after the failed hostile bid from Kraft in early 2017.
Brexit risks could have been mitigated as well.
UK shareholders rightly saw it as a risk to the funds holding Unilever Ltd shares as the NV variety would no longer be kosher to defend a membership in the FTSE100 index.
To a partial extent, an FTSE delisting would have forced some shareholders to liquidate their position without a premium for forced selling and with potential tax implications. That may have been only partially true.
Stocks come and go from indices. Investors would have found a way to stick to the Dutch share, neutralise FX and enjoy the Unilever ride had they been really willing. It may well be that the UK shareholders' reservations were more driven by ugly markets or Brexit uncertainties rather than the long-term prospects of Unilever's business.
The Dutch politicians are about to drop the idea of scrapping a dividend tax that would have helped digest the move into an NV for Plc shareholders.
The HQ simplification turned into a mess and leaves a bitter after-taste. Shareholders are by definition right, even if their motives are half right. Management misread the situation and its pro Union Jack dimension.
Intentionally, or not, UK shareholders will have precipitated the retirement of the current CEO Paul Polman.
Ahead of Brexit this may be an unhappy timing. Assuming another go from Kraft, UK-based shareholders may feel less inclined to defend the Unilever go-it-alone story without the right guy to deploy it.
Unilever Ltd may just end up in the shape of $-trading Kraft shares and at some distance from being included in the FTSE100 index anyway. From Charybdis to Scylla?
Maybe the question boils down to a premium which Plc shareholders would like to cash in should the Plc delist and moves its HQ to the Netherlands (possibly paid by NV shareholders?) or maybe about a timing mismatch as markets have been raising questions about a possible acquisition of Hygiene Home Care assets from Reckitt.
One thing is for sure, Unilever's mismanagement of this HQ issue is a mismanagement of the liability side of its business. It is a reminder that even great businesses with the best lawyers can be tripped up on this front.
On the asset side, all good
In the meantime, the company posted very solid Q3 numbers (organic growth +3.8% vs. 1.6% in Q2) with both price and volume acceleration. Another argument in favour of the business. This is reflected in an 11% upside potential, with all metrics contributing except P/Book.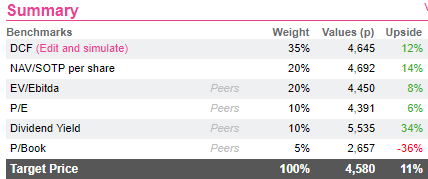 We harbour no grudge against management's understandable intention to move the HQ following the push from Kraft-Heinz. So should the UK shareholders.
Despite the HQ turmoil, the stock remains quite a good performer in the Food & Beverages universe, posting a 3% ytd return vs. -9% for the sector.
Download fundamental analysis : click here