Thomas Cook Group from stroke to call option
At 47p, a 54% retreat over the last 3 months, Thomas Cook sits firmly in call option territories. The trigger is a summer heat-wave that struck its business at the wrong moment and presumably wreaked havoc in its fragile balance sheet dominated by the fine balancing exercise of its working capital.
Compared to TUI, which has a greater exposure to the buoyant cruise ship business, and a heavier balance sheet (more physical assets), Thomas Cook has experienced a full hit to its last-minute booking business, a central feature of its operations. The violence of the stock correction is hard to fathom from reading the group's financials and suggests a liquidity corner. TCG has offered a preliminary view of where its earnings will land for FY to 09/2018 (around £280m) but that said little of the shape of its balance sheet.
One heat wave, two outcomes (TCG in pink)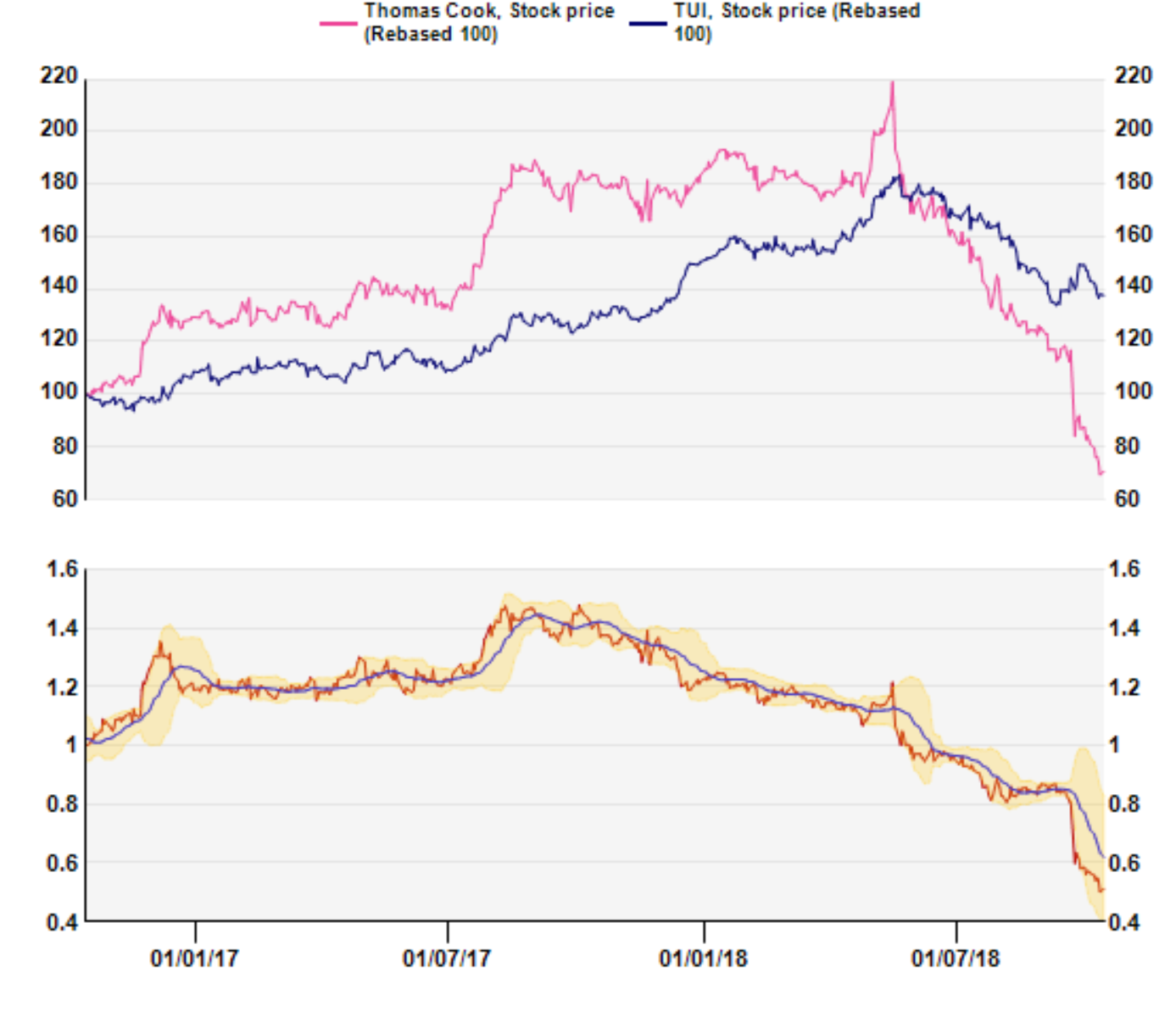 Heat stroke
The warmer summer weather in the UK and northern Europe have led would-be tourists to consider home as sunny enough, with travel plans on hold or cancelled.
In a capacity-driven industry (pre purchase of rooms and flights are always a bet), this resulted in an unusually fierce competition and stiffer price discounting in the late-booking market of the after-season. Additionally, the UK-led competitive pricing environment and bed cost inflation in Spain have both contributed to squeezing margins further.
TCG's FY operating profit expectation has been downgraded from "should be better than last year" to "to be in the lowest range of market expectations" and more recently to "to be around £280m", which is 13% lower than market expectations.
In addition, given the late booking profile, the delayed bookings have presumably weighed on TCG's working capital which together with lower operating profit will reflect in higher net debt than expected before this warm summer.
The following table helps understand the singularity of the debt funding of TCG: facial net debt is modest at less than £200m but leases are now at close to £2bn (gross debt of £1.3bn).
What this EV table hide is that working capital provides a formidable resource hinging on payables. Without payables and other current liabilities, the debt would be at €4.8bn (and TCG would obviously not be in business).
Brutally said, TCG is owned by its suppliers.
Enterprise value: when (hidden) debt bites into equity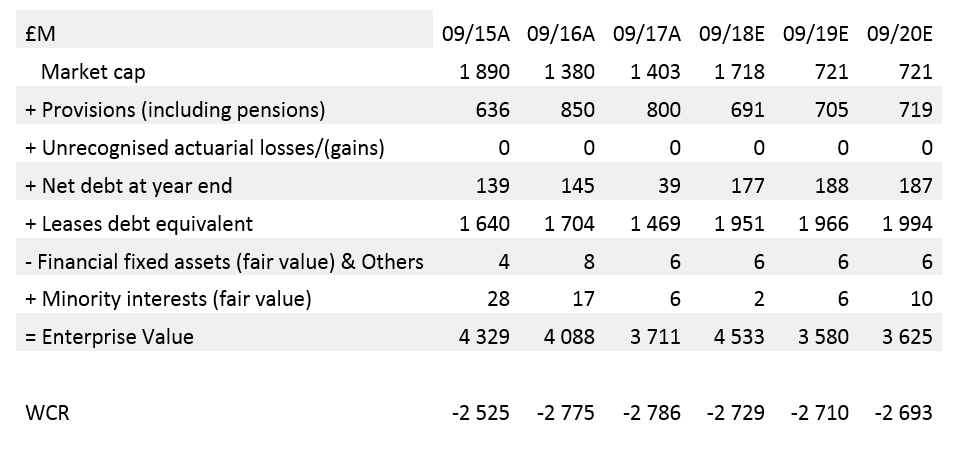 Obviously, suppliers are not lenders and will be accommodating but the invisible hand is not irrational by seeing a risk of value transfer between stakeholders.
We have not reached the point where our modelling would allow for a rights issue of some decent size as the WCR-reliant business model would not markedly change with a view of the amounts at stake. So fingers crossed.
Better mid-term picture
Mediterranean destinations reported particularly strong growth in international tourist arrivals in recent years, mainly driven by the more stable geopolitical environment (say it quickly) and affordable prices.
Containing terrorism helped Turkey, Egypt, and Tunisia improve their image.  The number of tourists visiting Turkey was up 10% in H1 17 vs. H1 16 with more in 2018 as attested by Fraport's figures in Antalya.
TCG rebalanced its destination mix towards those rejuvenated destinations, starting with Turkey where it has developed its own-brand hotels. Beefing up airline capacity to Turkey and Egypt also helped capture margins away from now expensive Spain.
Hopefully, the -4.9% yoy drop in international arrivals in Spain should help cool down Iberian cost inflation. Spain remains the most visited destination in the world (France says the same…) and TCG's largest destination.  A better market environment cannot hurt.
On the other hand, the "Airline" business has gained with bookings up 15% yoy, a recovery. Here again the market consolidation (collapse of Air Berlin and Monarch) did not hurt.
Alliance delivers benefit
The Webjet deal (widening of the hotels offer with low-cost production platform) has started to bear fruit (fuelled a 51% increase in overall bed bank bookings). The Alliance with Expedia launched this summer in the UK, Belgium, and Scandinavia will be deployed further into Continental Europe.
By working with Expedia, TCG should benefit from the most advanced technologies to harmonise its IT platforms and business better and broaden TCG's distribution.
Although the deal will incur some one-off costs (around £10m), benefit will stem quickly from both cost savings (targeting £15m of cost savings over the next two years) and booking numbers.
Eastern hopes
Compared to peer TUI, which is still testing South Asian waters, TCG has already taken the advantage of its Chinese connection to launch its ambitious Chinese plan via a JV with Fosun (TCG's 12% shareholder).
In the summer, TCG announced its first own-brand hotel in China-Sunwing Family resort, which will open in 2020. This is expected to be a beginning as the company expects to operate 15 hotels in China in the coming five years.
Brexit remains a concern
March 2019 is fast approaching and more questions about its eventual shape. Despite the fact that TCG has Nordic- and German-based airlines to avoid the risk of losing the ECAA agreement, the uncertain post-Brexit economic condition and volatility of the pound could impact seriously the spending power of UK travellers.
Playing dice
Our valuation metrics do not allow for a rights issue that would add 50% to 100% to the number of shares as it would not change the funding balance much. Allowing for such a capital increase would mean that the upside potential is zero. Conversely, intrinsic metrics suggest boarding now that shaky travel coach as management buys time and still implements its strategic plans. TCG investors should be used to roller-coaster share prices as this reflects a high wire business model anyway.