Casino: Dare to think beyond three months?
[dropcap]T[/dropcap][dropcap][/dropcap]his article is meant for investors with an inclination towards calculated but higher-risk investments, for a period beyond 3-6 months. Today, we present a 'must-buy' case for Groupe Casino Guichard, the most shorted stock in France (with 15.48% interest as on 8 September 2018) and one of the highly debated stocks in the European food retail arena.
What's going on?
The stock has lost c.40% market value since the beginning of this year. But the bears are not shooting from the hip! Almost everybody knows that the bone of contention is still the health of the French business (100% owned by Casino) – its FCF might not be enough to service the debt of Casino and parent Rallye; the latter's recurring cash flows depend largely on dividends received from Casino. In fact, a section of the market has placed huge bets towards Rallye's inability to serve its near-term obligations – due in October 2018 and March 2019. No wonder its CDS spread has skyrocketed to the >2000bp mark vs less than 500 in August 2017. To complicate matters further, S&P has also downgraded Casino's financial rating by one notch to BB, negative perspective.
Over the past few months, we have been extensively analysing and writing about the above-mentioned concerns – please refer to our reports dated 18 June, 14 August and 6 September 2018. The crux of the matter is as follows:
1. The French FCF concerns are unfounded as the country's operations are likely to remain healthy. This is due to: 1) increasing competition (especially from Leclerc) which is manageable, given the high reliance on premium brands, 2) Geant is still the second best priced banner in France, and 3) management has aggressive expansion plans in e-com plus the home delivery space (through the strategic tie-up with Ocado + Amazon). Even working capital management is now in the black.
2. As a result, the entity should be able to pay regular dividends to Rallye.
3. Management is capable of disposing of non-core assets worth c.€1.5bn by early 2019 – the proceeds would be used for French net debt reduction. Its track record (the Asian business sold for c. €4bn in 2016) is also reaffirming.
4. There are no covenants attached to Rallye's bond documentation or commercial paper programme. Also, there is no covenant which obliges Rallye to pledge additional Casino shares if the latter's stock price plunges. The two covenants are: 1) a consolidated EBITDA/ consolidated cost of net financial debt >2.75x (vs 4.04x achieved in 2017) and 2) a standalone equity of Rallye's statutory accounts >€1.2bn (vs €1.7bn as of 31 December 2017; it is calculated only once a year). In addition, Rallye has pledged 6.7m Casino shares as of December 2017 (c.12% of Rallye's participation in Casino) vs 15m kept a year ago.
5. Net net, Rallye should be able to meet near-term debt obligations. However, it needs to do more to regain investors' confidence / improve the balance sheet's health.
Moreover, this is not the first time that CEO Jean-Charles Naouri has been pushed to the wall over the past few years. The stock's price nose-dived to the twenties in early 2016, before bouncing back c.60% within just six months. Last week's trough (stock price touched €26.7; a 22-year low level) has revived the important question – will history be repeated?
Yes, it's very likely!
Why is Casino a 'must-buy'?
Although the stock price is also quite cheap on a relative basis, we base our 'six-month plus' investment recommendation on the fundamental techniques of SOTP/NAV (see the chart below). Our valuation estimates are as follows:
1. The French business is valued using the EV/Sales multiple over forecasted revenue. This applied multiple (of 0.27x) is derived at substantial discount when compared to the long-term average of European food retailers: 0.54x and close competitor Carrefour: 0.39x (note that Casino's French business has been performing better in recent quarters). Casino's historical average has been 0.64x at the group level (includes the LatAm operations).
2. The other four segments are listed on the stock exchange and, hence, are being valued at the market price (in accordance with AlphaValue's benchmarks). Note that these spot prices are also depressed when compared on a yoy basis. A gradual improvement in the LatAm performance (led by cash & carry formats) and the easing of currency headwinds are likely to nudge investors' sentiment for these listed entities.
3. Net debt is attributable to France only. Note that we have estimated it by adjusting the H1 FY18 value of €4,019m with: 1) the capital inflow from Segisor (the financially-engineered contribution from Casino's LatAm holding company; mentioned above), and 2) the €800m proceeds after the sale of non-core assets (vs management's estimate of €1bn in 2018 and €1.5bn by early 2019).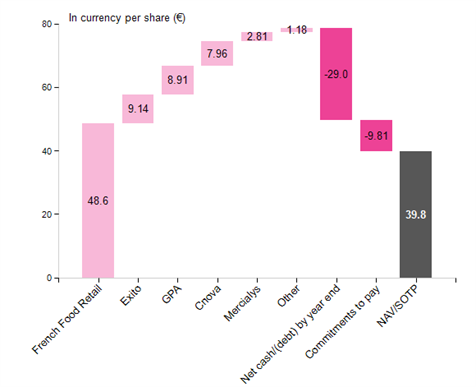 Source: AlphaValue
Putting it simply, Casino is an entity which has been punished much harder than it actually deserves. We note that the retailer has been able to clock 10% plus growth in trading profit in France (also at the group level) and, sequentially, reduce gross debt over recent years (see the table below). We see the H1 FY18 surge in net debt as an aberration and estimate that net debt will reduce further in 2019. A better contribution from the healthier LatAm economies would be the icing on the cake. All in all, the stock throws up substantial upside for any investor who is willing to be patient for a while.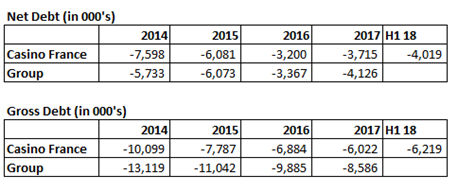 Source: Company Filings
You just might get lucky
Don't be surprised if Casino draws the attention of cash-rich/growth-hungry retail giants in the coming quarters. The company's ability to sustain earnings growth, addressable pain-points (debt plus competitive pressure) and attractive relatives make it an ideal investment opportunity. Given the current scenario, Jean-Charles Naouri might not be averse to the on-boarding of a new partner (Amazon?), if the control of the firm remains with him (which is quite possible through voting rights).
While a partnership with French peers looks bleak at present – they are busy in either setting their own houses in order or lack the deep-pockets / strategic fit with Casino, – some international heavyweights might be interested in picking a strategic stake in the Monoprix owner.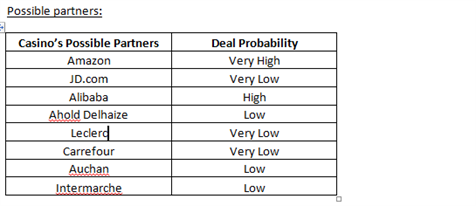 While scouting for Casino's possible partners in France, we believe the global retail arena will rapidly evolve into a tri-polar contest (Amazon vs Alibaba vs the troika of JD.com + Wal-Mart + Tencent). These retail giants have aggressive plans to penetrate all major retail markets (developed + developing) across the globe. As a result, it's highly likely that Casino will need to align with one of these poles/names.
 The US giant already has a grocery delivery deal with Monoprix in France. A stake purchase in Casino will not only help Jeff Bezos to make instant / deeper inroads in the country, but also get access to the prime store locations (especially through premium banners Monoprix, Franprix, etc.) to beef-up the urban distribution network. "Prime Now" combining Amazon Prime with Monoprix's fresh food opened on 12/09/2018 in Paris.
 The Chinese e-com player plans to enter France in 2019. It might either decide to start alone (although less likely in our opinion) or seek an alliance with an established player. However, Carrefour might be its preferred choice as Tencent (which owns a c.18% stake in JD.com) is already backing Alexandre Bompard in China.
 It should only be a matter of time before Alibaba announces its entry into the lucrative French market, following the close competitors Amazon and JD. Although it makes sense for Jack Ma to join hands with Auchan (as both are JV partners in Chinese retail store giant Sun-Art), the latter's reliance on hypers plus ongoing operational issues, and Casino's attractive valuation might incline Alibaba towards Casino.
 The Dutch retailer might be more interested in strengthening the US operations at present, where competition has intensified after the 2017 entry of Lidl, aggressive turnaround plans of Aldi and Wal-Mart, and a mid/long-term threat from Amazon-Whole Foods. Moreover, the strengthening of Peapod and the overhaul of the Belgian operations are also likely to keep management busy for some time.
 While Leclerc has recently decided to take Casino head-on (entered home delivery services in the Paris region), Carrefour is also busy with its turnaround plan (plus a deal with JD makes more sense for it). Additionally, French regulators and politicians might also not be comfortable with such an alliance – anti-trust/competitive concerns might crop up, akin to the proposed Sainsbury-Asda merger in the UK. Auchan and Intermarche rely on out-of-favour hypermarkets and, hence, might not have much to offer to Jean-Charles Naouri.
Last but not least, we would not be surprised if a sovereign fund – e.g. Temasek, Qatar Investment Authority (which owns a 22% stake in UK-based Sainsbury) – or a global fund (like Softbank) decides to hop on the bandwagon.
Other points to ponder
1. Investors have been quite apprehensive about the transparency / financial disclosures made by Casino (e.g. the recent case of Casino Finance, the cash-pooling entity of the group). We do not share these concerns as French private company / subsidiary disclosure filings are very transparent compared to other countries (e.g. the UK). Hence, it's not easy to hide prominent information – it is one of the key reasons why a Steinhoff- or Tesco-like scandal is highly unlikely.
2. The ongoing short interest is not expected to last forever. These positions tend to evaporate swiftly as soon as bears initiate the exit and rationality seeps in. So a price rebound might be sharp, akin to 2016.
3. We also believe that the French government might be uncomfortable to see banks takeover such a large retailer – the prospect of massive job losses normally sets alarm bells ringing for politicians.
4. French regulator AMF issued a press release two days after Casino plunged c.15%, following the tweet by Muddy Waters. The authority reminded about 'the provisions applicable to bearish speculation'. As a reminder, the Casino board also believes that the Casino stock price is the object of speculative repeated attacks.
5. Gabriel Naouri, the son of group CEO and controlling shareholder Jean-Charles Naouri, left the group in 2017 after spending 10 years there. This step mitigates the possibility of a dynastic chain in future, an encouraging sign from the minority shareholders' perspective.
Then why is Casino just an 'Add' today?
The company has recently confirmed the lfl growth momentum in July and August (ahead of the quarterly results) and the 2018 guidance. Despite its promising competitive position and FCF growth prospects, and attractive valuation (especially, DCF and NAV), Casino is likely to remain range-bound in 2018. We believe investors would be unwilling to dip a toe in the choppy waters unless management presents some tangible development regarding the net debt reduction / non-core asset disposal plan. The implied condition is that promises are fulfilled in a timely manner and that no more surprises are in the offing, e.g. heavy reliance on debt reduction tools like sale-and-leaseback transaction or financial engineering (a LatAm holding company controlled by Casino raised the loan and passed it over to the French business, aiding in net debt reduction of the French subsidiary).
To learn more : click here