HHLA, Donald tweeted or wilhemshavened?
[dropcap]B[/dropcap]eing owned by a city-state, Hamburg, with preoccupations that go well beyond the profitable management of an essential German port, was never bound to be easy for HHLA (Hamburger Hafen & Logistik), the port operator that manages about 80% (or 7.5m units) of the containers traffic at Hamburg.
Inconsiderate Trump tweets calling world trade an imbalanced state of affairs that needs to be set right on the spot do not help support Transport & Logistic stocks at large. But HHLA's problems probably predate Donald's latest bout of tweeting frenzy. They are likely to be called competition from Wilhelmshaven and Russia's slow GDP growth while Russia imports do make good use of Hamburg's facilities.
The striking observation is that HHLA's share priced tanked at soon as November 2017 after a fantastic 11-month ride in 2017. The US late January warning on rates seems to have cut further the legs (sort of) of container operations.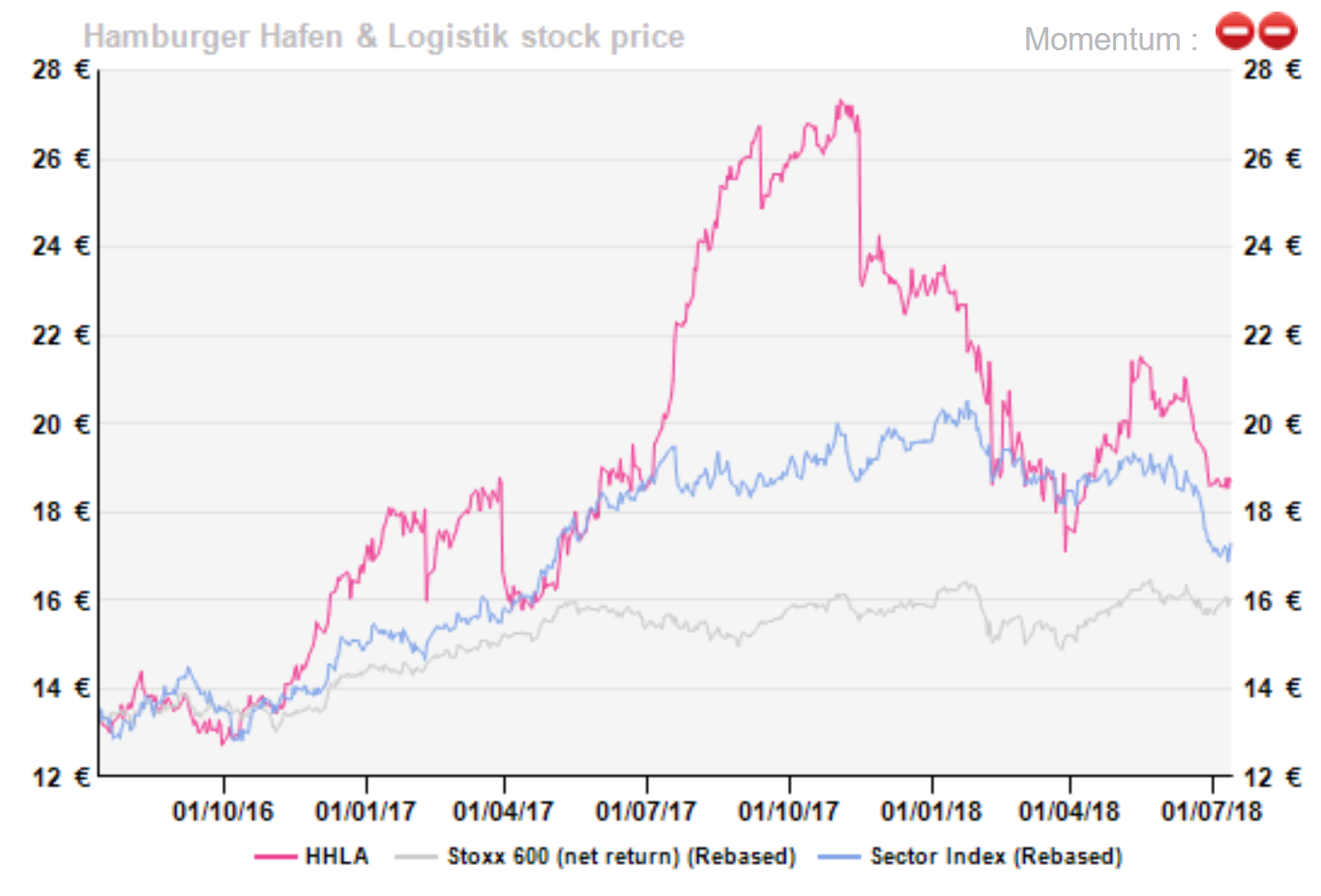 Intercity brawl & intermodal win
For non-Germans, the following map is a reminder of the physical proximity of Hamburg with the Wilhemshaven/Bremen area. The issue is that fully-loaded container ships can berth at Wilhemshaven whatever the tide, while the city of Hamburg is still discussing with courts the issue of dredging the River Elbe to gain another four metres in depth. The discussion started in 2011. It has been happy so far that Hamburg's hinterland connection has been better than Wilhemshaven's so that containerships still dock in the city-state. 
That may not last forever though as Deutsche Bahn is electrifying the railway infrastructure in the Bremen region which will make the region more competitive.
Interestingly, HHLA has an "intermodal" division that provides hinterland transport services mostly by train. It is not a small paradox to see a business owned by a city making the best of European open competition in the provision of freight train services with 23% EBITDA margins (28% for the handling of containers in ports).
Elbe (Hamburg)  vs. Weser (Wilhemshaven) rivers competition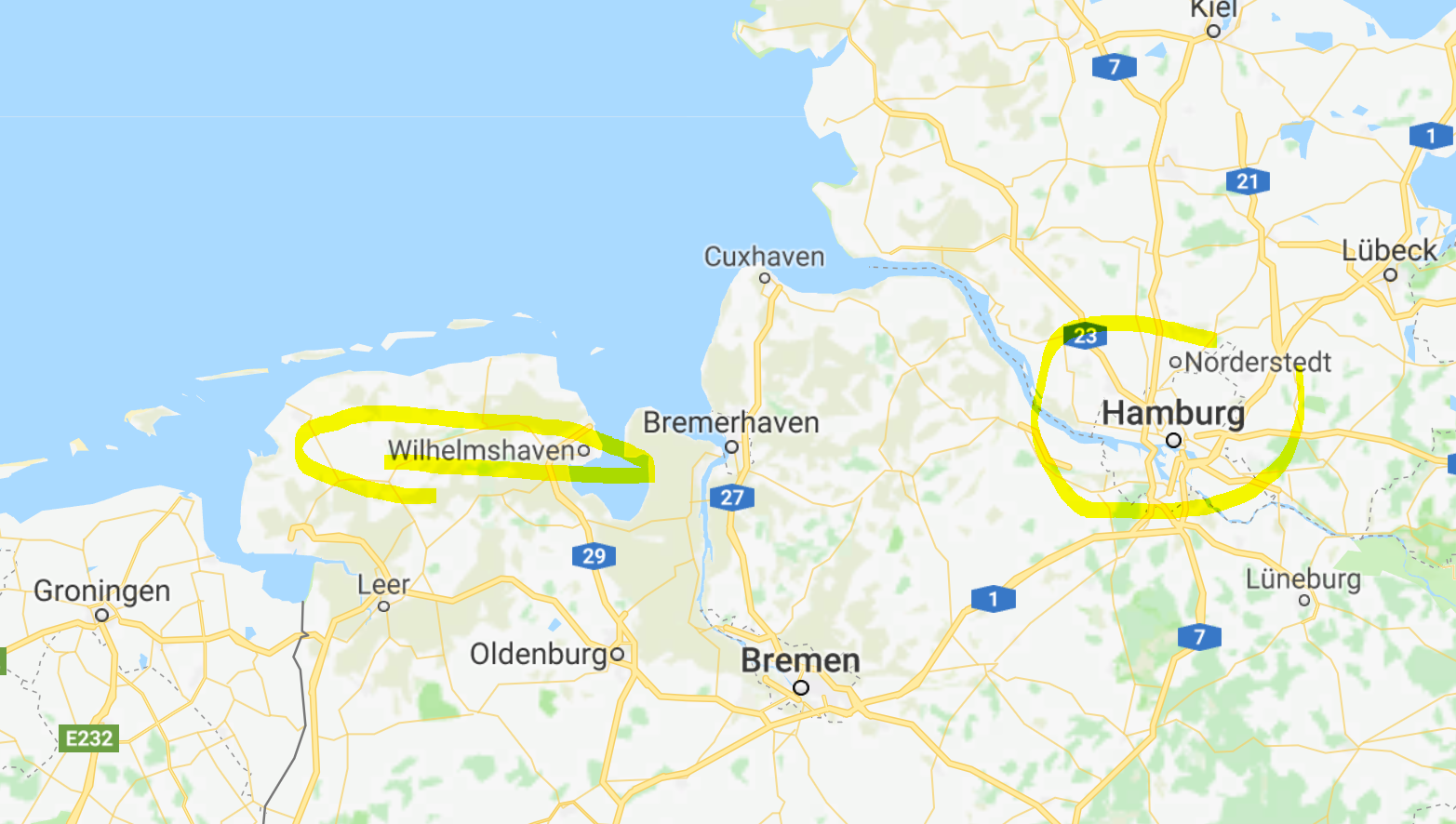 Q2 figures due by mid August will be closely investigated. The Q1 ones released last May when the stock was rebounding did look good as the only impediment to better margins on a 2.6% top-line expansion was expensive operating conditions due to late arrivals. The Trump tweets rapidly cooled down the mood as it happened.
Hamburg, terminal to the 21st century silk road?
HHLA pitches itself as part and parcel of the new (and somewhat stretched) definition of a new silk road. This is a shifting concept that amounts to designing a combination of sea routes and train routes that would put China on a different, more efficient, logistics map.
HHLA is small (€1.5bn market cap) and with a small float  (33%) so that it is not the first play to come to mind in Container and Land transport. It is also fair to say that the governance/shareholding is less than ideal and that the last 10 years have been unimpressive ones but for the 2017 share price performance.
But after the correction of early 2018, we see a 25% upside and that is backed by all valuation metrics except yield. At the margin, the company may be on the offensive as it acquired earlier this year an Estonian port operator that will beef up HHLA's feeder potential in the Baltics. This comes after righting its shareholdings in train operations towards Slovakia, the Czech Republic and Poland. In all, at current prices, the risks are on the upside as the port of Hamburg is unlikely ever to play second fiddle in world trade essential harbour hubs.
Full research paper available on www.alphavalue.com