NH Hôtels has been all too long under the HNA fruitless spell with the stretched Chinese conglomerate unable to help its Spanish holding define a "better" strategy but effectively blocking any initiative.
With bankers calling in daily, HNA eventually capitulated and sold to Thai Minor International its 27% in NHH in two steps. Due to its prior holdings in NHH and further purchases, Minor Intl ends up with 39% of NHH and offered to buy the float.
So far the Spanish stock is sticking to the €6.4 on offer which is at some distance from an earlier bid from a Spanish entrepreneur, Barcelo, which was rebuked at €7.08/share. Odd, even though the Barcelo bid was not a clean cut all-cash one.
The obvious question is whether the Minor Intl bid can be disrupted. We think so.
Looking at a two-year performance chart, NH Hotels has done a good job. It is also quite true vs. its Iberian peer, Melia (see 03/05/2018: Melia deserves better). So that one may conclude that the bid for Minor is good to have at this juncture.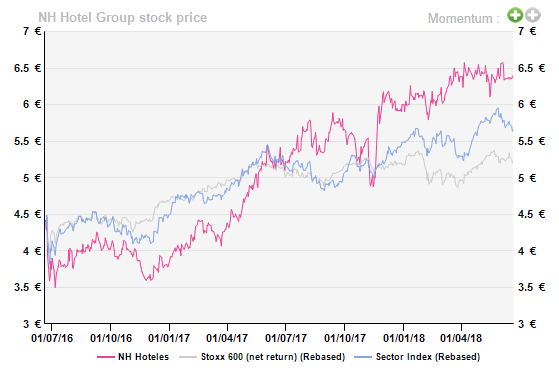 The stated objective of the Thai hotel group is to reach 51-55% of NHH and keep it listed. Minor Intl's bond funding has been raised (c. €1.3bn) but it also made clear that additional dry powder has been arranged to go up to 75% if needed.
The boss of NH Hotels said on 20 June that the bid from Minor was too low but that he was ready to discuss.
This is probably the strict minimum owed to a shareholder with a 39% stake (not all purchased at pixel time) and most likely willing to ask for a say on the board.
The current NHH board (nine members of whom two are non-Spanish) has been competent in containing the HNA presence so that it may decide to defend the best interests of the 61% float as we assume here that Mr Castro Sousa, the ex-owner of Hesperia (now owned by NHH) with 9% of NHH, is sitting on the right side of the fence.
If the NHH board does play its role, there seems to be plenty to do to raise the value as it is clear that Minor sees in NHH a perfect match and perfect footstep to access Europe (see Minor's ad hoc presentation below).
Minor + NHH (source Minor Intl)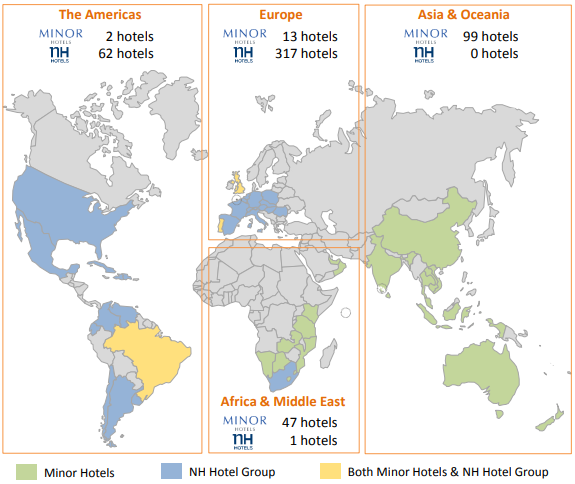 Minor International sees 24% EBITDA margins (Thai accounting rules) where NHH's ones run at 34% (EBITDAR margins) which are actually the best of the European hotels tracked by AlphaValue.  Minor clearly sees value at current prices and plenty of strategic upside.
To quote the slides made public by Minor:
Attractive Valuations:  10.6x EV/2018 EBITDA multiple, a highly attractive valuation for high quality assets in key gateway cities in Europe • Precedent transactions in the sector at over 12x average EV/EBITDA.
Favourable Upside Potential: Improving European macro-economic outlook;  Limited new hotel supply with continued growth in travel and tourism in key markets that NH Hotel Group operates;  undergoing plans to dynamically uplift ADR through hotel renovations and capex plans;  continued cost and efficiency improvement plan; potential synergistic benefits that can be leveraged across Minor Hotels & NH Hotel Group.
But for the last point (synergies), we can only concur. If a trade buyer has this sort of understanding of NHH, we would assume that others would too. The Chinese players in Accor (Jin Jiang and Huazhu) may want to go beyond France. Accor itself has the resources to pounce and at least take a minority stake that would raise the bar for any new entrant. European players are likely to derive more synergies by tying up with NHH than can be discounted by Minor Intl.
Valuation-wise, we see a 6% upside only on NHH partly because it is a low yielder. A DCF suggests a 14% upside potential which may be closer to the long-term value seen by a trade buyer. The point here is that it would be surprising not to see a hotel group or a hedge fund throwing a spanner into Minor's works.