While the c. €1tn Pharma sector has been going essentially nowhere between failed phase III drugs and Trump-driven uncertainty, the €133bn MedTech sector has been flying over the last two months.
MedTechs' spring rediscovery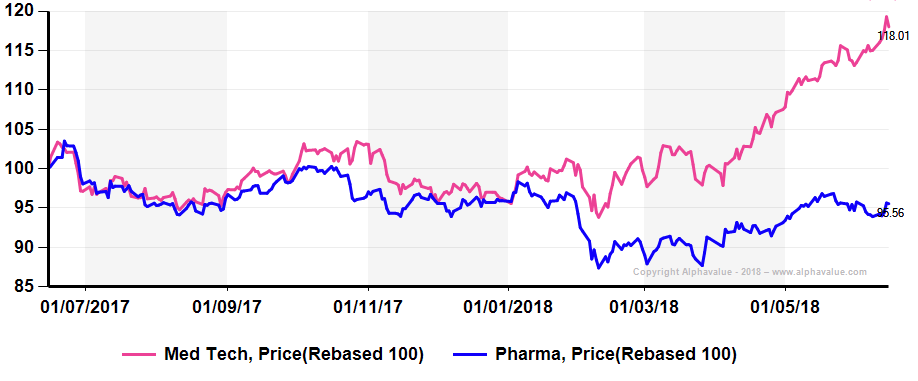 Over a five-year view, this is the second time that MedTechs have met a period of investors' enthusiasm so that the outperformance to Pharma is above 80% and indeed raises questions about the point in sticking to the drug side of the wider health industry.
MedTechs' two jumps in 2017 and 2018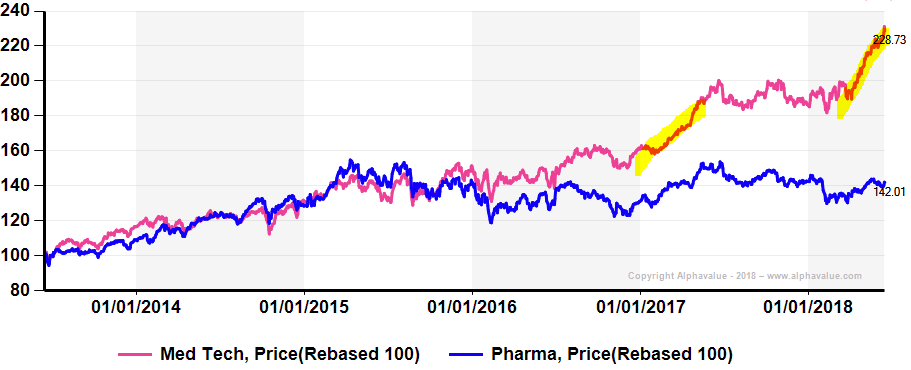 Over the last three months, but for Getinge down 20%, all 11 stocks under coverage have gone up from 4% (Sartorius) to +27% (GN Store) which is a pretty broad-based move. The valuation game is somewhat stretched at 30x 2018 earnings or about twice the market P/E. Earnings growth is attractive but the PEG is not (and never was).
MedTechs' valuation fundamentals

Triggers to this enthusiasm presumably include generally good showings over Q1 18 (we still have to allow for Healthineers not included in this universe; Healthineers was a bit less bright) and support from corporate action with the €7bn merger of hearing aids developers, Sivantos (ex Siemens) and Widex, grabbing the attention.
The amalgamation of the two privately-held companies creates the third largest hearing aids manufacturer globally (combined sales of €1.6bn) after Sonova and William Demant and thus displaces GN Store Nord from the No. 3 spot.
The positive market reaction (GN Store's surge) is, however, a surprise as the combined entity will become an innovation powerhouse with the biggest R&D capability within the industry, and GN Store Nord might lose its 'innovator' tag.
Also, if Sivantos-Widex's new retail strategies (particular focus on e-commerce) deliver according to plan, Sonova and William Demant, which have a significant retail presence, might bear the brunt as well.
The other subject of potential concern is the rapid progress of the Chinese MedTech industry, while the European firms' growth over the last few quarters has been hinging on Chinese demand.
Of course, the MedTech industry is driven by innovation and forever-increasing demand for its goods so that bulls will keep their rose-tinted glasses on.
But the valuations are a bit rich which transpires into a sector 2% downside potential at pixel time.