Holding companies profiled
[dropcap]H[/dropcap]olding companies tracked by AlphaValue trade at an average 8% discount to NAV/SOTP. This is on the verge of expensive if one holds the view that the average discount for holding companies is close to 15%. Of course why 15% is "fair" is a subject better left to university research.
AlphaValue's entire coverage of 470 stocks shows a discount to NAV of 9%. On this account indeed holding companies are becoming expensive.
For the discount needle to revert to close to 14%, one would have to drop Bolloré, Hal Trust, Porsche, Heineken Holding and Eurazeo.
As a reminder Heineken Holding and Porsche are merely substitutes for the real thing, i.e. Heineken and VW.
As we mentioned in previous similar short papers, we have a preference for clear strategies that can be checked when it comes to holding companies. Many seem to reinvent hot water and end up working more for their managers than for their shareholders.
The acid test for a holding company that is suitable for "minority shareholders" is to own mostly listed assets and have a family ownership with strict guidelines when it comes to risk taking. Not all holding companies are equal on both fronts.
A quick review of holding companies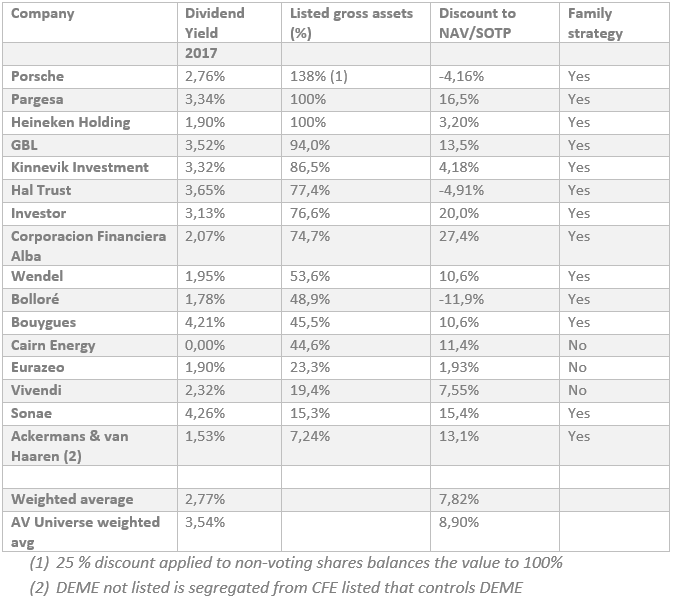 If one assumes that buying into a holding company amounts to buying quality stocks with a discount, then GBL, Investor and Corporacion Alba fit the bill and offer an attractive discount to SOTP.
It is just a question of giving it time as the family control will essentially avoid big mistakes. Exor and Industrivärden (not covered) probably matches the requirements as well.
More adventurous investors will have a look at attempts to redefine the business such as Eurazeo which has embarked upon third-party money management as a way to grow its asset base.
The jury is out for a while.