[dropcap]A[/dropcap]s the new (and young) boss of Carrefour  is releasing his vision/strategy aimed at the French grocer becoming a tad more digital, it does not hurt to provide a sense of perspective for the current bulls on the sector.
Looking at our existing sector coverage (8 issuers, total €92bn market cap) as a single company, the following chart says a lot.
Ebitda margin down, ROCE hopes and FCF resilience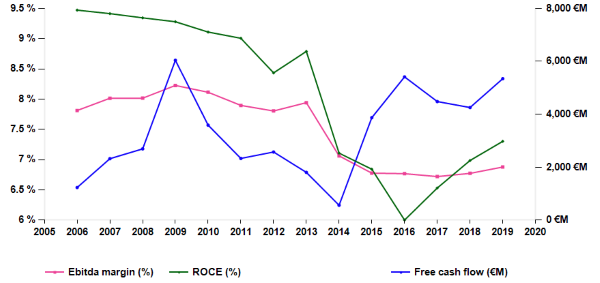 Ebitda margins have been on a steady slide over the last 10 years with maybe a marginal degree of bottoming out this year.
In other words the bargaining power of grocers vs. branded products has never recovered.
The good news is that FCFs have proven resilient. Guess what, this is because of lower capex (down from €11bn in 2007 to €9bn in 2017) and ever-more-negative working capital as the weakest suppliers have had their arms twisted to further fund their retailers.
However, from the shareholder perspective, it is a fact that dividends have been covered by FCFs except between 2013-2015.
The industry has not covered its Wacc (7.1% currently) since 2014 or so. Obviously the hope factor shows that the industry ROCE may be breaking even on that count by 2019.
For this to happen, the €145bn in capital employed in 2017 would have to remain essentially unchanged (€148bn in 2019) which indeed suggests closures as the sector rotates away from hypermarkets.
But it is not clear that proximity stores are a capital light way of doing business, whether owned or leased. Incidentally leases when turned into debt in the balance sheet account for c. €40bn of these €148bn in capital employed.
One obvious aspect of an improving business model is its asset rotation. On that count grocers have seen their performance erode steadily, another confirmation that proximity stores are good at retaining clients but do not ultimately come cheap.
Grocers' asset rotation on a slide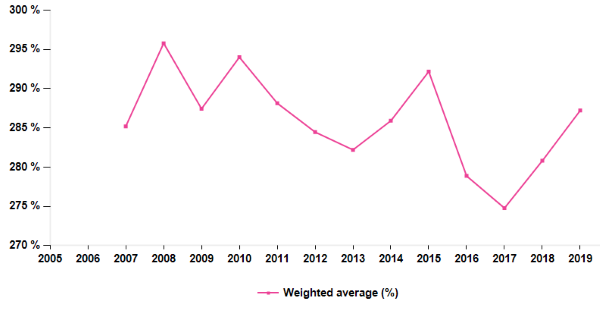 Most striking is that, more than 10 years since online retailing became the industry's darkest fear, the sector has been extraordinarily slow to respond.
The boss of Carrefour has quite a juggernaut to steer.
It's also worth thinking of the food retail industry in the following terms. Each €1bn of food retail market cap comes with 19,000 staff.
For banks this figure is 1,600. Going online faster will run into political brakes.
Full report available on www.alphavalue.com